The Hummer is back, and "NO" the year is not 2007. It is 2021 and the GMC truck has made a comeback as an EV. With All-Wheel-Drive, 483 km of range and a sexy new design, the Hummer is set to lead the revolution in the electric pickup market.
Oftentimes when a product is good, its competition is almost in the same league. Hummer EV goes up against the Tesla Cybertruck, which further rivals the Rivian R1T pickup truck. While the Cybertruck, with its outlandish design, captures the heart and soul of a niche audience, it still competes in the same category as the other two electric vehicles.
Although these EVs are great in their own right, it'd be a bit unfair not to compare them. After all, it's the competition that makes a good product great. So here's your definitive guide to GMC Hummer EV and how it stacks up against its competition.
GMC Hummer EV Vs Tesla Cybertruck Vs Rivian R1T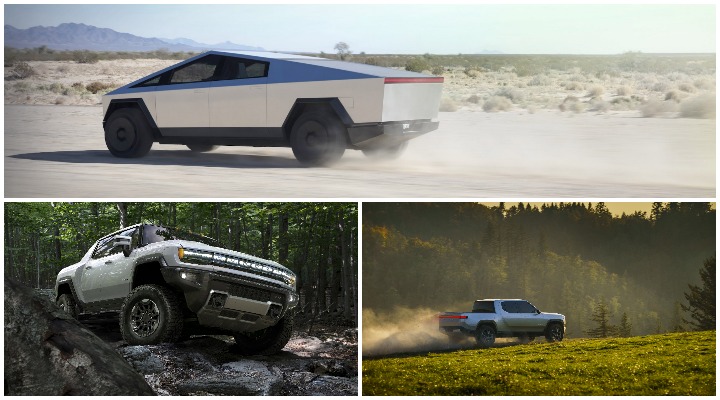 Starting with the price, a top-spec GMC Hummer EV costs about $110,595, which is not exactly cheap by any means, especially when you compare it to Tesla Cybertruck, whose top of the line "Tri-Motor" variant costs $69,900.
Rivian is an odd one because, in terms of capabilities, the top-spec R1T electric pickup costs $77,500 and $85,000, respectively, with the latter being more capable off-road. Still, both of them offer the same battery range, i.e. 643 km.
Rivian offers the additional range as an optional extra without upgrading the trim level. It is great because many users would want the extra range but might not want to take their truck off-road.
Meanwhile, in both the Tesla Cybertruck and the GMC Hummer EV, the base variants offer less battery range than the top-spec version. Both these electric vehicles offer around 400 km of range in their low-spec variant.
However, amongst the three of them, Tesla Cyebrtruck offers the highest battery range. The $69k top-spec Cybertruck can go up to 804 km on a single charge. It also means that GMC Hummer EV has the lowest battery range of 483 km in this comparison.
Tesla Cybertruck Vs Rivian R1T Vs GMC Hummer EV Powertrain Compared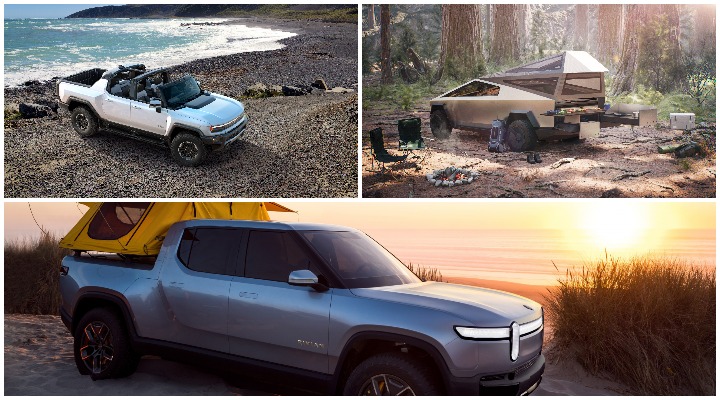 Pickup trucks are all about torque, and electric vehicles are also all about that grunt. It means that these three hulk-sized trucks pack in an equally powerful punch. But "who hits the hardest?" is the question we need an answer to.
Now you may have heard GMC advertising its torque figures as something in the range of 15,000 Nm. However, it is merely the wheel torque and does not represent the grunt its electric motor produces.
In reality, the Hummer EV produces around 1,416 nm of torque which is honestly a lot. For comparison, the Tesla Cybertruck and the Rivian R1T produces 1,355 nm and 1,119 nm of torque respectively. Therefore it is clear, the GMC Hummer EV makes the most torque and is hence the winner in this case.
However, that's not the whole picture. You see, Hummer produces the most torque, but it is also the heaviest. Meanwhile, pound per pound, Rivian R1T seems to be the quickest on its feet.
You can see a similar story when comparing horsepower; the Rivian R1T produces 754 HP. Meanwhile, Tesla Cybertruck produces 800 HP, and the GMC Hummer Edition 1 churns out 1,000 HP.
Since none of these EVs' exact kerb weight is available, declaring which one would be faster is a guessing game at this point.
Bells And Whistles
It wouldn't be an EV comparison without talking about all the onboard features. Comparing charging times first, we see that Tesla Cybertruck comes on top here. Tesla already uses a 250 kW charger for its Model S sedan. Therefore it'll most likely debut on the Cybertruck as well.
Meanwhile, Rivian promises 3,500 individual fast chargers capable of 200 kW of charging speed.  However, the GMC Hummer EV leaves the competition behind with its 800-volt battery architecture, enabling 350 kW of charging speed.
The GMC Hummer also comes with features like removable roof panels, easily swappable body parts, 17 external cameras, vehicle-to-load charging and a 32-inch water wading capacity. Likewise, GMC Hummer also features air canisters that adjust themselves 500 times a second, offering the smoothest ride possible in the harshest of terrains. The same canister raises and lowers the height on command to change the Hummer EV's ground clearance on the go. The truck also comes with crab mode and 4 wheel steering, allowing it to move sideways diagonally.
Meanwhile, the Rivian R1T electric pickup truck brings V2L charging, a hidden tunnel as a storage compartment, and external body cameras. What's something really cool in the Rivian R1T is a feature called the "Tank Turn." It allows the truck to turn 360-degree in a circle similar to a tank.
On the other side of the ring, the Cybertruck faces its competition armed with a cold-rolled stainless steel external body that is scratch, dent, rust and almost bulletproof. The Cybertruck also features Tesla Armor in its windows which is a super tough material that can shield passengers from external impacts. The Cybertruck comes without body paint, but Elon has suggested it could come with different shades of steel. Furthermore, the Cybertruck also has a solar roof attached to it and comes with Cyberquad, an electric ATV, as an optional extra.
So who is the winner amongst these three contenders? Well, if you want a long battery range and a bulletproof vehicle, then Cybertruck is your best bet. But if you prefer a luxury sport utility vehicle, then going with either the Rivian or the Hummer EV will do you good.