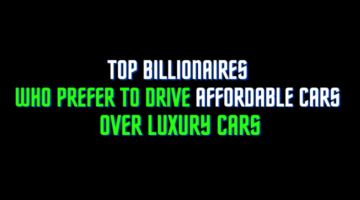 What do people usually wish to have after they become a billionaire? A luxury car, a luxurious villa at a prime location- possibly with a helipad, tickets to outer space, private planes, private islands, luxurious superyachts, and the list goes on, but a vast majority of people definitely want to own a luxury car. However, if you look at the list of top billionaires of the world, most of these moguls prefer affordable cars over luxury cars, a strange choice isn't it?
Being an Indian, the majority of times, we assume a person's status or their richness on the basis of what car they drive? We have a very straightforward and lame way of thinking on this one. A person driving or travelling in a Lamborghini or Mercedes car can't be an ordinary fellow, and a person driving or travelling in a Honda or Ford car can't be a billionaire. However, the reality is way too different from your predictions, and we're here to disclose the reality.
Jeff Bezos
The Amazon founder, chairman, and CEO, Jeff Bezos has no less status than a celebrity, but when we talk about celebrities, we usually assume either they're travelling in luxury cars or flying from one place to another by their private jets and choppers, but in the case of Jeff Bezos the results are contradictory. You'll not believe it, but the man who's currently on the list of top 5 richest persons in the world surprisingly drives the Honda Accord, which is one of the decent but affordable cars in the market.
Jeff Bezos used to work at Wall Street before he founded the largest online retailer in the world. Before you give it a second thought that he's driving a newly launched Honda Accord, then hold your horses, it's not a recent one. He's been driving the Honda Accord, which he bought in the year 1999, which gives us clarity that Amazon only spends money on things that matter to the customer. Also, in one of his interviews, when asked about the reason behind this unobvious choice of ride, the man who has a wealth of close to $200 billion smiled and answered, "it's quite a good ride".
Mark Zuckerberg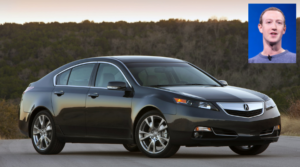 The second billionaire who prefers an affordable car over a luxury car is quite an obvious name to guess, and everyone knows why? The next person on the list is the man behind the glorious success of Facebook, Mark Zuckerberg and if you don't know why it is an obvious name, have you ever noticed the Facebook founder and CEO in a different outfit than his regular plain grey Hanes t-shirt and blue jeans? Obviously not! Now think, if a man who owns several top social media platforms prefers simple outfits for his everyday outing, then why would he invest a hell of a lot more money for a regular ride?
The millennial software mogul was often spotted driving a black Acura TSX (approx. priced at 25 lacs) and Honda Fit, which is marketed as Jazz in India. Along with these two cars, he was even spotted driving an Italian-made car, Pagani Huayra, on some occasions. When asked why he prefers Acura TSX, he said, "it's safe, comfortable and not ostentatious." About Mark Zuckerberg, the millennial software mogul, almost everyone knows he prefers to live below his means, and he never misses to show it to the world.
Alice Walton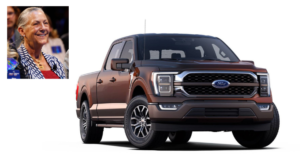 Alice Walton is not a very common name when it comes to billionaires, but you can always guess about someone's family background by taking a look at their last name. The co-heir to the fortunes of Wal-Mart and daughter of Sam Walton, founder of Wal-Mart, is the second wealthiest woman in the world, after L'Oréal heiress Françoise Bettencourt Meyers. Alice, the current board member of Amon Carter Museum, owns over US$13 billion in Walmart shares, but when it comes to spending some, she's a pretty economical person.
Alice drives a newer but still considerably older 2006 Ford F-150 King Ranch, but her reason for driving the car is a bit more sentimental. Her father, Sam Walton, used to drive a 1979 Ford F-150 before his passing, and that's why she has an emotional attachment with the Ford F-150 cars. Another angle behind preferring the Ford F-150 might be her involvement in multiple automobile accidents. In one of them, she lost control of a rented Jeep during 1983, shattering her leg, and in the later years, she once overspeeded and killed 50-year-old Oleta Hardin, and in 1998, she hit a gas meter while driving under the influence of alcohol.
Warren Buffet
Warren Buffet is an American business tycoon, investor, and philanthropist who likes steaks, Coco cola and candies from See's that Berkshire owns. Mr Buffet serves as the chairman and CEO of Berkshire Hathaway and is famous for making billions on Wall Street with some serious investments. Warren Buffet is known for spending a minimal amount on almost everything; for example, he never spends more than $3.17 on breakfast, and he lives in the same house he bought for $31,500 in 1958. 
Warren Buffet is not the guy who will waste a dollar on materialistic items, and he proved it by driving domestic cars. He drove a 2006 Cadillac DTS for nearly a decade, and recently he purchased, a new 2014 Cadillac XTS when his daughter convinced him it was embarrassing. When it comes to the share market Warren Buffet has a keen eye for when and when not to spend cash, but about cars, he's not much interested in having luxury models. When asked for the justification, he said, "I only drive about 3,500 miles a year so I will buy a new car very infrequently."
Steve Ballmer
Steve Ballmer is a former CEO of Microsoft and owner of the Los Angeles Clippers. He served as the CEO of Microsoft from 2000 to 2014, and just like several other billionaire Microsoft executives, he prefers to drive a cheap car. The American business tycoon and investor is a loyal Ford customer and has proudly driven Ford cars for most of his life because his father was a manager at Ford Motor Company. In 2009, Ford CEO at the time, Alan Mulally, personally delivered a new Ford Fusion Hybrid car in celebration of their one-millionth vehicle equipped with SYNC, an in-vehicle communications and entertainment system.
Larry Page & Sergey Brin
Larry Page and Sergey Brin together founded Google in 1998 and Alphabet in 2015. Since their Stanford University days, these two have been working together and have achieved massive success in their profession. Larry Page and Sergey Brin have a net worth of over $50 billion each, but their similarities don't end there, as they both opt to drive Toyota Prius for a while now. Speaking about individuality, Larry Page is the 8th richest person in the world and only takes an annual salary of $1, and he's very unconcerned about the low pay while Sergey Brin, the president of Google's parent company, Alphabet and the brother-in-law of Susan Wojcicki, CEO of YouTube, shares his partner's fondness for the eco-friendly hybrid vehicle.
Dustin Moskovitz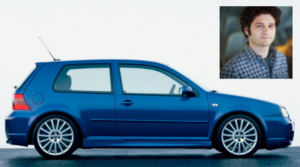 If you've seen David Fincher's 2010 release movie, The Social Network, closely, then you might have an idea of who's Dustin Moskovitz. He is one of the young wizards associated with founding the world's biggest social media site, Facebook. After his exit from Facebook in 2008, he cofounded Asana, a web and mobile application designed to help teams organize, track, and manage their work. In March 2011, Forbes reported Moskovitz to be the youngest self-made billionaire in history, and he only holds a 2.34% share in Facebook. Despite having a net worth of over $25 billion, Dustin Moskovitz prefers to live like an ordinary guy and drives a Volkswagen R32.