Would you believe that I have been going to Las Vegas for the last 12 years? Thanks to CES! But it always gets so exhausting that I never got to experience anything which is not in the Strip – For those who have not been to Vegas. The Strip is, hypothetically speaking, a 3 km long main street where all the fancy hotels stack up together with the fanciest of restaurants, shopping malls and casinos. All ready to get your share of attention and wallet. There is a joke, never wait for anyone in the hotel lobby because while waiting you will end up playing Black Jack, Poker or Roulette and the wait can cost you between $100 to $10,000, whatever has been your impulse for that one game. Also, the reason that after four to five exhausting days of CES you have another task in hand to complete, so you usually take the long flight back home or you will get wasted in that casino, nightlife and high life trap.
But CES 2020 was different and thanks to Hyundai India we decided to explore drivable places from Vegas, and that's when I found out what stunning places and roads there are to drive which is just about 45 mins away from Vegas. We were six people including the three influencers who cumulatively had more than 2 million  following on Instagram. The cars we chose were a sedan and an SUV – the Hyundai Tucson and the new Hyundai Elantra. Speaking of the Elantra, it had just done 20 miles – fresh out of the oven and that smell of the new car can give you a bigger high than all the cannabis that's now legally sold in the marijuana stores across Vegas. There are legally selling chain stores like Planet 13 (what an apt name) that has an Apple store visit like experience. The state of Nevada does not allow you to smoke it near the store or in any hotel or clubs but legally you can buy it, again you can't use your credit card and only do cash purchases. Now you can scratch your head while thinking that "Are the Nevada lawmakers on dope while writing this tenet down?"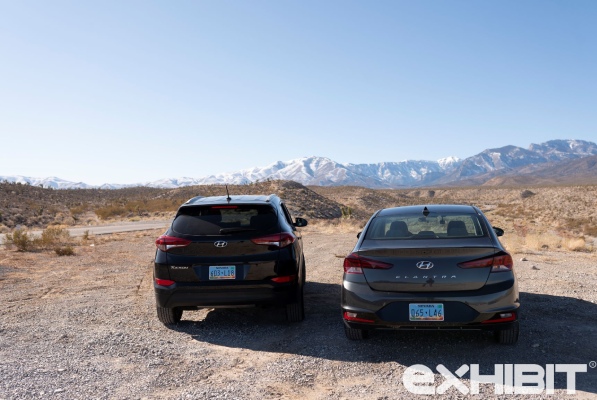 We had two days and the sun usually goes down by 4.30 pm to 5 pm and with a crew which has three beautiful ladies it's impossible to start before 10.30 am, that is when you give a call time of 8.30 am – that last stroke of makeup and that jacket which would have looked better. Tanked up we began towards our first destination which was the Mob museum, not that exciting so we decided to drive away to the more picturesque Red Rock canyon. The boot space of Tucson was just apt to hold everything and the most important camera equipment. No one was really hungry and it was noon but we had a long drive ahead and with three vegetarians in the squad (including me) we took a quick stop at chipotle (Mexican chain) to fuel up our stomachs. The only problem was that it was inside a mall with the best of fashion houses so I had to issue a strict warning that shopping was strictly prohibited.
Driving across America especially on the highways will give you a deeper sense of appreciation for the country because of its scenic beauty and diversity. We were rewarded with a remarkable and stunning scenic drive around Red Rock Canyon but unfortunately for us, we could not make the Grand Rock Canyon which was about a 5-hour one-way drive. Although, while driving it felt like you have come to planet 13 with a long stretch of empty roads surrounded by the Red Rock mountains on each side. For a minute it felt like I could keep driving the Tucson for a month on those roads without taking a break. We did some off-roading before our pit stop and the Tucson handled it quite well with all of us parked inside and no space in the boot. It was time to move on. I called out "Hey Tucson! Can we stay here in the night?" but Tucson replied by giving us the navigation path back to the MGM grand in the Strip, where we had camped up.
With the night peeping in, we could feel our energy draining and the exhaustion of the travel throughout the day and no one was up for a party or to stay up late in any of the casinos, lounges and clubs. One of the reasons was the excitement of ticking Hoover Dam, Charleston Peak and Fairmont street from our bucket list was higher. With Elantra and Tucson all shining and ready to be driven for more than 450 km. We completed the drive without any sign of driving fatigue, the cars were comfortable and steady and on the US highways you have to drive at a particular speed which is upwards of 130 km/h, but the roads are like a thick layer of butter and the cars were cruising along. We ended the journey with the mind stunning memories of these places and you can breathe here from the pictures and feel the place by watching this short video on our YouTube channel. Until the next travelogue, we have brought back of what it was that happened in Vegas and refuting the phrase of "What happens in Vegas, stays in Vegas".