Bentley Motors reveals complete specifications of the latest Bentayga Speed – the Bentayga family's pinnacle – effortless performance, yet no luxury compromises.
The new Bentayga Speed builds on the new Bentayga's completely refreshed design, adopting the same Bentley design DNA now prevalent across the entire range of models. The updated model is substantially revamped both inside and out, adding the very latest onboard technology and an even more cosseting cabin.
The Bentley Bentayga Speed is powered by a 6.0-liter W12 twin-turbocharged engine that delivers peak power of 626 bhp and 900 Nm of torque. Top speed is also increased to 306 km / h with exceptional performance, comfort, and handling whereas the 0-100 km / h sprint is delivered in 3.9 seconds.
The Bentayga Speed is currently the most powerful and performance-oriented Bentayga, marking its position as the pinnacle of the range. Bentayga Speed will be available for sale in certain regions where competition is high for 12-cylinder SUVs – the US, the Middle East, and the Asia Pacific markets.
While power output remains unchanged, the argument is that the latest cylinder-deactivation technologies would deliver "significant economic gains under part-throttle cruising conditions" as well as reducing CO2 emissions. If possible, the ECU deactivates six cylinders at a time and alternates between the two to keep them from cooling down, which will make them less efficient.
The Bentayga Speed comes fitted with four on-road Drive Dynamics modes: Comfort on one extreme, Sport on the other, and Bentley mode – a balanced suggestion from Bentley's Crewe chassis team – alongside a Custom mode for consumers who want to create their own driving set-up.
Bentley Dynamic Ride is the first active electric roll control technology in the world that uses an unrivaled 48V system. This mechanism effectively counteracts lateral rolling forces during cornering and ensures maximum contact with the tyre to provide class-leading cabin stability, ride comfort, and excellent handling. Recalibration of Bentley's Torque Vectoring by Brake system – under which the car lightly brakes the inside rear wheel at corner entry to sharpen the front axle turn-in – has made Bentayga Speed even more receptive to driving.
A range of available carbon-ceramic brake discs is Bentley 's biggest build, offering 6,000Nm of stopping force and capable to withstand temperatures up to 1,000deg C.
The Bentayga Speed sports a purposeful exterior look to match the elevated levels of performance. The Speed's performance credentials are characterized by dark-tint headlights, body-colored side skirts, unique front, and rear bumpers, and a striking, elongated tailgate spoiler.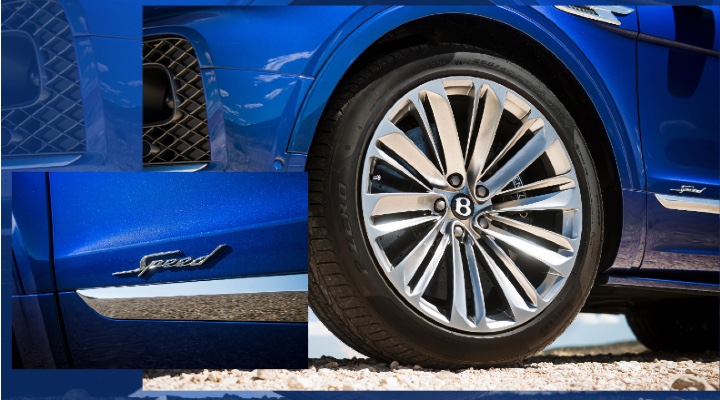 Dark-tint radiator and bumper grills, a unique 22-inch wheel design offered in two colors (painted and dark tint), and Speed signature badging contribute to the sporty design cues. The exhaust finishers at the rear are now the oval design signifying a W12 powertrain. Dark-tint tail lamps complete the Speed exterior signature.
The exclusive styling package for Black Specification substitutes all chrome trim elements with chrome or carbon fibre items including the front splitter, side sills, wheels, and rear diffuser.
The Speed color split also introduces Alcantara to the cabin of the Bentayga, across the seat cushions and backrest center panels, gear lever, steering wheel, lower knee trim areas, upper pillar trim, and headliner. You can choose the Leather Specification to instead have these areas trimmed in a hide.
The latest Bentayga introduces a modern, cutting-edge infotainment system establishing high standards for customer technology interfaces in the market. A bigger and brighter 10.9-inch high-resolution touchscreen with anti-reflection and anti-glare coating and much-improved touch functionality now extend the center fascia's entire width for a more contemporary appearance.
As with the latest Continental GT, in-car services now being provided via an embedded SIM ensures internet apps no longer need a data connection from a mobile device for a consumer.
The Bentley Bentayga Speed is compared with many high-power ultra-luxury SUVs, including the Rolls-Royce Cullinan and Range Rover SVAutobiography, in terms of competitors.
"The new Bentayga has already raised the benchmark for luxury SUVs, against which all others are measured. Ahead of the launch of the new Bentayga Hybrid – the world's only definitive luxury hybrid – in the coming months, it's important that we still recognize the customer desire for absolute performance. The new Bentayga Speed remains the fastest SUV in the world, but more than that, it's also the most luxurious version of the new Bentayga – the best of both worlds, the pinnacle."
Adrian Hallmark, Bentley's Chairman and Chief Executive