The travel bug bites us all! But it surely comes with a price. Most of us want to travel to a different country but budget requirements constrain us. Sure, I'd like to go to London or Paris to spend my hard-earned vacation but it'll definitely cost a dime. Globetrotting is a dream many people have but they may be discouraged from making it a reality as traveling abroad is perceived as costly. But what if I told you there are some locations around the world where you can travel spending as much as you would on your Goa trip? Sounds outlandish but it is true! 
I understand that traveling on a budget can be challenging, but the experience counts! The next time your friends are discussing their international travel stories, you too will have something to add there. In this month's travel edition, we wanted to compile a list of affordable travel destinations for tourists from India. Read on: 
Nepal
Unlike other countries on the list, Nepal does not require Indian citizens to show their passports. Though it is vital to carry a passport, users can also possess other documents. A voter ID issued by the Election Commission of India or any photo ID proof issued by Indian government authorities can also be used to enter Nepal. Some of the oldest temples in Nepal are the Pashupatinath and the Boudhanath Stupa, they are also tourist attractions given their cultural heritage. But that is not all as there are a number of other options like monasteries, wildlife sanctuaries, and trekking at the highest peak of the world, the Mt. Everest Base Camp. Wildlife enthusiasts can enjoy the scenic views of Parsa Wildlife Reserve, Shivapuri Nagarjun National Park, and Shuklaphanta Wildlife Reserve. This trip could cost a person in the range of ₹25-30K. Meals in Nepal could range between ₹250-500 depending on which cuisine and place you select. A decent hostel room in Nepal could cost you anywhere between ₹1,000 to 2,000.  If you're looking to kickstart your world travel journey on a budget, Nepal is your best option!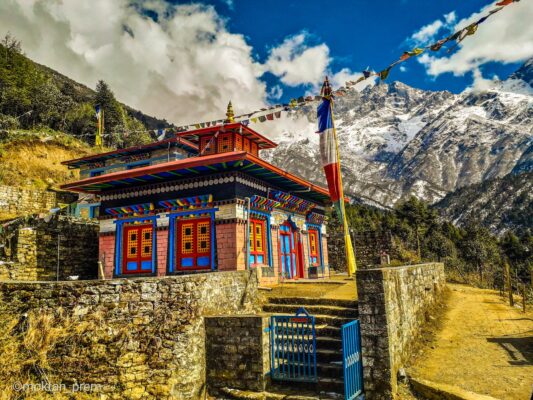 Vietnam
One of the best places to visit for people on a budget is Vietnam. This Southeast Asian country has colorful markets, fascinating caves, widespread topography, and shimmering nightlife which can be every traveler's paradise. The round-trip flights to Vietnam from India can cost in the range of ₹12,000 to ₹15,000 if planned two months in advance. Whereas, a decent hotel stay can cost you around ₹1,500 to ₹3,000. Travelers can immerse themselves in yacht or boat cruises, caving, cultural tours, wildlife tours, or local market tours. Nha Trang, Mekong Delta, Hanoi, and Ho Chi Minh City. The highlight of the Vietnam trip can be Ha Long Bay which is listed as one of the UNESCO World Heritage sites. Ha Long Bay comprises 1600 islands and islets which form into a picturesque seascape mostly of limestone pillars, a sight to behold for sure! We estimate that a 7 days and 6 nights trip to Vietnam could cost one person around ₹40,000 to ₹50,000 if flights are booked in advance. 
Bhutan
I would like to experience a country that publishes its happiness index. Indians surely have an advantage here over other International destinations as Bhutan offers passport-free travel to Indians. The country possesses a wide range of unexplored terrain coupled with breathtaking natural beauty, making it a must-visit destination for Indian tourists on a budget. A return flight ticket to Bhutan costs cheaper than a few domestic flights around the country. Decent hotels in Bhutan cost anywhere around ₹2,000 per night. On the other hand, you can also opt for homestays which can cost around ₹1,000 and ₹1,200. So what can you do in Bhutan? The country has an abundance of tourist attractions from cultural tours to local sightseeing. The adventurer in you can also be challenged by going on a Himalayan tour. Wildlife enthusiasts can indulge in wildlife-centric tours. Bhutan also has a UNESCO heritage site where tourists can experience the Drametse Mask Dance where colorful costume depiction of gods, demons, animals, and heroes takes place. Haa Valley, Rinpung Dzong, Thimphu, and Punakha Dzong are some of the places you can visit. The trip can cost you approximately ₹35,000. 
Thailand
Thailand is one of the most traveled tourist destinations for people on a budget. Thailand is definitely not limited to its depiction in the 'Hangover' film and offers you a set of diverse cultures and activities to experience. Be it turquoise-watered beaches, street food, vibrant markets, authentic spas, or happening nightlife, Thailand has it all! Some of the places to visit in Thailand include Bangkok for its party culture, Pattaya for its crazed nightlife, Chiang Rai for the adventure-head in you with mountain trekking, and Koh Samui for its beautiful beaches. To indulge in local cuisine like Tom Yung Goong (shrimp soup), Tom Kha Kai (chicken in coconut soup) or Gaeng Daeng (spicy red curry) is surely not to be missed. The trip can surely cost you a buck if you're traveling around the entire country but winding it down to two or three cities can surely make it an affordable trip. We say Bangkok, Phuket, and Tarutao should be on your list if you're on a trip to Thailand. A 5-day round trip flight ticket from India to Phuket can cost you around ₹12,000. The total trip can be wound up in around ₹40,000. 
Philippines
If you're a beach bum, the Philippines is the place for you! It is a land full of islands with over 7000 islands ready to leave you spellbound! As a vacation destination, the Philippines are unique as there is so much to choose from which can leave you confused. Be it beautiful surfing spots to emerald rice fields to volcanoes and a vast number of beaches, you'll surely never run out of options for things to do in the Philippines. The nature enthusiast in you will surely be the happiest here as the country is full of beautiful tourist attractions which can be enjoyed through a sightseeing tour. You can simply hop in a car to take a countryside tour around the island of Bohol, in this tour you can see the Chocolate Hills and cruise along the flowing Loboc River. You can also simply walk around the city of Intramuros in Manila and learn about its rich colonial history. 
Oman 
Oman is surely not the spot that pops into your mind when one thinks about vacationing in the Middle East but it surely has its own surprises! With mountain views, spectacular mosques, and white-sand beaches, Oman should definitely be on your list for budget travel. A round-trip from Mumbai to Muscat can cost you around ₹16,000. You can also secure a decent hotel room anywhere between ₹2,000 to ₹5,000. The country is filled with tourist attractions like desert safari, beach visits, cultural tourism, and more. If you're heading to Oman, do not miss out on the Wahiba sand tour. It is known as the adventure playground of Oman. You can experience the pure amber shades of sand as seen in movies! Oman also has a number of UNESCO world heritage sites like the Aflaj irrigation system and large burial grounds of Ay-Ayn, Bat, and Al Ayn. Dining is comparatively costly in Oman as a decent meal can cost you around ₹1,500. We estimate a 5-day trip to Oman can cost around ₹50,000 to ₹60,000.