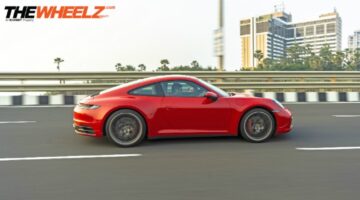 W
hen you wake up on a Sunday and you have the red hot Porsche Carrera S waiting in the lobby all tanked up, you realise that Life is Good. I could barely finish my breakfast because Saurabh and Harman from my team were all geared up 45 mins in advance of the time we had decided to shoot. Excitement level? Checked! This normally does not happen but when you have the Porsche 911 Carrera, things change.
As we zeroed upon the drive, first we thought of hitting the Pune expressway but we realised that a car which demands a cheque value north of ₹2 crores will most likely be bought by an enthusiast living in the metro cities. For example, in Mumbai, the chances are that you are living between Andheri and Marine Drive. So, I thought why not do a reality check and experience it on the practical front rather than just taking it out on the straights?
Coming to the 911 Carrera S, it's a 2 door meant for 2 people with two more seats at the back. Practically impossible for an adult to sit, but should be enough for an overtly active skinny 8-year old. But then again if you plan on owning a sports car and that too the ultimate 911, you will mostly have luxury Sedans and SUVs already lying in your garage. So, our backup car or the tracking car was my BMW X5 which was trailing us all the time.
Making your way inside the car, note that you do not have any back problems to slide into the almost ground touching seats, but then that's a sports car we are talking about. So make sure that even before you earn the money, burn calories too. And as soon as you turn the ignition knob the engine cranks up whose sound can cure you of all your Mental Illness, Schizophrenia, Depression and maybe even the deadly Dengue or viral fever. The moment I took it out of my apartment complex and right over a road bump, it narrowly scraped the bottom and then I realised you have to be super careful as it hurts. If anything it's exactly like a stone touching the Porsche 911 in your possession. But when you're out on the roads, all you will get is everyone's attention (envious) who have been ogling at it either directly or slyly.
Everything inside is top-notch with the usual boot in the front and the engine at the rear. Quite typical of the 911. I wanted to take a peek at the engine but sadly you cannot do that. Copyrights Issue. The overall design from the outside to inside is something which looks like a Picasso painting translated on the roads. Thus, we started driving to Mumbai's famous, Gateway of India and I thought when you have a car like this, the seat next to you should also be occupied by a beautiful woman, so I dialled Chetna Pande's number just to check if we can pick her up on the way and in return promised her a nice lunch at Pizza by the Bay in Marine Drive. It took me 15 seconds to convince her and she promptly said that she will be down and ready to go in 15 minutes (it's unusual of a girl as gorgeous and beautiful as her to get ready so quickly). BUT, she made me take an oath to allow her to drive the 911 Carrera S for 5 minutes and I had to grudgingly agree. For a minute, I am thinking to myself that it's a bad bargain.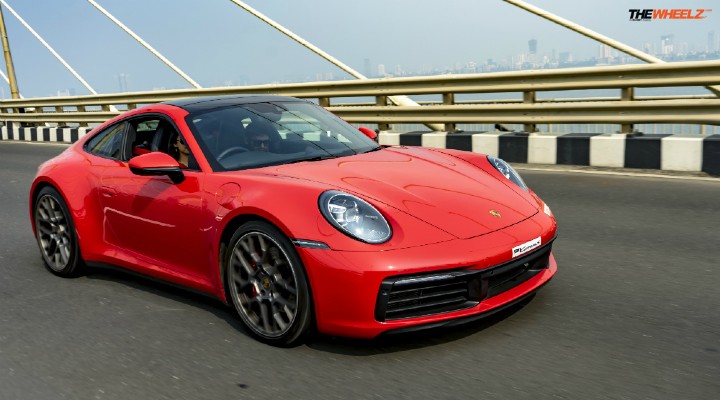 And when we finally met, the first thing Chetna did was that she connected her phone to the Bluetooth and the Bose speakers were extremely capable of a sound blast, but she lowered the volume as the Bose speakers couldn't compete with the sound of the twin-turbo flat-six engine's tune. It also has Apple CarPlay, navigation system which is on point and an easy operating user interface. However, these things don't matter because you would rather not take it to an unknown place but use it to take it out on known roads and drive and come back home and maybe book an Uber for work or take the other cars lying in your garage. As I said earlier, the 911 attracts attention, we had paparazzi shooting us at Worli Sea Link. The Carrera S was getting attention from everywhere, people from tall vogues to runners were all looking at her – I mean the car. And the moment we pulled over at Pizza by the Bay, there were 10 valets who all came running towards the car and as I stepped out, I asked, "Can any of you drive this?" The answer was obvious, "Yes, sir!" As the car stood there craving all attention. That's the point of me saying, this is exactly why you drive the 911 and come back home or take a backup car or get an Uber because giving it to any valet is a seriously tough decision just like choosing the girl you want to marry. Well, quite literally.
Now I had to live up to my promise and so I had to hand over the keys to Chetna and this was going to be her first sports car experience. As we swapped seats and drove away, she was all smiles, but those 5 minutes were the toughest 5 minutes of my life. That's when I understood, why cars will always be a Man's First Love (in any case, a petrolhead's first love). And, specifically, for me, Ladies and Gentlemen, it was the 8th generation Carrera S with a new 8-speed dual-clutch PDK gearbox with a top speed of 308 km/h that is also capable of flying to 100 km/h in 3.7 seconds, is a perfect example of Beauty and the Beast. Therefore, I rest my case.
Specifications:
Engine: 3.0-litre, twin-turbo, flat six
Power: 450 hp
Torque: 530 Nm
Transmission: 8-speed DCT (PDK)