Introducing TVS Built To Order (BTO)
Unique for everyone. Unprecedented for the industry.
TVS Built To Order is a first-of-its-kind customization platform and a much-needed revolution in the performance motorcycling segment. This translates into the whole process of interacting with the platform as well. 
With TVS BTO, your vision for your motorcycle is brought to life with world-class engineering and state-of-the-art technologies. Every aspect of your machine is now in your control, right from the performance to your preferred aesthetic that truly represents you. The power to be unique on your own terms is now in your own hands.
The company's BTO platform lets the customers customize their bikes as per their needs and requirements after which their unit is built directly in the factory. This time around, TVS has introduced a new, industry-first, factory built-to-order (BTO) system, where customers can specify their RR 310 as per their needs and requirements via the TVS ARIVE app or the online configurator. The BTO also allows the customers to track the journey of their bikes in real-time and finally get it delivered from their nearest TVS dealership.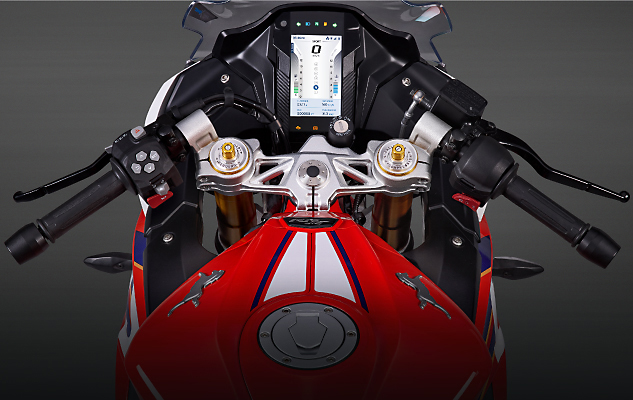 The official TVS ARIVE app and web configurator can be used to select the preferred variant, package option, make a booking, and even complete the payment – all in just a few clicks. Following this, an authorized dealer from a preferred showroom will complete the delivery process.
In the highly exciting wait for their machine, one can also track and preview the machine in the ARIVE app. The bike can be visualised both in AR and a 3D model, giving one access to the even most minute details of the machine.
Be unique on your own terms.
TVS offers two customization kits with the Apache RR 310 – Dynamic and Race kits. The dynamic kit consists of a fully adjustable front fork set-up, full adjustable rear monoshock and an anti-rust brass-coated drive chain. The front fork gets 20-step compression damping and 20-step rebound damping and 15 mm of preload adjustment. 
Similarly, the rear monoshock gets 20-step rebound damping and 10-step preload adjustment. Similarly, the race kit includes a new handlebar which is lowered by 8 degrees and tucked inwards by 5 degrees. It offers a more aggressive and committed riding posture. The footpegs too have been raised by 30 mm and offer increased clearance of up to 4.5 degrees. They are knurled as well, offering better grip for the riders.
<iframe src="https://www.pearltrees.com/futureex/tvs-apache-rr310-build-before/id53665531?embed=2&d=202205301129″ width="560″ height="413″ style="border:0px;" allowtransparency="true"></iframe><span style="display:block; padding-top:2px; color:#818181; font-size:13px;"><a href="https://www.pearltrees.com/futureex/tvs-apache-rr310-build-before/id53665531″ style=" color:#818181; font-size:13px;" target="_blank">TVS Apache RR310 BTO ! Build it before you buy it</a>, by <a href="https://www.pearltrees.com/futureex" style=" color:#818181; font-size:13px;" target="_blank">futureex</a></span>
Dynamic Kit
Crafted for those who race off the beaten track, Dynamic kit offers superior performance on every terrain with adjustable front suspension and rear monoshock and brass coated drive chain. Let your performance speak for itself and make a statement with the special race edition graphics.
Fully Adjustable KYB Front Suspension
Race into the unexplored, with a fully adjustable KYB suspension with 20 sets of damping and 15mm of preload in the front forks, which can be adjusted by the rider for firmness or flexibility depending upon the terrain and riding style.
Fully adjustable KYB rear suspension
The enhanced KYB suspension allows for adjustment of the rear monoshock. The adjustable rear suspension features 20 sets of damping and 10 steps of preload adjustment, to adjust the level of stiffness for a race experience. 
With the factory fitted brass coated drive chain, you will always find an excuse to push the limits on the racetrack. The anti-rust brass coated chain delivers superior performance output from this race machine. 
Race Kit 
Crafted for those who aspire to clip every apex, and burn rubber on every straight, the race package features an aggressive racing stance and ergonomics. The tuck down racing handlebar, raised footrest and race footpegs make your track weapon an unforgettable force.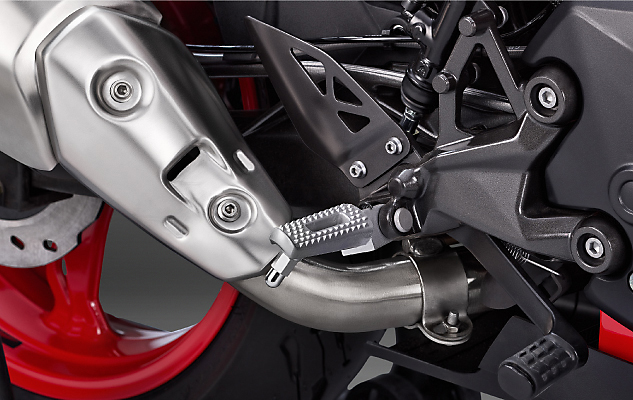 Racing ergonomics – Handlebar 
The race ergonomics turn your race machine into a formidable force on the track. The lower set handlebars at 117.1 degrees enable a highly aggressive and committed stance, facilitating tighter corners and faster straight-line speeds. This also delivers a superior grip on the racetrack.
The knurling on the footpegs provides for superior grip and great stability while attacking corners.
The raised footrest assembly provides the rider with an aggressive and committed posture, making room for a higher lean angle to achieve higher speeds while cornering. 
New Race Replica Graphics
Racing is inherent to every TVS Apache RR310 that leaves the assembly line. The glorious heritage of TVS Racing since 1982 is now etched on your race machine. The eminent TVS Racing wreath graphic imparts an exclusive identity and the TVS Racing OMC inspired livery makes your track weapon stand out. The Race Replica edition enlightens the racer within you, making for memorable podium finishes.
The number on the machine is more than just a figure!! It is an identity that is owned by you and defines you. With the option of getting your favourite number on the visor, you can carve your own legacy through your track weapon.