What is your criteria when it comes to buying a pair of TWS? For me, it will always be the comfort and sound quality. Over the years I've used a number of wireless earbuds that are barely comfortable to wear for an extended period of time while giving an optimum sound experience. Thus, my scepticism while trying out the latest Nothing Ear (2) was soaring high. Nothing's new addition to its product lineup surely leaves an amazing first impression thanks to its futuristic looks but there's more to everything than what meets the eye. So, how good is Nothing Ear (2)? let's find out –
Design
The design arena is where Nothing Ear (2) marks its elegance. However, the design is 'nothing' to get excited about as it is heavily borrowed from the first iteration of the TWS with minor tweaks here and there. There is an addition of a tiny metal plate for pressure-sensitive controls along with the 'Ear (2)' branding which is new for this iteration. Besides that, the looks remain unchanged. The futuristic aesthetic coupled with a plain white form factor makes the Ear (2) stand out from its competitors in the design aspect.
While the design of the buds is top-notch, they do not tend to stick around in your ears during extended hours of music streaming or binge-watching. I had to plug the buds in from time to time while watching films as they would simply pop out which prompted me to not even risk working out while wearing them. The earbuds come with IP54 dust and water resistance which is an upgrade from the previous IPX4-rated Ear (1). The earbuds case is not any different from the first generation except for a slightly smaller form factor.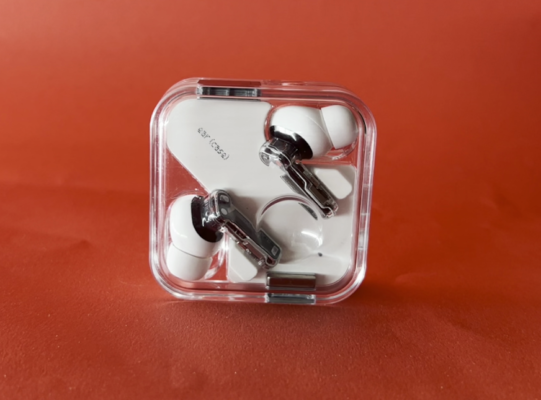 Audio and ANC
The most important aspect of any TWS is how good they sound. Companies often get lost in the sauce of delivering visually appealing earbuds at the cost of losing out on sound quality. Nothing Ear (2) does not fall into that trap and only gets better from the previous iteration. The previous Nothing Ear TWS featured powerful bass but lacked mids and treble which resulted in a muffled sound experience. However, Nothing Ear (2) strikes a beautiful balance between the three bringing in a much improved sound experience. Ear (2) does not obsess with high bass and delivers clear mids and highs making up for an overall enhanced listening experience. It features LDHC 5.0 which is refreshing to see in midrange earbuds.
The ANC and EQ settings sit tight in the NothingX application which offers a number of personalization options to the user. My favourite feature of Nothing Ear (2) has to be its Personalised ANC option which calibrates the level of ANC based on the user's hearing sensitivity. The app offers a hearing test for users and fine-tunes the sound profile of the earbuds based on the test. During my testing, the sound experience did get better once I switched to personalised ANC.
The noise cancellation features here are not beyond anything other earbuds offer at this price range. It is pretty much a standard ANC experience which neither overwhelms nor disappoints.
Performance
At its core, Nothing Ear (2) comes off as capable everyday listening earbuds. I wouldn't recommend using them during extensive physical activities as they tend to fall off easily even if you've got an 'Ear Tip Fit Test' done through the NothingX app. The music experience is well-rounded here and the earbuds do a fantastic job of operating the highs, lows, and mids of any given track. They support hi-res audio with only a limited bunch of Android devices. The call quality is amazing here. However, one gripe with the earbuds has to be their battery life. Nothing Ear (2) does not come with an impressive battery performance as they lose out on a big chunk of power within just two hours of usage with ANC turned on. While the charging case offers an additional 18-20 hours of battery life with ANC turned on, it is still underwhelming.
Verdict
Nothing Ear (2) build upon a solid foundation laid out by its predecessor and excels where Nothing Ear (1) lacked plenty. The balanced sound quality coupled with futuristic looks make up for a solid overall package for your audio needs. If your smartphone device comes with Hi-res audio support then the deal becomes a little sweeter, however the same cannot be said for an universal experience with the Nothing Ear (2). Ultimately, Nothing Ear (2) is a balanced upgrade which can be considered for your audio needs.
Rating –
⭐
⭐
⭐
⭐