The pro tablet by Lenovo is their latest device to compete in the tablet market. It comes in two different models, the P11 Pro and the base P11. The former has 4 GB of memory but the latter comes with 6 GB of RAM. Both, however, comes with 128 GB of storage. The tablet has a 2k OLED display, 4-JBL speakers, a USB Type-C port and an ultra-thin profile. So how is it in real life? Let's find out!
What's In The Box:
The Lenovo P11 Pro comes with a fast charger, a USB type-A to type-C cable and the tablet itself. Unlike the Tab S7, it does not come with an S-Pen so you'll have to purchase it separately. 
Design & Construction:
The Lenovo P11 Pro has a big screen. It's bigger than the Samsung Tab S7 and also thinner. On the front, you get a dual front-facing camera, probably for the depth effect. And on the back, you get a dual-camera setup along with an inbuilt flash. 
The P11 Pro has been designed keeping in mind a keyboard cover as the rear camera is placed so far back. The screen is so big that you can't even notice how thick the bezels look. On its sides, the tablet features two grilles on the top and the bottom, along with a power button that doubles up as a fingerprint reader, two volume buttons, two microphones, and a USB Type-C port. 
The tablet is very thin and big, the combination you can associate with luxury. The fit and finish are excellent.
Performance Tested: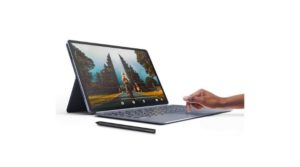 The tablet is powered by a Snapdragon 730G processor, which is great at providing both: power and efficiency. You can easily play games like Call of Duty Mobile, Battlegrounds India at high graphical settings and at 60 FPS. Additionally, playing games on such a big screen is a much better experience as compared to a mobile phone. 
However, playing graphically demanding titles like Gensin Impact puts the 730G under a lot of stress. You can still get a decent frame rate but at low graphics settings. 
The speakers on this thing perform really well. They're loud, crisp and offer a good base. Watching movies and YouTube videos is what this tablet was made for. Furthermore, the 2k OLED screen is a delight to look at. The 8,600 mAh battery lasts really long as well. On stand by the time it can last for days. And on a full charge, it easily lasts a full day. 
I charged it overnight so cannot comment on its charging time, but I can assure you, even with 50% SoC, it'll breeze through most of your daily tasks easily. 
Verdict:
The Lenovo Tab P11 Pro is a great value-for-money tablet that you can opt for in 2021. For content consumption and social media browsing, this device is perfect. However, with its power-efficient chip, it does take a decent amount of punches when playing graphically heavy applications. For the price of Rs 45,000, you can definitely check the Lenovo Tab P11 Pro if you want something for entertainment and general usage.