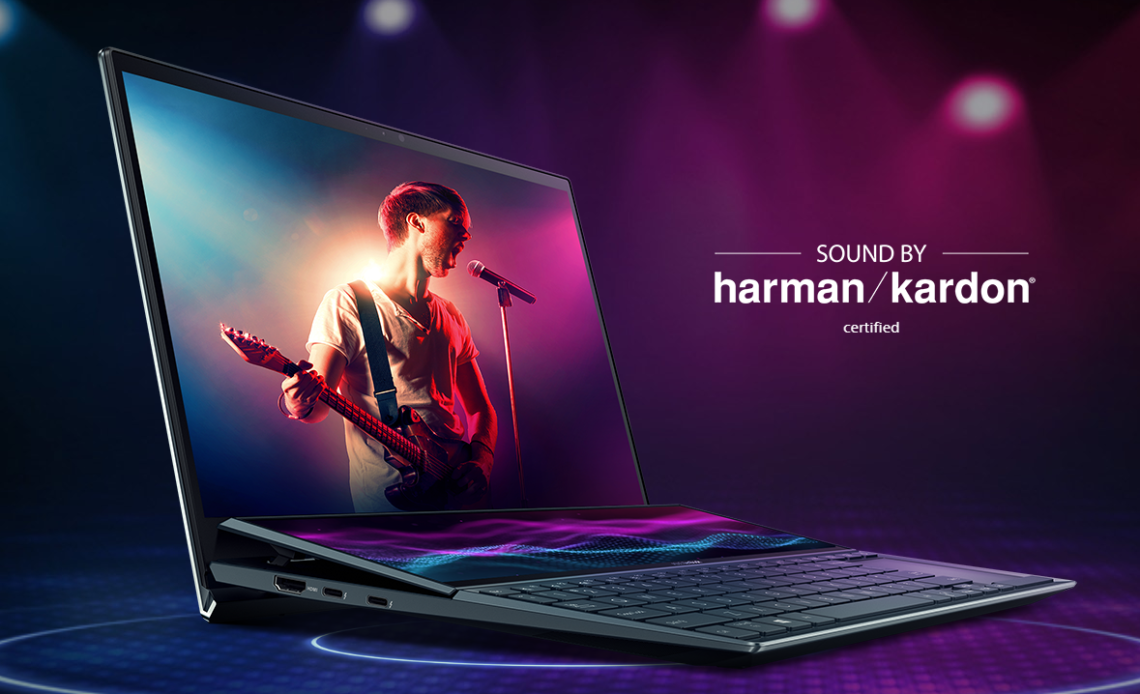 Two-screen or dual-screen gadgets are becoming a trivial trend, but keeping aside the audience's interests, several top-notch companies are investing in the idea and developing two-screen devices. We have witnessed the launch of two-screen products such as Galaxy Fold 3, Galaxy Flip 3, Asus ZenBook Duo 14, and Lenovo ThinkBook Plus in the past few months.
Amongst all of these gadgets, we've reviewed some and sent them back to the places. However, to our luck, we got a chance to keep the Asus ZenBook Duo 14 for a bit longer, and that's why we decided to come up with a long-term review where we can assist you to understand the complete details of the 14-inch Asus ZenBook Duo 14.
Design & Build Quality
Asus is known for offering the world's best motherboards and innovative gadgets such as high-quality personal computers, graphics cards, and other technology solutions. The company's latest addition, the uniquely designed Asus ZenBook Duo 14, is an update to last year's Zenbook Duo 14, and it arrives with a massive slab of a second screen.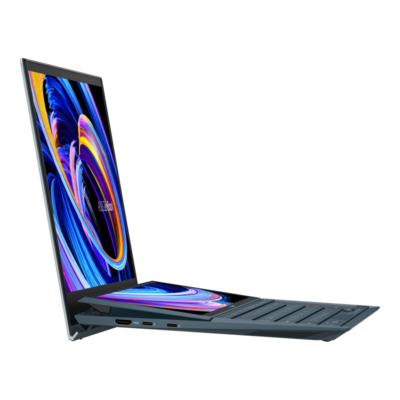 On the outside, the ZenBook Duo 14 features a concentric circle pattern etched on top, and it looks elegant. The glossy silver Asus logo stands apart and strikes a laptop with a classy look. On the inside, it features two screens, as mentioned in the name, and it is as wide as the main screen, but it makes the laptop sacrifice its ergonomics.
Along with a head-turning design, the Asus ZenBook Duo 14 endures a well-built form. The full-HD laptop features sturdy and robust screens, tough enough to take a hard punch. The Duo 14 is not a lap-friendly laptop, and most of the credit goes to its raised bottom panel and the second screen, as it doesn't sit flush and changes the conventional wrist-rest space.
Display
The ZenBook Duo 14 features two stylish, seamless and steady displays, which are unquestionably beneficial if you prefer working on a laptop while commuting in a car. The laptop features a primary display of 14-inch FHD (1920 x 1080) and an additional compact display of 12.65-inch (1920 x 515), dubbed as the ScreenPad Plus. The Zenbook Duo 14 offers an immersive viewing experience with a four-sided frameless NanoEdge display and its second screen automatically tilts up to an angle of 7° which reduces glare and reflections for improved readability. 
The dual display is best for journalists, writers or students who like to open/switch various windows/tabs at a time. They can use the ScreenPad Plus to track the latest news/articles and use the primary one to write their own. The Duo 14 is the best option for users who want more than one display. The laptop also features a handy button above the touchpad that immediately swaps the contents of your primary and secondary screen. The ScreenPad Plus is beneficial for gaming, especially when you like to play games and run video references side by side.
Ergonomics & Ports
One of the flaws of the Zenbook Duo 14 is its keyboard and mousepad. The company has done a decent job adjusting both of these essential aspects in a tiny space, but somewhere deep down, we all know we're not satisfied with it. The secondary screen, ScreenPad Plus, leaves extremely little room for the touchpad, which forces Asus to create a vertical mousepad.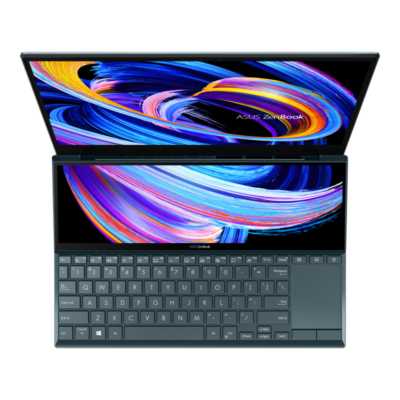 Also, as mentioned earlier, one can not rest their palms while typing; it's a bit of a task in itself and a hard one to follow. Along with the mousepad, the keyboard also looks cramped and compromised for the second screen. Centre-aligned mousepads and empty keyboard decks are comfortable for every individual, whether right-handed or left-handed. 
One aspect that doesn't suffer due to the secondary screen is the ports. The Zenbook Duo 14 features a range of ports, including USB-A 3.2 Gen 1, two USB-C with Thunderbolt 4, a full-size HDMI 1.4, an HDMI connection, a microSD card slot and a 3.5mm audio port. The dynamic laptop also emphasises support for Wi-Fi 6 and Bluetooth.
Performance
Performance and endurance are two departments that one should not worry about if you're planning to buy the Asus Zenbook Duo 14. The performance is in line with the competition, and with an 11th gen Core i7 processor lying inside, paired with 2GB Nvidia MX450 GPU, 16GB DDR4x RAM, and a 1TB NVMe SSD, the ZenBook Duo 14 is assuredly more than enough to handle a number of heavy tasks.
The Duo 14 is equipped with the new ScreenXpert 2 software and offers a plethora of built-in apps, including a new Control Panel app, which comes with customisable commands and shortcuts for Adobe Photoshop, Lightroom Classic, Premiere Pro and After Effects. The base model arrives with an Intel Core i5-1135G7 processor, 8GB of memory, and a 512GB SSD. The 1.6 kg laptop scores 5,330 points on n Geekbench 5.3.
Battery Life
The Asus Zenbook Duo's battery life is surprisingly decent, and it can pull enough juice from its 70Whr battery to provide you with a solid six hours of working time. Naturally, laptops in this category tend to last a long time but in the case of Zenbook Duo, the second display is a vital culprit on battery drain. The bundled USB-C charger takes about an hour and 20 minutes to fully charge the Duo 14. After fully recharging the laptop and putting it in power saver mode, it offers over 10 hours of standby time. The fans only fired up during gaming, but you can turn them down by visiting Asus' control centre. Overall, throughout the use, the Zenbook Duo 14 stays cool and provides wholesome enjoyment.
Verdict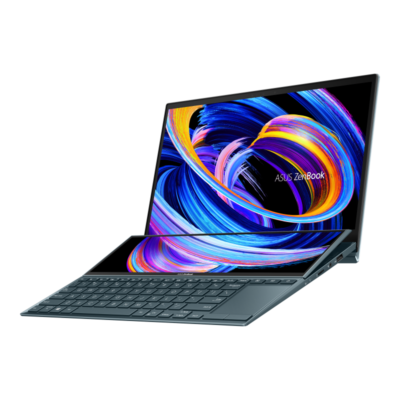 Finally, we've arrived at the question, is the Asus ZenBook Duo really worth your time and money? Well, Yes. The Asus ZenBook Duo 14 is a pretty unique ultrabook that provides a number of innovative features, including audio equipment certified by Harman Kardon but surrenders ergonomics for a big second screen. With the price starting from ₹99,990 and going up to ₹1,34,990, it's a decent choice and durable enough even with its dubious hinge. The Asus ZenBook Duo 14 continues to redefine what a laptop should build like, but at the end of the day, it ultimately depends on the user's preference and whether it adds value to the user's life or not?