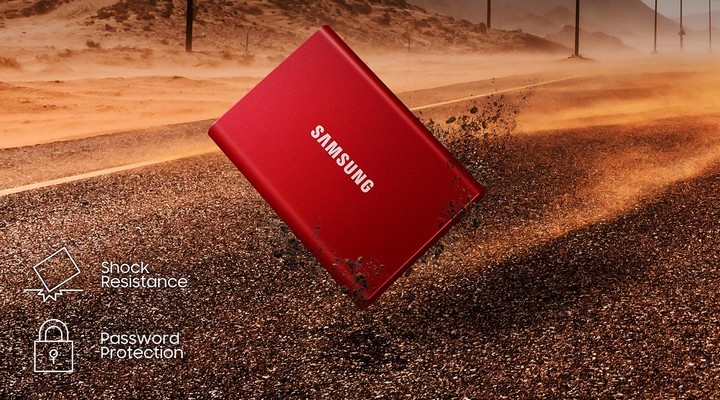 For a change, we are not getting you a smartphone review from the house of Samsung. This is something really interesting and a storage device that we never thought we'd need, but now daily work-life seems impossible without it. Weighing in at just 58 grams, meet the Samsung Portable SSD T7.
Samsung has recently launched the Portable SSD T7 at Rs 9,999 for 500GB, Rs 17,999 for 1TB, and Rs 29,999 for 2TB version in India. Now yes, that seems a lot to pay for a hard drive on your PC or Mac, however, this 85mmX57mmX8mm cuboid is something from the future. The version that we used for this review was a T7 with 1TB capacity. 
This is an SSD that can fit inside your jean pocket and you won't even feel a thing. Samsung has designed it to be a daily driver, as it is sleek and compact with the fastest transfer speeds currently available based on the USB 3.2 Gen 2 standard. 
Samsung claims that the portable SSD T7 can reach maximum read and write speed of 1,050MB/s which is nearly twice as fast as its predecessor, the Portable SSD T5. However in our testing we got 1000MB/s (Read) speeds for small file transfers up to 5GB and an average of around 850-900 MB/s for larger files. We used the T7 with our MacBook Pro and iPad Pro 2020 for this review. The write speeds varied in the range of 700-950MB/s.
Having to deal with the work from home environment and making videos on a daily basis, the T7 was a perfect storage companion for us, since we do not have the option of office storage servers. This is also a storage solution that we highly recommend for media professionals and video editors. It was great to work on software like the Adobe Premiere Pro for video editing using the T7. We tested it for editing various videos with heavy timelines, where all the projects and footage were stored on the T7 and we used our MacBook for editing these 10-15 minute long videos. The T7 did not even break a sweat and never did we have issues of lags or delays while editing videos with all the data accessed on T7. This was by far one of the best SSDs that we have used for video editing solutions and was even better than Lacie's that we have used in the past. 
The design of the SSD T7 is also unique as it offers a slim metal body design making it more durable and portable. To top it all, Samsung has also added shock resistant technology as well as an AES 256-bit hardware encryption for better security. This is also an SSD that never once heated up during our usage of nearly a month, primarily because it utilises DTG (Dynamic Thermal Guard) and ePCM (Encapsulated Phase Change Material) that not just protects data from thermal damage by maintaining optimal operating temperature to avoid low-temperature burns, but also keeps the entire device cool. 
Inside its box apart from the SSD T7 you also get a USB 3.2 USB-C to A wire and a USB-C to C cable, which makes it easier to use the T7 with newer generation MacBooks, iPads and even your latest Samsung Galaxy S20+. And to connect it to a PC you can always use the USB-C to A cable. 
Samsung offers the Portable SSD T7 in Metallic Red, Indigo Blue & Titan Gray colours and also gives you a three year limited warranty with this product.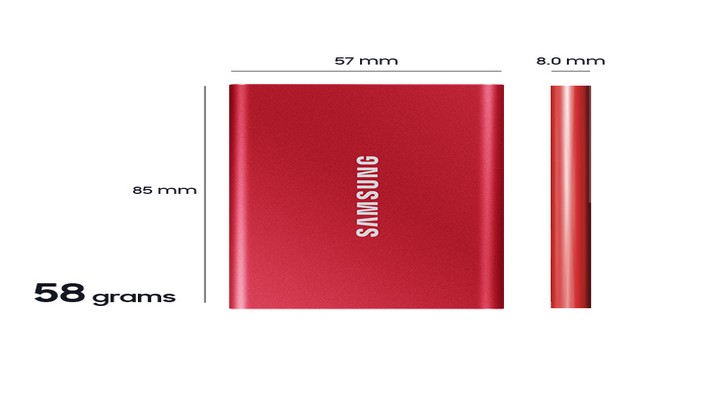 So what do we think about the Samsung Portable SSD T7? Well, this is our go to portable storage device and we love its form factor and the fact that you can store 1TB of data in such a small package with colossal transfer speeds. We would highly recommend the T7 to photographers, videographers, video editors, media professionals, graphic artists based on our testing. The only downside is the price, since not everyone would like to pay Rs 17,999 for 1TB of storage. However on the flip side of things, for professionals who are on the go, the Samsung SSD T7 makes all the sense.