Epson Ecotank L6490, a mainstream all in one copying, printing, scanning, and fax with ADF solution from Epson is quite impressive. Let us take a look at what were the aspects that made us conclude on the first line. 
Casually professional:
Design is conventional yet modern thanks to its compact footprint and functional yet professional look. There are multiple paper inlets and outlets. Semi-transparent CMYK colour levels also give clarity to the consumption of Espon's Durabrit 008 ink. Refillable and easy to operate. The printer also gets a bright touch panel with capacitive touch for easy operations. Epson has loaded the Ecotank L6490 with wifi and wifi direct and Epson smart panel enables a host of print options directly via your smartphone. There's also USB, LAN, fax and line-in connectivity for robust wired connections and easy clean options with detachable compartments. 
All-in-one solution in a compact footprint:
With costs per print as low as 12paise (Black) and a little more for colours, the Epson Ecotank L6490 printer is efficient. If that wasn't enough, 1-years warranty or 100,000 pages, whichever comes first, Epson has you covered for prints of usage. The Epson Ecotank L6490 print speeds are impressive at 17-ipm for black and 9.5-ipm for colour. These might get slower based on the details, print quality and print paper of use. Epson has an intelligent Auto-Duplex printing (up to A4 size) for automatic both side print on an A4 or lower size papers. Wi-Fi & Wi-Fi Direct enable remote connectivity and the app brings a host of other intuitive learning and features adding value to the Epson printer.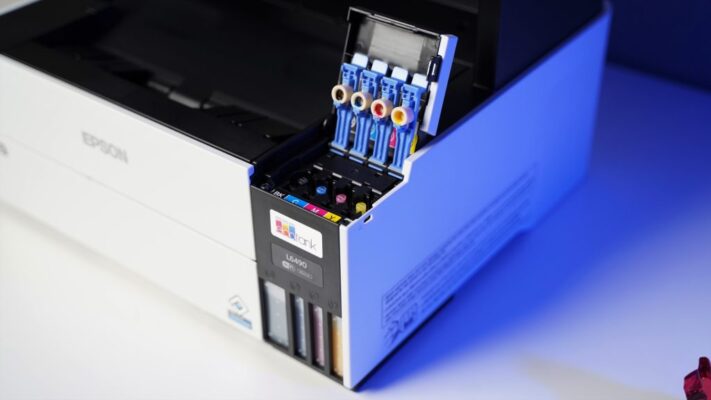 Epson smart panel app has easy wireless connectivity when both the printer and your phone share the same Wi-Fi connection. The app has a smooth and innovative UI with almost all the options on the physical touch panel and more. Document scanner for example allows a phone camera to capture documents, enhance them as per the user's liking and print them like a normal document. There are tonnes of tutorials too and community links to learn more. 
Verdict: 
Powered by Epson Heat-Free Technology, the printer performs consistently with minimum downtime and not more than a few seconds lag on long printing sessions. We tried printing many documents, photos and random colourful pictures shot on phones and professional cameras. The colours, quality, contrast and tones were almost spot on. The only limitation this printer brings is the size, it's compact and can only print up to Letter Max sizes. If you do not need anything more than this size, the Epson Ecotank L6490 is a precise, functional tool that enables, scans, copies, loads of in-app functions and quality yet efficient print solutions for homes, schools and offices alike. 
Rating – 4/5
Good – Compact size, efficient, detailed prints and copies
Bad – Limited by the compact size
Ugly – Competition 
Specifications:
Print, Scan, Copy, Fax with ADF
Cost per print 12paise (Black)
Print speeds – 17 ipm for black and 9.5 ipm for colour
Auto-Duplex printing (up to A4 size)
Wi-Fi & Wi-Fi Direct
Epson Heat-Free Technology