If you are looking for an excellent tablet that serves as a healthy companion to your already large phones, there are only so many good options in India. Samsung makes excellent AMOLED tablets, but those are priced in similar categories as the iPads and the sheer iPad OS features, ecosystem locks, and restricted customisations are in a niche of their own. Xiaomi launched its Pad 5 almost two years ago, and this year it finally has competition from OnePlus. I bought the Pad 5 during its first sale and have been using it ever since. It has got several updates and is running the on the latest MIUI 14 OS based on Android 13. There is a significant price difference between the two, but how good is the new OnePlus Pad vs Xiaomi's offering from two years ago? Let's find out. 
Design and built – Two different approaches 
The Xiaomi Pad 5 features what you would consider an iPad Pro design form factor. It's a polycarbonate matte-finish rear design with a camera island familiar to Xiaomi phones during the launch year. The rounded rectangle design is excellent to hold in hands from different angles and feels symmetrical. Overall it's a tried and tested design with tactile buttons and relatively thicker bezels. Quad speakers with Dolby Atmos support stereo switching based on the tablet's orientation. At 511 gms, the tablet does feel tiring to hold when gaming for long, but a stand can solve this issue for most tablets. At 11 inches in a 16:10 aspect ratio, the physical dimensions are smaller than the OnePlus Pad.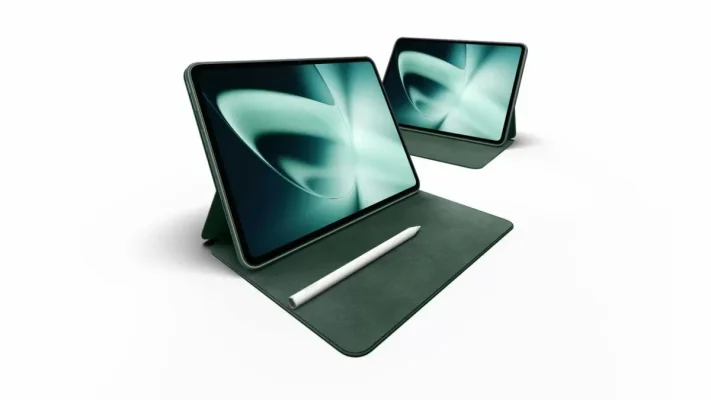 The OnePlus Pad has an exciting design with a 2K 11.61-inch display. Despite weighing more than the Xiaomi Pad 5, at 550 gms, the OnePlus Pad feels slimmer to hold thanks to the clever design. Both the tablets miss a headphone jack, which is a huge turn-off. So they had the space to fill in 4 speakers in both tablets but could not make room for a little headphone jack? OnePlus expects you to use this tablet in landscape mode for most of your usage. Hence, the cameras are also placed in landscape orientation at their rear and upfront. 
Display – 500nits of goodness 
Why does one take a tablet? It has to be their display. In 2021, Xiaomi offered the Pad 5 with 500 nits of brightness IPS 2.5K+ panel with a 120Hz refresh rate. The content looks rich, and display settings allow ample customisations on both tablets. In isolation, these tablets provide excellent video viewing performance coupled with great audio quality from Dolby Vision and Atmos support on both these tablets. The OnePlus Pad hits the ball right out of the park with support for a 144Hz refresh rate and a similar 2k resolution with similar 500 nits of brightness. OnePlus also offers various customisation options on the display as per your liking, which are more or less similar to Xiaomi Pad 5.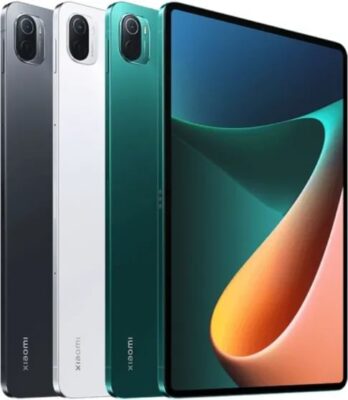 The real difference arises when one watches HDR content. Playing the same content next to each other reveals that the Xiaomi Pad 5 does good black levels, but then again, it suffers insane black crush issues. A thing reminiscent of 2021 Xiaomi devices in India, my Xiaomi Mi 11x has this black crush issue when playing HDR content. The OnePlus Pad, on the other hand, does not produce the same HDR brightness levels or deep black contrasts, but overall is the better display among the two for overall content consumption. Games and HDR content have no issues in the darkest areas, while the extra screen estate brings an increased immersive experience. On standard videos, you cannot go wrong with either of the tablets with sharpness, colours and saturation. 
Performance – More than satisfactory 
Considering that the Xiaomi Pad 5 was launched in the year 2021, it bought a balanced performance with the Snapdragon 860. It's a 7nm SoC and has been performing flawlessly since the time I own the Xiaomi Pad 5. I have been gaming on this tablet ever since, and with updates, the tablet has become more efficient, if not powerful. The 6GB RAM + 3GB expandable is enough in most scenarios, but MIUI could get aggressive at RAM management, especially with gaming apps in the background. 
OnePlus Pad is powered by a 4nm Mediatek Dimensity 9000 processor with 12GB RAM + 4 GB expandable. This one performs flawlessly and at times, better than the Snapdragon 860 in the Xiaomi Pad 5. This is apparent, especially during gaming; you can carry much higher frames and graphics settings in comparison. For example, Call of Duty mobile allows 120fps on the OnePlus Pad compared to a max of 90fps on the Pad 5. RAM management is similar to Xiaomi Pad 5, though games tend to reload if put in the background for more time than necessary. Overall, the wireless connectivity with dual-band WiFi on both pads is impressive, with the OnePlus Pad scoring high on WiFi 6 support and Bluetooth 5.3 compared to Bluetooth 5 on the Pad 5. Every app opens and performs excellently on these tablets.
OS – Tables turn 
Performance shall only be as good as the software it runs on. This applies to both the Xiaomi Pad 5 and the OnePlus Pad. OnePlus Pad runs on the Oxygen OS 13.1, and apart from flexible Windows settings, nothing resembles anything special for the tablet. OnePlus needs to improve on this and provide an OTA update specifically for the OnePlus Pad. This feels like Color/Oxygen OS displayed on a large screen. The Xiaomi Pad 5 takes the cake in the software department. The tablet is feature loaded with gestures, multitasking capabilities with up to 5 windows running together, a dock accessible in most apps irrespective of the orientation and much more. MIUI 14 on the Pad 5 eliminates all the bloatware usually associated with affordable Xiaomi devices and brings a neat usage experience tailored to the tablet form factor.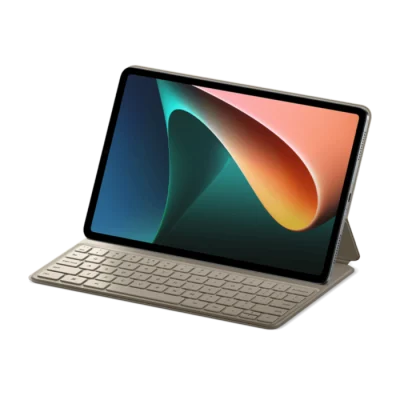 Camera – They exist
OnePlus thinks we use the tablet in landscape orientation and never turn it to portrait mode like we never consume digital magazines or read articles online in comfortable portrait modes. Nonetheless, the camera placement is questionable. If you're right-handed, you will smudge the rear and front cameras on the OnePlus Pad by simply holding the tablet. The best part is that the front 8MP with motion tracking and the rear 13MP camera are decent enough for use. Do not expect any phone-level performance from either tablet, but here are some photos and videos for your reference. 
Accessories – Promises
Apart from chargers, the additional accessories for OnePlus Pad include a magnetic keyboard with a mouse pad that supports gestures. This accessory is worth 8K INR, making it a perfect small productive machine on the go. The typing experience is excellent for a tablet accessory, and the mouse pad is generous enough for the form factor. There's also a stylus for all the creatives out there, which costs 5K INR and is nothing as impressive as the Apple Pencil or the Samsung S-pen but does its job well and charges magnetically via the OnePlus Pad. Xiaomi, on the other hand, has disappointed big time with its accessories options, there is only the Pen that can be had for 6K INR and brings 240Hz touch sampling with pressure points, but there is still no keyboard case available. Bluetooth keyboard is the only option as of now for the Xiaomi Pad 5. I hope they bring promised accessories with the next iteration; that said, isn't it high time?
Battery and charging 
The Xiaomi Pad 5 has a generous 8720mAh battery which charges via the bundled 33W charger. The OnePlus Pad has a 9510mAh battery which charges at 67W via the bundled 100W charger. The OnePlus Pad charges faster and lasts longer thanks to its efficiency and the Mediatek Dimensity 9000 4nm processor. If the Xiaomi Pad 5 lasts about 2-3 days over gaming, video consumption and music listening, the OnePlus Pad can easily surpass that time by almost 12 more hours than the Pad 5.
Verdict 
The OnePlus Pad is definitely the one to get among the two if you are in the market for a great Android tablet. The Xiaomi Pad 5 was launched almost two years ago and still serves as an excellent value proposition for people strictly on a budget. In a world where flagship phones cost twice as much as these tablets, the OnePlus Pad brings flagship performance in a significant form factor. It is worth the additional asking price compared to the Xiaomi Pad 5. I am a Xiaomi Pad 5 owner, and the OnePlus Pad impresses with the hardware but desperately needs good tablet-oriented software. An exemplary job OnePlus on your first tablet. Xiaomi, it's time for the Pad 6!