At the very top of the ROG lineup sits the Scar Strix 15, a gaming laptop with top of the line specs. The features and upgrades on the Scar Strix 15 don't usually appear on any other ASUS ROG devices in fact some of the stuff on the Scar Strix 15 doesn't even appear on any other gaming laptop in the market.
With such a high-level specification how does the laptop fare in everyday tasks? Here's everything you need to know about the ASUS ROG Scar Strix 15.
ROG Scar Strix 15: Design And Construction
The top lid of the Scar gaming laptop is made up of aluminium. It has no flex to it. The rest of the laptop only features polycarbonate, it is still well-built mind you. It feels solid and really tough. You'll immediately notice that there is no internal webcam on the laptop. ASUS did away with an internal camera in favour of an external one to enable high-quality video conferencing.
Moving on, let's talk about its keyboard. The keys have a very clicky sound and I mean that literally. The press of the keys sounds like the click of a mouse. It can become an issue if you're working in a library or any place else where silence is required. Because typing on this keyboard gets quite loud.
Since it's a gaming laptop, it comes with a lot of RGB lights. You've got one light underneath the deck, one below the screen, another one on the keyboard and one of the lid over the ROG logo. It is enough to help you customise your gaming laptop in any way you want.
The ROG Scar Strix 15 also comes with metallic backplates as an option. You can replace them with the stock one. You can even spray paint them according to the colour of your RGB lights, which is pretty great.
In terms of I/O, the laptop features all the necessary ports including USB Type A, Type C, etc. Most of them are placed on the back of the laptop with only one or two on the sides. Since it is a 15-inch laptop, the deck surface area is quite big, which comes in handy when you have to type for long hours.
Performance Tested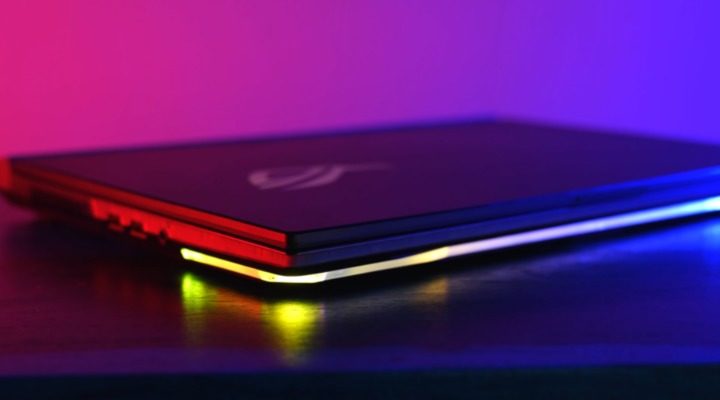 The ROG Scar Strix 15 comes with a Ryzen 9 5900HX CPU with 8 Overclocked cores and an Nvidia RTX 3080 GPU featuring 16 GB of DDR4 RAM. The 300hz screen panel
In terms of performance, it is a beast, pure and simple. Now I tried everything on this gaming laptop from gaming to mining and the results were very impressive in all those cases.
For instance, DOOM Eternal ran at an average of 160-170 FPS. Meanwhile, GTA V delivered over 110 FPS at ultra settings with advanced graphic options turned to max. Games like Metro Exodus ran at 200-250.
Even the mining performance of this laptop was truly impressive. I used it to mine Ethereum using lolminer v1.26 and the laptop managed a hash rate of 54.15 mh/s. It is very impressive for a laptop GPU without any sort of optimisation. For comparison, a desktop level RTX 3060 Ti delivers 60 mh/s.
It is important to note that during mining operation my laptop did got heat up but it never dropped the hash rate which is pretty impressive.
The editing performance of this laptop is also pretty phenomenal. It can render a 4k footage with 80000 kbps bitrate and using H.264 encoder in around 7 minutes.
But if you want more power you can always crank the fans up from the ASUS Armory crate by selecting the "Manual" profile and defining your power line. Furthermore, you can also change the colour profile from the armoury crate as well.
Verdict
If you've got the buck then this laptop is a bang! At Rs. 2.35 lakh the ASUS Scar Strix 15 offers the best value a gaming laptop can offer. Its initial price may be a bit high but the long term value this machine provides far exceeds that.