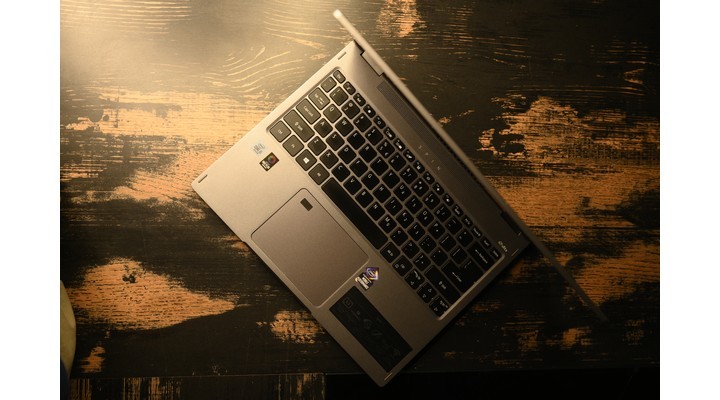 I have always been a fan of convertibles. Be it cars or gadgets, anything that has a 2-in-1 quality always catches my attention. Among those is the Acer Spin 5 laptop, which I recently reviewed. Now, I wouldn't be talking about this laptop if it was just a run-of-the-mill laptop. But, there are certain elements of this laptop that I could not miss out on. So, without further ado, here is what I think about the Acer Spin 5.
First Impressions:
The highlight of the laptop is obviously its 360-degree hinge that converts the laptop to a tablet seamlessly. This gives the user a great deal of versatility and that will definitely help graphic designers, students, and even tablet lovers!  It also comes with an inbuilt stylus that further increases the usability of the laptop.
Display and screen:
Talking about the screen, it gets a 13.5-inch touchscreen display with a 3:2 aspect ratio, which can be a little discouraging for someone who likes a widespread screen, but it is not too dissuasive. Unfortunately, its wide aspect ratio meant every time I tried to watch a 16:9 video, it was accompanied by two giant black bars at the top and bottom, which were rather intrusive. This was the only dissuasion in the otherwise crystal clear video experience.
Stylus:
Its stylus too does not actually feel like a pen and feels more like a long and thick needle. That it would, considering it is not even five inches long (12.53 cm, to be exact) and is only 5.3 mm in diameter, but it does the job. It uses the Wacom AES 1.0 technology, which gives it an accurate response rate. Add to it 4,096 pressure levels and you can easily get surgical precision from the stylus. It can be easy to forget that the stylus can run out of charge too, but Acer has an easy fix for that. Just plug it back in the laptop for 15 or 20 seconds and its ultra-fast charging will juice up the battery for 90 minutes worth of charge in that duration. The only discomfort is that you have to lift the laptop to toggle it out of the charging unit, and it's the same place where it will be resting all the time. Unlike the earlier version of Spin 5 which was loosely attached.
Keyboard:
Well, though the stylus and the touchscreen are sufficient and tempting enough to forget about the keyboard, it is required to complete the feel of a laptop. The chicklet keys, while responsive, are rather cramped and would cause hindrance to someone who is used to a bigger and wider keyboard. Nevertheless, it is more about habit and I was able to adapt to it eventually. One feature that I truly appreciated was the fingerprint sensor, which is integrated into the smooth, responsive, and intuitive trackpad. The fingerprint sensor added a much-needed security feature to the laptop, immediately encouraging me to trust it more. It is also quite responsive and hardly caused a delay while unlocking the Spin 5.
Hardware performance:
With 16GB of RAM, the Spin 5 ran smoothly and did not trouble me while using it for everyday basics. Emailing, internet surfing, and video binge-watching worked flawlessly. However, it did start to lag when playing heavy, full HD games, or using video editing software for large files. Also, the Intel i5 10th Gen processor clocks in at 1.10 GHz with a maximum speed of 1.50 GHz. That, combined with Intel's new Iris Plus integrated GPU, means that the Spin 5 can run a decent variety of games, but is far below the requirements of AAA games (Those fancy high definition ones on Steam)
Camera:
Considering the new normal, most of my meetings and discussions happened virtually. Naturally, I had extensive use of the front camera (Webcam for all you geeks!). Now, obviously this is not a camera oriented device and neither do I intend to compare it with one, but as these are Zoom days, I can conclude that the front camera is not comparable to that of a Macbook.
Verdict:
Since the Acer Spin 5 is more of a jack of all trades, I did not wish to pinpoint its flaws as such. However, I did find the sound a little lacking in spite of its front-facing speakers. The bloatware (unwanted software included on a new computer or mobile device by the manufacturer) is definitely a bummer and the laptop would have done much better sans that. With a price tag around Rs 90,000, this one is definitely a hard-hitter on the pocket. But what you get for burning a hole in your pocket is a sleek, stylish and comfortable laptop. All in all, the Acer Spin 5 is a well-rounded, (well folded, to be cheeky) laptop and can cater to a wide audience. It's super light to carry and you actually don't need an iPad when you have this with you. The battery lasts you a good 6 hours of continuous usage though claimed is 11 hours and I assume this means putting the ignition on and not really driving forward.