DJing in lockdown Mode. 
Music has been a driving and uplifting force since I was a teenager. I was young to attend dance parties that happened in my building hosted by some older friends – I used to hang around in my balcony listening to the DJ play and try and guess the next song being mixed. My respect for a DJ grew when I noticed the variety of styles that were used for mixing tracks. It was fascinating. Getting to the other side of the console
I remember this evening very clearly – I was in grade 11. It was my friend Tejas's girlfriend's birthday party. Tejas like me was a self-proclaimed audiophile, he had arranged a DJ for the evening. The sound technician came, set up the equipment, and 30 mins before the party was to start, the DJ bailed. I got a frantic call – "Dheerin get all your music and come now" … I did just that. I was introduced to the other side of the DJ Console for the first time that day. In about 30 minutes we figured some buttons and how to get tracks going nonstop. We survived the evening and we couldn't mix to save our lives but we had songs that were what our friends wanted to hear and we sequenced them well enough to make it work well enough. Whenever I got a chance, I hung around with DJs at parties – talking to them about their style of mixing, learning by watching them, and with very friendly ones getting a chance to take the console for a while too. I loved it!! Absolutely loved that time at the parties when I could play 5-10 tracks back to back. Now I could call myself a DJ.
This grew and in Engineering college, I got pushed by my friends to take part in a DJ Mixing Competition at a college festival. I won it, and then another and another. DJ mixing became a stronger passion and a sense of confidence built up. It was my creative outlet – college festival parties, friends birthdays, and even a few paid gigs too. At some point, I made a career choice to join a leading IT organization and let the music be a passion. It still is the case – I run my startup and jump to every opportunity I get to Dj at a party. For the last 10 years, I hardly played music. Until last Diwali when I pushed my way to DJ at a friend's Diwali party and it went well (or so I thought). A month later I was gifted a DJ Console by my wife and she insisted I take it up again – the best gift ever !! Not the console, the push to take it up again (console being 2nd best). Everyone can be a DJ
So if you have a passion for DJ Mixing, I would highly recommend you try Virtual DJ which is easy to get used to and has most pro features. It's free to start with and the pro version is as low as $19/month. Another software that is popular is DJAY which is an iPad friendly app and Serato which is very advanced software, used by many pro DJs.
Once you get the hang of mixing and features you can get started with a controller. A controller is a piece of hardware that attaches to your laptop with a USB and helps you get a lot more out of the software and the mixing experience. I recommend a Hercules Impulse 200 at Rs 10,000 or Hercules Impulse 300 which has some advanced features. These controllers offer an amazing feature called "mixing guide" where a set of LEDs guide you to with tempo, beats matching and it can really help you get your next track ready in no time.
Next, once you are ready to showcase your skill – create an account on Soundcloud.com. Upload your recordings and share with the world, a free account gets you to access to upload about 3 hours of music, if you need more then they have a pro account too with more space and features.
Spreading Cheer
The last 30 days we have been in strict lockdown and I suddenly had a lot of time at hand. Started to play and record my sets, shared with friends and only got encouraged to share more. My idea was to spread cheer and it was happening. One day I got an idea to spin live and I set up my radio channel on Radio.co. A very easy to use the site and extremely powerful. Within minutes my equipment was set
Virtual DJ8 Pro subscription
A Hercules Impulse 200 controller
A radio.co pro subscription
I use this setup to stream my live music to a link that my friends tune into. Nothing commercial but I love seeing the number of listeners rising up every time I play and it's satisfying. Hits my goal of spreading more cheer!! Last Friday, we tried something amazing – The building MC decided to host a lockdown sundowner for 620 odd flats. I took to the console, everyone tuned into the Radio.co link and came to the balconies to party for 2 hours on the same music but from their own houses. We pushed this a bit further and even raised funds for our society staff workers and their families.
This has been the greatest extent of cheer I've managed to spread with my thought.
Just like any other creative art form, no class can teach you as much as practical experience. So, listen to the star DJs (my favourite is DJ Suketu, who also trained me for a short period) but also build your own style, practice mixing songs, understand the technical aspects, break the beats down and find the next track that goes with it. Over time it becomes a natural process and it just flows. I have already inspired some people who are waiting to learn the skill post lockdown and also started giving my 5-year-old son a basic sense of beats and tempo. I would love it if this article inspires you and you can play some music. But as I sign off, I will remind you to respect piracy laws and ensure the music producer of the songs you play has given you appropriate rights for your kind of performance.
Start beat counting and start mixing.
Written by Dheerin Motwani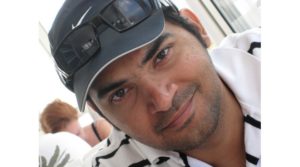 Dheerin is an MBA from Oxford and runs his family printing and packaging business. He also runs his tech startup and advises young startups on strategy and execution. When he is not at work, he loves working out and is passionate about music, coffee and wine.