Interviewed | May 2018
Simple man, simple life – that's how Virat Kohli likes to describe himself. The Captain of the Indian cricket team set his heart on one day playing in the Indian Cricket team and it is safe to say that the overachiever has done more than just that. In an earnest interview, Virat the vanquisher gives his two cents on the growing penetration of technology in the sports scene. He also claims that it is hard work, commitment and discipline that sets the ball rolling towards success and his affirmations are very motivating.
Ex: You have come a long way as a cricketer, making the country proud as one of the best batsmen in the world. Tell us, what comes with being the captain of the Indian Cricket team?
Virat Kohli: Responsibility. Captaincy is a huge honour and I have always striven to live up to the expectations that have been invested in me and my team. We are considered the sporting ambassadors of our country and it is important to live up to expectations. I believe in leading by example and doing everything I can to ensure that we do not let our country and compatriots down, on as well as off the field. Commitment is the key.
Ex: Virat and Tech- what is the relationship like? How techy are you on a scale of 1-5?
VK: Technology has enhanced our lives in a variety of ways. I am a tech-savvy person and I would rate myself 5 on a scale of 1-5.
Ex: We believe that you are quite a techy and that can be said by your brand 'Muve Acoustics.' Can you tell us some more about the brand and your vision for it?
VK: People today, including me, are uncompromising about their entertainment experience and use gadgets that will help them optimise the same. Backed by Zeeva International's 30+ years of domain expertise, Muve Acoustics is providing consumers with acoustic solutions designed specifically to deliver the best sound quality. I have been associated with this brand right from its inception and I am convinced that it will revolutionize the entertainment experience.
Ex: What inspired you to become a cricketer?
VK: I was always in love with the sport. Sachin Tendulkar was my favourite cricketer and I would dream of emulating him. I was nine years old when he scored those epic back-to back hundreds at Sharjah in April 1998, on TV. It would not be wrong to say that those centuries changed my life. I made up my mind to do whatever that was needed to play for India.
Also Read: Sachin Tendulkar Celebrates Exhibit's 14th Anniversary
Ex: Technology has penetrated the sports scene quite extensively and keeps evolving. What are your thoughts on sports technology?
VK: The use of technology in sports has grown manifold in the recent past. Technology is playing a critical role, in that it has ensured a remarkable improvement in the quality of performances, the extent to which an athlete's skills are tapped and exploited, and of course, fitness standards, which are higher than ever before. Teams use devices to strategise, track performances, and create and modify training programs. Wearable devices are used by athletes to monitor their heart rate, blood pressure, movements, etc. Fans also have access to technology that has enhanced the overall viewing experience.
The use of technology in sports has grown manifold in the recent past. Technology is playing a critical role, in that it has ensured a remarkable improvement in the quality of the sport.
Ex: You are super fit and your profession demands you to be that way. Can you talk about your exercise regimen?
VK: Being fit made me mentally strong, it's a direct connection. Commitment will take you places in any sphere, fitness included. I was always a foodie, but I have had to make a few sacrifices along the way. To win something, you need to give up on something, as the maxim goes. A disciplined lifestyle and customised workout regime has worked wonders for me.
Ex: You have been associated with Audi for a long time. Are you a car buff?
VK: I love cars, and enjoy long drives with good music. I love every bit of the driving experience right from the interiors of the car- its balance, power, comfort and the ride quality. I am passionate about sports cars and my first sports car was Audi R8.
Ex: What is the one gadget Virat Kohli cannot live without that is not his phone or laptop?
VK: Has to be my headphones. I carry backups just in case I lose one or if it breaks down. In fact, I carry two three different types of them; wired, wireless and in ear/over ears.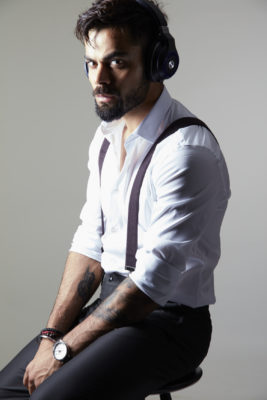 Ex: What are some of your favourite fitness gadgets?
VK: I used to be big on activity and fitness trackers at one point but not so much more now.
Ex: What are your thoughts on the tech scene in India and where do you see it heading?
VK: Technology is ever evolving, and I have always found it exciting to see and experience innovations. There are lot of brilliant & creative minds out there who are constantly trying to excel.
Ex: The startup culture is booming in India. Would you be interested in investing in any startup?
VK: I see a lot of young entrepreneurs coming up with exceptionally great start-ups today, which is really a good thing. If something interesting comes to my notice, I would consider investing in it.
Ex: Talk about your philanthropy.
VK: Virat Kohli Foundation, which I founded in 2013, launched an Athlete Development Programme in 2017. Our aim is to nurture the future of Indian sports by supporting promising athletes in their endeavor to fulfil their dreams and earn laurels for the country at global events.
Ex: Name some of your interests apart from cricket.
VK: I have a few interests besides cricket. I love football, watching and playing both. Even FIFA on the PlayStation. Music has been one of the my biggest interests since forever. I'm not very big on reading, but I read certain books which interest me.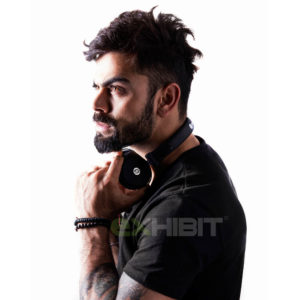 Ex: If not cricket, then what?
VK: Well I don't know to be honest. Family Business maybe.
Ex: If life goes as planned, where will you be in the next 10 years?
VK: Well, we'll see. I have never planned or seen life like that. I have goals which I would like to achieve, but that has nothing to do with the hard work you have to put in. The hard work remains the key.
VIRAT KOHLI – UP AND CLOSE
Your biggest accomplishment:
Winning the ICC Cricket World Cup 2011 and leading India to victory in the ICC Under-19 World Cup in 2008.
One thing we don't know about you:
There's nothing that people don't know about me, I'm a very simple person and I've always been like that.
Best piece of advice given to you:
Whatever you do in life, do it with passion.
One advice you'd give millennials:
Work hard on mastering the basics. A solid foundation is the stepping stone to success in any field.
One thing you'd tell your 15 yr old self:
Never give up.
Who are your strengths:
My strengths would definitely be my wife and my family. I think that's how it is usually or I'd say should be for everyone.
Luck or hard work:
The harder you work, the luckier you get.
Also Read:
KL Rahul – A Little Subtle, A Lot Sexy