Who wakes you up in the morning? Now, don't say your parents or sibling(s), for heaven's sake! Yeah, they like turning off the air conditioner, fan and our MOOD every time they see us sleeping after specific hours. Jokes apart, but every morning or perhaps, every afternoon (cheers and more power to night owls), for most of us, an alarm clock does the job of waking us up with a piece of music we have set up beforehand.
Basically, from waking up in the morning with a favourite alarm tone to trying to sleep while listening to your favourite songs, we're surrounded by the term MUSIC. We live on a planet where music plays a vital role in almost every ceremony, be it a marriage or a funeral; we pursue relief in the presence of music. Being a solitary person, I've heard all types of popular music, but my heart only beats for the Indian melodies.
An ode to the Indian music
It is said that the art of music was introduced to Earth by Narada Muni, and since then, music has been an inseparable part of Indian culture and tradition. Back in the days (when the Gharana system was present), the students would spend many years with their guru to learn the music, and over time they used to share a spiritual bond and principles with their teachers, which further shaped their life.
Originated in South Asia and the identity of the Indian subcontinent, Indian classical music is one of the oldest music forms in history. It is divided into two major traditions – the North Indian classical music known as Hindustani and the South Indian classical music known as Carnatic. It was formed 6,000 years ago from sacred Vedic scriptures and is closely connected to nature.
Note: Hope you've heard the stories of Megh Malhar Raag, which has the power to bring out rains in the area where it is sung.
Bollywood Music Vs Classical Music
We all love (or used to love, thanks to the remixers) Bollywood music even though it doesn't have a specific style. In comparison, Indian classical music has a rich history and numerous types as it is influenced by the natural elements of the earth. Indian classical music is the primary vocal training genre of Indian music, while Bollywood music is just a type of music we hear in the Bollywood movies.
Bollywood music or songs consists of different types of music and has every element of music from traditional to folk, classical to western. The primary and most noticeable difference between these two music genres is that Bollywood is commercially very profitable, while Indian classical music helps enlighten the soul. Classical music has a limited audience, while we can see all age groups grooving to Bollywood music.
Why are Indian Musicians still struggling to have a global presence?
We have about 22 major languages and 19,500 dialects in India as mother tongues, which obviously creates a linguistic barrier. However, in India, most artists write lyrics for the music/song in Hindi or respective major/regional languages. The language barrier among the people creates a downpour into the popularity, and that's the sole reason Indian music reaches the outside world but fails to make a mark.
In western countries, musicians usually produce their records/albums and are open to exploring the art form. Whereas, in India, musicians are more into being a part of Bollywood and singing a song or two for a particular movie. Independent musicians from western countries gain recognition under their name, which helps them to have a worldwide audience. Also, they do frequent concerts making them popular among the youth.
Top 5 instruments used in Indian Music Industry

Sitar

– The instrument has a long neck with twenty metal frets and seven cords.
Renowned Sitar Players – Pt. Ravi Shankar, Ustad Abdul Halim Zaffar Khan
Flute –

A cylindrical instrument which provides vitality to the mind and soul.
Renowned Flute Players – Pt Pannalal Ghosh and Pt Hari Prashad Chaurasia
Shehnai –

A double-reed instrument with a tapering bore progressively increases towards the lower side.
Renowned Shehnai Players – Ustad Bismillah Khan
Tabla –

Everyone knows what is Tabla? A pair of drums – one is called Tabla and the other one is called Bayan.
Renowned Tabla Players – Zakir Husain
Harmonium –

The harmonium is also called Reed Organ. It has a free-reed keyboard of over two and one-half octaves and works on a bellows system.
Renowned Harmonium Players – Late R. K. Bijapure
Top 5 Music Companies in India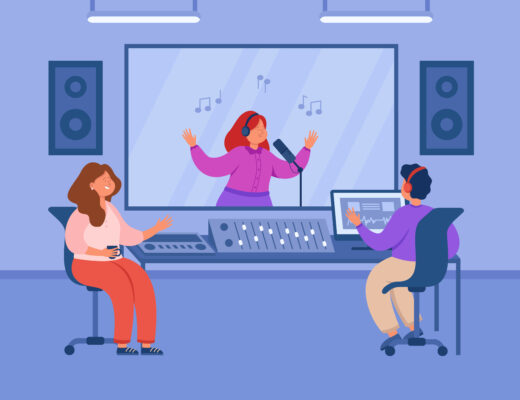 T-Series 
T-Series is an Indian music record label and film production company run by Bhushan Kumar, son of the founder and music producer Gulshan Kumar. On YouTube, it has a multi-channel network of over 29 channels and over 390+ million subscribers.
Saregama India Limited
Saregama India Limited is an Indian music company, formerly known as the Gramophone Company of India. The company was founded in 1901 and is India's oldest music label, currently owned by the RP – Sanjiv Goenka Group of companies.
Universal Music India
Launched in 1999, Universal Music India is a part of the Universal Music Group, an American-based, Dutch-listed multinational music corporation. The worldwide revenue of the Universal Music Group is over $6 billion, and it is one of the youngest music companies in India.
Tips Industries Limited
Tips Industries is one of the renowned film production and film distribution company. The company was founded by Kumar S. Taurani and Ramesh S. Taurani in 1975, and over the 3 decades, it has grown to become a leading entertainment company.
Times Music
Times Music is the number 1 music label in the spiritual music genre. The company started operations in 1998, and since then, it has produced over 60,000 tracks in all languages and genres. In India, the company is more famous for its spiritual music releases.
Valuation
After engineering, medical and MBA, music is the only career or perhaps the only acceptable art form in the society in which Indian parents believe. Otherwise, parents are very precise about their children's career choices, especially in our country. Once called "The Global Music Industry's Sleeping Giant", – The Indian music industry has topped the charts for the third time in a row with annual revenue of over ₹1,500 crores.
The pandemic caused a big hole in the earnings of the Indian music industry as 70% of recorded music in India is film-based. However, many people bought memberships and paid the charges on several apps, which helped the industry stay intact. Currently, the Indian music industry is ranked 17th in the world, and it is valued at around 19 billion Indian rupees at the end of 2021 and is expected to cross 28 billion rupees by the end of 2024.
Musical Records
Aap Kaa Surroor

, a debut album by

Himesh Reshammiya, released in 2006, is the highest-selling album ever released in India, with over 55 million copies sold.

Asha Bhosle

is the most recorded artist in music history. She has recorded up to 11,000 solo, duet and chorus-backed songs in over 20 Indian languages since 1947.

Rahul Dev (RD) Burman

is known as the King of Bollywood Music and is one of the influential music directors in the Indian film industry.

Shree Hanuman Chalisa

by Hariharan is India's most viewed music video, with over 2,486,720,895 views. The video is on the T-Series Bhakti Sagar channel.

Lut Gaye

, a song starring Emraan Hashmi, composed by Tanishk Bagchi and sung by Jubin Nautiyal, has become the fastest Indian single to reach 1 Billion views on YouTube.