AMD introduced a ton of new and exciting stuff at its CES 2021 presentation. Although people were already expecting new Ryzen 5000 processors for laptops featuring the latest ZEN 3 cores, the CPU performance gain from the previous generation was better than expected.
Here's everything AMD announced during its CES 2021 showcase.
AMD CES 2021 Exceeds High Expectations
AMD's CEO, Lisa Su, didn't wait a single minute to announce the Ryzen 5000 series processors for laptops and notebooks. The new AMD Ryzen processors will feature up to eight Zen 3 cores capable of delivering high performance and power efficiency.
According to AMD, these processors are the fastest X86 CPUs in any laptop on the market. They also claimed high battery life and upgraded thermal management for their upcoming Ryzen powered notebooks.
For a laptop powered by Ryzen 7 5800U, one can expect a battery life of 17.5 hrs for general usage, and up to 21 hours of movie playback.
Gaming Focused AMD HX Series
AMD also revealed gaming-focused Ryzen 5000 series laptop CPUs dubbed, the HX Series. These are the top-of-the-line laptops from AMD and feature unlocked framerate for over-clocking and higher thermal ratings for sustained performance under heavy load.
The two main processors in this series include the AMD Ryzen 9 5900 HX and 5980 HX. Here are their specs.
| | | | | |
| --- | --- | --- | --- | --- |
| | Core / Thread | Clock Speed | Cache Memory (L2 +L3) | TDP |
| Ryzen 9 5900 HX | 8 Cores / 16 Threads | Up to 4.6 GHz boost | 20 MB | 45 Watt+ |
| Ryzen 9 5980 HX | 8 Cores / 16 Threads | Up to 4.8 GHz boost | 20 MB | 45 Watt+ |
Compared to the competition, the AMD HX series performance outclasses its equivalent Intel counterpart with ease. For example, the Ryzen 9 5980 HX beats the Intel Core i9-10980 HK in single-threaded performance by 13%, in overall CPU performance by 35%, and in Game physics by 19%.
Furthermore, to ensure wider availability, a total of 150 new laptops will be available with AMD Ryzen 5000 series processors. Which is more than double the number of different laptops since the AMD Ryzen 3000 series.
The AMD Ryzen 5000 series powered laptops will become available starting February 2021.
Upcoming AMD RDNA 2 Desktop And Laptop GPUs
AMD confirmed that the new RDNA 2 based desktop and laptop GPUs are set for launch in the first half of 2021.
All the modern gaming consoles including the PS5, Xbox Series X/S make use of a Zen 2 based CPU with 8-cores and a custom RDNA 2 based GPU core. Therefore, laptops powered by RDNA 2 GPUs will be a good option for consumers.
AMD EPYC Milan CPUs For Data Centres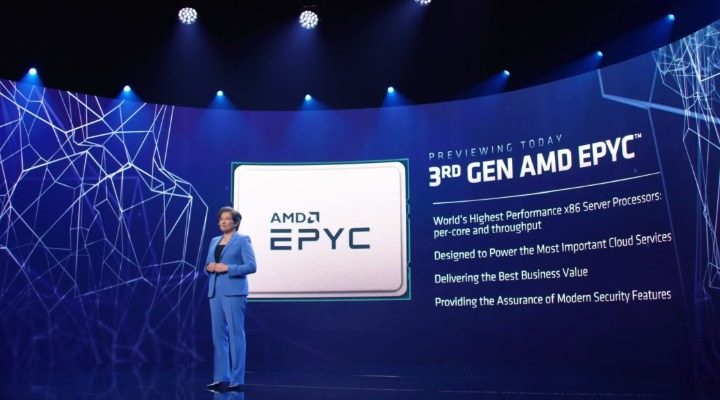 AMD released 3rd gen EPYC processors codenamed Milan for data centres and supercomputers used in high-performance computing.
The AMD EPYC Milan processor features a 32-core processor used primarily for Weather and Research Forecasting (WRF).
AMD claims that the EPYC Milan CPUs are the fastest X86 based server processors, based on per-core and throughput. Compared to an Intel Xeon 6258R (28 Core CPU) the 3rd Gen EPYC processor (32-core CPU) offers 68% more performance.
Future Predictions For AMD
As stated by its CEO, Lisa Su, AMD continues to push the boundaries of computing each year by continuously offering noticeable performance upgrades to its X86 based Ryzen CPUs.
Furthermore, the next-gen AMD CPUs i.e. Ryzen 6000 series based on the 5nm processor will continue to keep AMD at the top, thanks to a reduction in node size and a higher number of transistors.