Jabra earphones stand out from the competition because of its solid construction, good sound quality, and for the latest elite 85t model, active noise cancellation.
For a price tag of Rs. 18,000 price tag what all does the elite 85t offers and what all it doesn't? Let's find out!
Construction And Design
The plastic casing feels premium. The case also has a matte finish which keeps it free of smudges and fingerprints. The earbuds themselves have a non-gloss metallic finish and overall look very stealthy.
One significant change you'll immediately notice is the use of oval-shaped rubbers. They feel comfortable to wear, but their fitting is not confidence-inspiring. Whenever I run, jog or come down a flight of stairs, I feel the need to tuck them in. 
But forget all about that, because the elite 85t packs some really great features as well. Here's a look at all of them. 
Active Noise Cancellation
ANC or active noise cancellation is the most advertised feature of Jabra elite 85t. The buds get a new chip to enable ANC, and it works quite seamlessly. To enable ANC, you'll need to download the Jabra Sound+ app from the PlayStore, log-in to it, and choose the earphones you're using, in this case, the elite 85t. 
After that, you can enable or disable a bunch of features, including ANC. Now, on its own, the ANC works reasonable well, provided you have the right size tips. You'll still be able to hear a bunch of noises if you're in a crowded office or any other people where there are many people.
However, enabling soundscape, which has access to a bunch of ambient noise, makes ANC really cool. You can choose between the sound of rain, sea, birds and so on. 
There are two modes in ANC "commute" and "Focus," I found the commute mode to be best in all situations. It muffles every type of nearby noise and represents a high level of noise cancellation.
Charging And Battery Life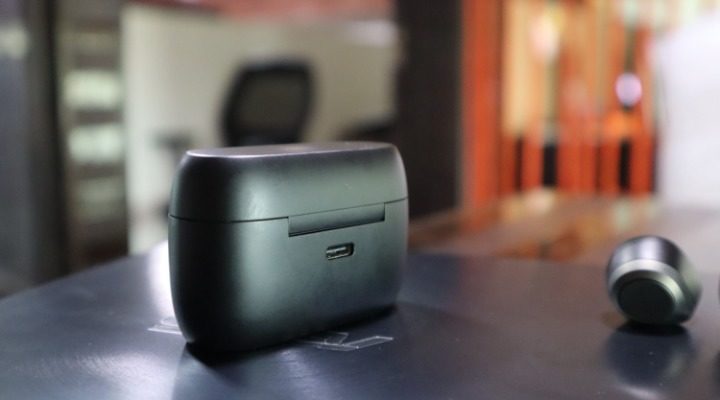 With the TYPE-C gaining universal standard, I can charge my laptop, phone, and TWS case with a single charger and cable. It makes my backpack light and my travelling easier.
On its own, the Jabra elite 85t lasts around 6.5 hours with ANC disabled. Keeping it on brings the battery life down to 4.5 hours. With a fully charged case, you're easily looking at a combined battery life of 25 hours. But then again, the case never ran out of juice because I charge it very frequently. 
On a typical workday, I'd occasionally switch between charging my phone, case, and laptop. I must say, keeping a single port on every device has its benefits.
Sound Quality
Moving on to the sound quality, the first thing you'll notice here is the distinct lack of base. Now you can try and enhance it using the JABRA sound+ app, but it is not a replacement for a physical upgrade. 
In terms of treble and sound quality, the elite 85t absolutely excel. Every instrument being played in a song feels absolutely clear no matter what the level of outside noise. 
I have tested these while travelling in a metro, a train and a bus as well. In all those places, I was able to hear clearly the Joe Rogen laughing with Alex Jones on the JRE podcast.
When receiving a call, the ANC gets turned ON automatically. As a result, I can pick it up even if I am in a crowded place and still hear what's going on the call clearly. 
The microphone quality on the other end is also quite good, and the receiver can hear your voice very clearly even if you're speaking from a crowded place.
Fit And Finish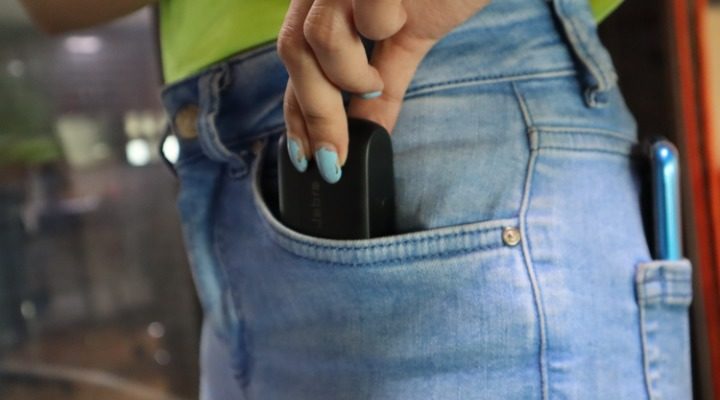 Jabra elite 85t features an oval-shaped rubber which might not feel comfortable at first glance but it does fit properly. However, the only caveat is that you've to find the proper tip size for yourself.
The Jabra elite 85t comes with a charging cable and four different types of rubberised tips. I tested these tips on different people in my office and they seem to fit almost every ear shape and size possible.
If you choose a loose fit, the ANC won't work properly and a lot of the filler noise will leak out of your earbuds.
Verdict
Jabra elite 85t TWS earbuds offer exceptional value for your money with their comfortable fit and finish, sound quality, active noise cancellation and battery life.
If you're looking for a pair of TWS earbuds in under Rs. 20,000 do remember to check Jabra elite 85t a try.