Smartwatches have become an everyday necessity. Although they offer a variety of features, they often lack in terms of luxury. We know that our readers prefer smartwatches that offer a perfect mix of luxury and performance, so to help them choose, we've shortlisted a bunch of smartwatches that will provide you with all the features you look for in a smartwatch along with luxury to enhance your fashion style.
Alpina Alpinerx Alive
Combining the beautiful Swiss-made watch with connected features, the Alpinerx Alive is your best ally for daily activity, sports routine and overall well being. Combining traditional watchmaking with a touch screen Alpinerx Alive stays faithful to the iconic heritage of the brand. The inbuilt coloured display within the watch gives you insights into your well being and performance. With its solid build quality and vibrant colours, the Alpinerx Alive is easy to wear as a daily companion. The watch tracks the number of vitals in your body, including but not limited to hydration level, O2 saturation, sleep monitoring, activity tracker etc. The luxury smartwatch also comes with a companion app that helps you record your data and optimise your performance daily while giving you valuable insights and feedback.
You can even customise the watch online using different dials, straps, clock hands, fibreglass case and polished stainless steel case. Every portion of Alpina watch purchase goes towards a charity called "Wings for life", which supports spinal cord injury research.
Frederique Constant
If you prefer the look of a classic swiss made watch, then Frederique Constant could be your best option. Upon first look, their latest smartwatch looks very elegant and devoid of any modern gadgetry that are the defining features of smartwatches. Instead, the Frederique Constant defines itself with really quality components like a stainless steel foot polished case; a sunray brushed dial and a sapphire crystal front glass with anti-reflection coating underneath.
The digital capabilities of the watch come to the surface when you press the crown. A digital screen pops up, showcasing all the necessary information. Underneath the watch, you'll find a charging pin and a heart rate sensor developed exclusively by Philips. Furthermore, the watch is 5 ATM water-resistant, which is perfect for deep-sea scuba diving.
Suunto Sportswatch 7
The brand new Suunto 7 allows you to take control of your sport and your life. The durable sports watch tracks your training accurately. This luxury smartwatch is a little bit on the adventurous side, but it still offers the build quality and luxury as well. The inbuild heat maps within the watch allow a user to explore trails and paths. Suunto 7 is powered by Wear OS by Google, which offers an exceptional level of functionality, including the integration of thousands of apps and features.
Garmin Fenix 6 Pro Solar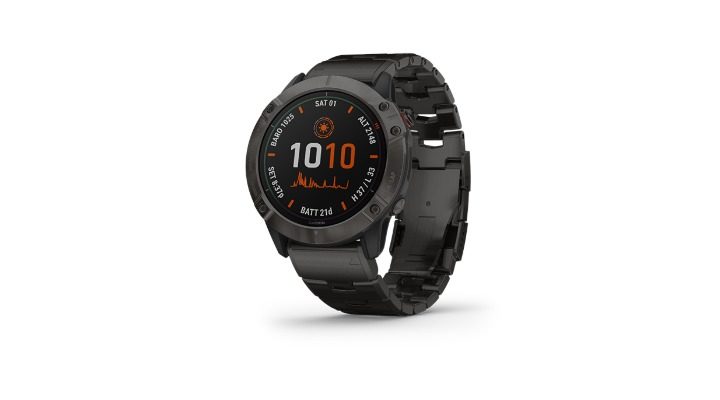 For the environmentalist in you, the Garmin Fenix 6 Pro Solar would totally suffice. With a built-in solar charger, the Fenix 6 Pro encourages the adventurer within you to explore the unknown without worries. It comes with built-in navigation maps and navigation sensors; the Garmin Fenix 6 Pro won't let you get lost in the wilderness. Furthermore, the watch comes with a charging manager, which extends its battery life even further. One of the unique features of this luxury smartwatch is a VO2 sensor, which measures the maximum rate of oxygen consumption during exercise in elevated areas like mountains. The Fenix 6 Pro also records your surf analytics which tracks your distance travelled and speed. Specifically for mountain biking, the luxury smartwatch has an exclusive mode that tracks grit, flow, time and distance travelled. Lastly, it also connects with your smartphone and delivers all of the important notifications on time.
Mont Blanc Summit 2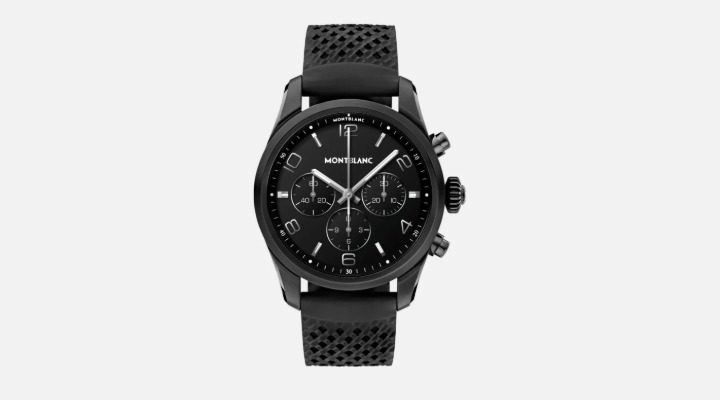 The new Mont Blanc Summit 2 offers a stealthy look and has a ton of features that can make it your ultimate luxury smartwatch. The Mont Blanc Summit 2 is your personal running coach, assistant and your fashion buddy simultaneously at the same time. It comes packed in an aluminium case for weight saving along with an anti-scratch crystal for longevity. For straps, the watch offers multiple options, but our favourite is a black fabric strap with a pin buckle made of black-coated stainless steel. It gives the watch a very stealthy look, and you can easily pair it with any outfit ranging from active sportswear to casuals and formal.
Garmin D2 Delta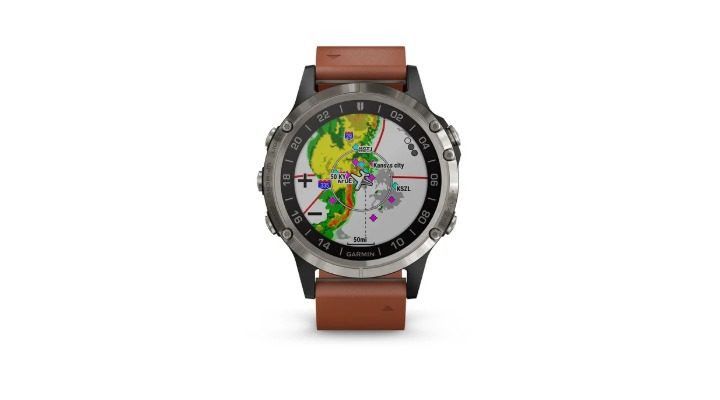 If you're a pilot or a flight enthusiast in general, the Garmin D2 Delta is for you. The D2 Delta series from Garmin features three watch models, namely – Delta PX (51 MM), D2 Delta ( 47 mm) and lastly, the D2 Delta S (42 MM). The Delta series comes with a built-in navigation system that can easily track your flight progress. These watches also feature a very in-depth weather monitoring system giving you information with the help of a NEXRAD radar using the METAR format. The watch also streams the flight information and flight plans intuitively. Additionally, the maps features on the watch are dynamically moving maps so you can track your progress in real-time. In one of the most exclusive features, the watch also gives your a fuel warning by vibrating. Other important flight information like airport information can also be accessed using this Garmin luxury smartwatch.
TAG Heuer Connected
Packed in a stainless body and covered by a scratch-resistant sapphire glass, the TAG Heuer Connected is an ultra-lightweight luxury smartwatch that stands above the competition. It features a 45 mm dial surrounded by ultra-light black ceramic crystals. Right off the bat, the TAG Heuer Connected is waterproof by up to 50 metres. Furthermore, the dial on this watch seamlessly transforms into a touch screen that can also be controlled via the crown and push-button. TAG Heuer Connected completes its set of features by offering easy tracking of speed, pace, heart rate, distance, route – thanks to the integrated sensors. Its battery lasts a full day, including an hour of heavy exercise.
When the competition is tough, the user is rewarded with a choice; in the case of luxury smartwatches, that is certainly the case. Not only do we have smartwatches that are specifically designed if you're a pilot, surfer or runner, but also for the environmentalist and the active businessman. With any of these luxury smartwatches, you can't go wrong. So flaunt your luxurious style every day.