Twitter has been on a spree of launching new features on its platform. A few days ago, we saw Twitter testing Fleets in India which are Twitter's version of Instagram stories that disappear after 24 hours. Now, Twitter has started testing another interesting feature – Voice Tweets in India but this time it's limited to iOS users only. This is a perfect feature for you if you have a lot to express on the micro-blogging platform but have to cut it short due to the '280 character' limit of a Tweet.
You can Tweet a Tweet. But now you can Tweet your voice!

Rolling out today on iOS, you can now record and Tweet with audio. pic.twitter.com/jezRmh1dkD

— Twitter (@Twitter) June 17, 2020
The default limit of a voice tweet is 140 seconds but don't worry, if the recording goes over the time limit, Twitter splits it into multiple tweets. If you have an iPhone, here's how to use this feature and start voice tweeting:
Make sure to have the latest Twitter app installed. You can open the App Store and check for the latest update manually too.
Launch the latest update of the app, once you're logged in, tap on the "Compose Tweet" button and you will see a soundwave icon next to the camera button and recent images
When you tap on the soundwave icon, you will be taken to a new screen that shows your Display Picture and a Record button. Tap on the "Record" button to start recording. The first time you press the record button, you will have to grant the Twitter app permission to access your microphone – just hit OK – and then recording will start immediately.
Once the recording starts, you will see shaking circles around your Display picture indicating that the microphone is picking up your voice. In case you need to pause in between the recording, there's a "Pause" button that's replaced with the record button. There is also a progress bar that fills up indicating how much of the 140 seconds you are left with. If your recording exceeds 140 seconds, a voice tweet thread is created
When you are finished with your recording, tap "Done" and you'll be taken to the tweet composition screen where you can preview the recording and add text if you wish to. When you're happy, hit the Tweet button.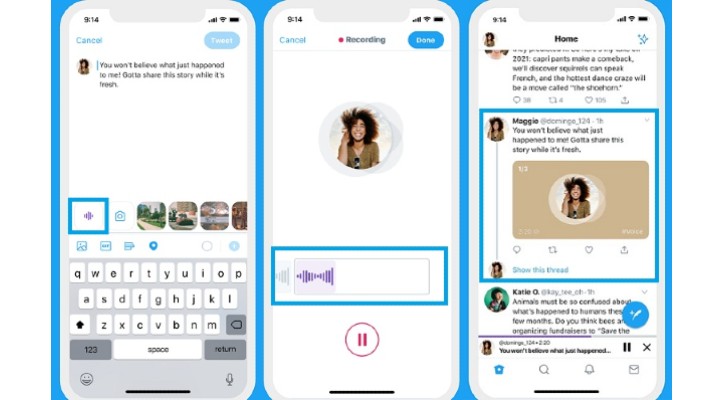 At this time, you can only record voice Tweets as original Tweets. It's not possible to Tweet with audio through replies or Retweets with Comment. As mentioned earlier, this feature is only available for select iOS users as it's currently in its testing phase and will be eventually available to all iOS users. There has been no information on its availability for Android. While audio tweets can only be recorded on iOS, they can be played back on any device.