Google has confirmed an entirely new Nest-branded Smart Speaker by releasing an image and a teaser of the speaker to a few media houses.
As seen in Google's official image, this new smart speaker has a fabric covering similar to the past speakers yet looks different in an oblong-shaped neutral grey all-cloth design. The fabric is wrapped all around the device which also indicates its ability to stand vertically when in use.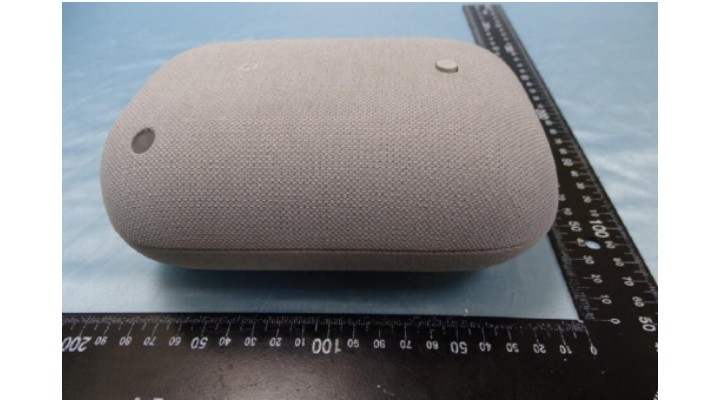 In a tweet by Android TV Guide, an image of the speaker beside a ruler indicates that the device is approximately 8.7 inches (220mm) long, and 5.9 inches (150mm) wide, which suggests it is taller and wider than the Google Home and Home Max. There also has been confirmation on its W-Fi and Bluetooth capabilities and 30-watt DC power supply. Although we can't see any USB-C or auxiliary input, other familiar features of the speaker like the silicon base, G logo at the back, and the mute switch are visible in the photos shared. In the teaser video, we also see the speaker being used in the background, including a pinkish colour variant.
Looks like the @googlenest team really is working on a new speaker! pic.twitter.com/BLU3co8ylW

— Molly Price (@MrsMollyPrice) July 10, 2020
In ordinary times, new launches are announced at Google's annual I/O developer conference held in May but it was canceled this year due to the coronavirus pandemic and with no official date announced yet, it's anyone's guess when Google launches the new speaker. However, we do expect an official announcement towards the end of this year along with Android 11 for phones.
There have been no tech specs or price reveal for this one yet but in our opinion, this new Nest smart speaker is going to be one among the expensive Google speakers. The Nest mini retails for INR 4,999, so we expect it'll cost more than that definitely. Our close guess for the price of this Nest speaker will be somewhere around the Google Home's price which retails for INR 7,999 or on the higher side.
Also Read: How to choose a Smart Speaker?