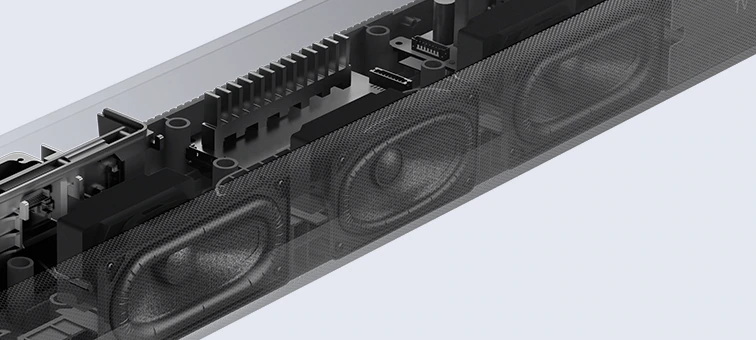 The demand for capable home entertainment devices is at its peak thanks to the OTT boom caused by the COVID-19 pandemic. Sony already had the premium HT-A7000 soundbar system which took care of your audio needs with flying colors and now the company has introduced the HT-A3000 which is a midrange-premium soundbar with an authentic 3.1 channel surround sound. I have been using the HT-A3000 soundbar and its accompanying sub-woofer and rear channel speakers for the past week as my primary sound system for a week. To sum up the experience – It was overwhelmingly immersive! Check out the detailed review below –
Design
Similar to the rest of the lineup, the HT-A3000 (I'll refer to it as A3K further) also comes with a no-nonsense black design. It is an all-matte-black design made out of plastic and a metal grille which does not look cheap but rather gives a premium feel. It is a 37-inch soundbar just a little over 2.5 inches tall that simply gets lost under your television set. Behind the metal grille is a small OLED text display that could've been made bigger in my opinion. As the display is small, the entire text takes a while to get displayed in its entirety. However, it is easy to read and can be read from a considerable distance. 
Companions
In India, the A3K soundbar cannot be bought just as an independent device but has been clubbed with either the SW3 or the SW5 subwoofer along with optional rear RS5 or RS3S speakers. The review unit sent to me featured the SW3 subwoofer and the RS3S rear speakers which amount to the entire setup costing Rs 1,14,970. The soundbar, subwoofer, and rear channel speakers assembled in synergy like the Avengers to produce a sound that became the center stage of my office and drew attention from everyone. My only gripe with Sony with the A3K is that I cannot buy it as a standalone product in India and have to tag along a subwoofer. Living in a small house, a subwoofer and a soundbar is an overkill setup for me that could lead to neighbor complaints!
Setup and connectivity
Setting up the A3K is not a task at all when it comes to connecting to the television or the phone via Bluetooth. It is pretty much a 'turn on and connect' scenario going on with this soundbar which makes it easier for users to get to their entertainment quickly. There surely is a setup process when it comes to the Soundbar after you've connected to it which I will highly recommend as it increases the immersive sound experience. Sony takes the utmost advantage of the HDMI connectivity as it uses it to showcase a full-onscreen menu system for the A3K. There is also the 'Music Center' application for iOS and Android devices that make your life a little bit easier when it comes to mobile connectivity.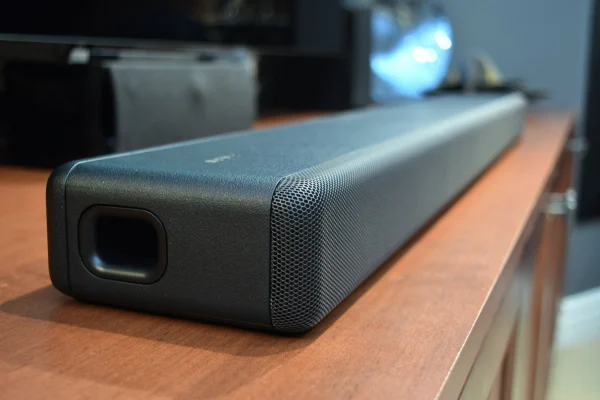 Sound Quality
During my initial testing of the A3K with its companion subwoofer and rear channel speakers, I was taken aback by the premium sound quality. Thanks to the entire sound setup provided I could experience what Sony has coined as the '360 Spatial Sound Mapping' which uses built-in microphones to measure the height and position of the soundbar and the rear speakers to customize the sound experience. It creates a strong surround sound with an enhanced immersive experience which was a treat to experience. However, it is to be noted that the immersive experience was only limited to a small room as shifting the setup to a bigger room did not give half the same experience. The A3K provides a balanced and pleasing-to-the-ears sound quality when it comes to both films and music. However, I am sure music purists will miss out on a few key features like dedicated tweeters. The A3K is riding the wave of Dolby-capable single soundbars but it surely delivers with all its 240W prowess.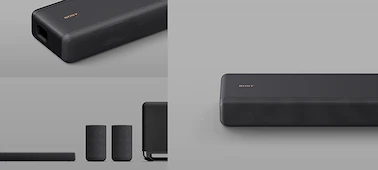 Verdict
The Sony HT-A3000 is a powerful soundbar in all its individual glory that is enhanced furthermore with the companion subwoofer and rear channel speakers. People looking for a premium sound experience without having to pay over a lakh can surely go for the HT-A3000 without any hesitations.
Rating – ⭐⭐⭐⭐