Global EDM phenomenon and Swedish music sensation Tim Bergling, known by his stage name Avicii, stepped out of the studio to converse with Utsavi Jha and give her insights into what life is like for him, share his musical sensibilities and two-cents on the tech world, and reveal one thing fans don't know about him!
Exhibit: What shaped your interest in music and what does music mean to you?
Avicii: My brothers and sisters were all a lot older than me, all about 15 years older than me. They were listening to hard rock, or glam rock – all kinds of rock. I grew up with that. And then my dad listened to Ray Charles and R&B. But I've always listened to everything. I've never been a hardcore rocker, or into a single genre. I've always been open to listening to everything. What defines my music tastes is that it must be melodic and hooky. Music is everything to me; it's an escape, it's a way to express your feelings, it's a way to connect with people and bring people together.
Exhibit: What made you want to enter the EDM scene?
Avicii: I wasn't really into electronic music at first – just Daft Punk and a couple of other people. But then I downloaded FL Studio, and I realized I could create an entire song with that computer program. So, I started making songs that my friends and I liked, and it just grew from there.
Exhibit: How's life after retirement from touring?
Avicii: Retirement seems not the right word. I am anything but retired. I've been in the studio, and I'm super excited about the sounds and music I've been coming up with. I am so close to finishing and being able to play it for everyone.
Exhibit: What does popularity mean to you and how do you stay grounded and manage all the fame?
Avicii: Popularity really isn't that important to me. To be honest, I never really liked the fame all that much. If it happens naturally with a hit song, that's one thing. But I'm not actively pursuing that. I do like to make music that moves my audience and my fans, and I think anyone who can communicate music and make people feel good by extension becomes popular.
Exhibit: Let's talk about charts and topping- how important is it for you to top the chart?
Avicii: It's an amazing accomplishment to have a chart-topping song or album, but for me, it's never my motivation.
Exhibit: How do you tackle competition looking at the increasing number of DJs in the scene thanks to the ease with music production is now possible?
Avicii: I don't really think about competition. If you put out the right music and it resonates with people, I think it'll break through all the noise.
Exhibit: What's the most exciting thing about the EDM scene right now?
Avicii: I think that EDM started getting oversaturated four, five, six years ago, when money became the focal point. Right now, I'm all about my own music and getting it right.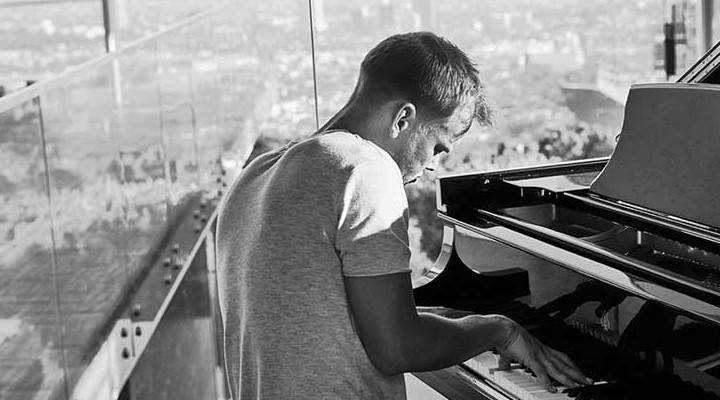 Exhibit: Is the EDM scene different in different places you've played at?
Avicii: At the height of its popularity, I think the most amazing thing about the EDM scene was that no matter where you were in the world, you could feel connected to people through this genre, no matter the region or culture.
Exhibit: Your single Wake me up was HUGE in India. What's your relationship with India like?
Avicii: India is an amazing place. Modern and ancient. My Indian fans were always incredible. I hope to visit again soon.
Exhibit: Your take on the tech world.
Avicii: I've always been super interested in tech and different ways to utilise it — I recently launched my own PS4 game INVECTOR and relaunched my iOS/Android game GRAVITY. I'm also looking into new tech opportunities such as 3D bioprinting and innovative streaming services.
Exhibit: Social media and the rise of digital streaming of music thoughts.
Avicii: Social media is a great way to connect with fans and give them an inside look into your life. Streaming services have always been extremely beneficial to my career, and I think it's a great way to discover new artists. I like that my fans learn about me through social media, but it's not a focus for me.
Exhibit: Tell us about music you listen to apart from House/EDM.
Avicii: I listen to a little bit of everything. I want to learn as much about other genres as possible. That's what I love the most – having a session with Nile Rodgers, for instance, and getting an understanding of music that's invaluable.
Exhibit: If you had to delve into some other genre of music, which one would it be?
Avicii: Melody has always been what gets me, genre has never mattered as long as I like the melody of the song.
Exhibit: One Avicii music/song signature you know never fails. Any secret tricks?
Avicii: The only thing I aim for with most tracks is for them to be different, and to stand out from everything else that everyone else is doing, and to try to create tracks that cannot be easily copied and that would sound great live.
Exhibit: Describe one quintessential day in your life.
Avicii: I eat, workout, hang out with my dog Liam, and spend a lot of time in the studio!
Exhibit: Name one thing your fans don't know about you.
Avicii: I don't have my driving license!
Exhibit: What's the best and worst thing about being a DJ?Avicii: For me, the worst was the gruelling touring schedule. The best is all the amazing opportunities I've had, and the incredibly talented people that I've met and worked with along the way.
Exhibit: Advice for aspiring DJs.
Avicii: Be true to yourself and never give up!
Exhibit: Next big thing in the EDM scene?
Avicii: Well, I hope the next big thing in music is something fresh and exciting that's never been done before.
Exhibit: What's next for Avicii in 2018?
Avicii: To make the best damn album of my career!
Exhibit: Any message for fans in India?
Avicii: Keep on the lookout for new music – it's on the way.