Alienware is a very familiar name, but every gamer knows that it hasn't been relevant since I was in 12th grade. In its absence, brands like ASUS, MSI, Razer and Lenovo had dominated the gaming laptop segment. 
Alienware's parent company, Dell, did remain competitive on the scene with its Vostro, Inspiron and XPS series of laptops. So using the same formula of continual improvement, Alienware launched one of its most compelling gaming laptop, the M15 R3. A powerhouse of a laptop with chart-topping specs and an equally high price to boot.
After spending more than two months with this machine, here's not just my review of the M15 R3 but also the story of how Alienware made a come back after years of silence. 
Design And Construction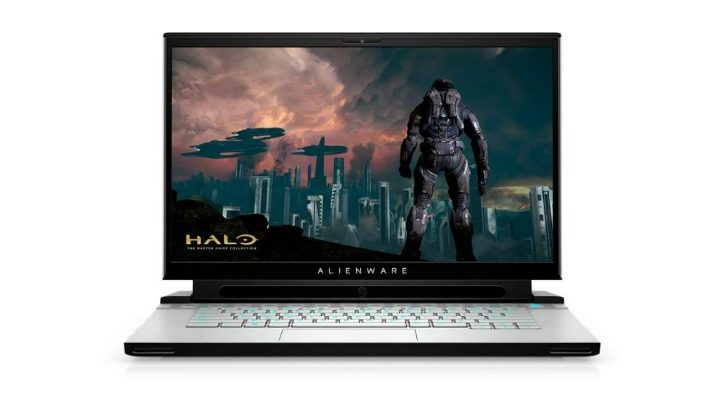 The Alienware M15 R3 is a thin laptop, in terms of a gaming laptop at least. With a weight of 2.1 kg, it is lighter than some of the mid-range gaming laptop but packs in twice the performance, about which we will talk later. 
The weight is equally spread through the laptops display panel and chassis. As a result, both of them have a good amount of thickness. The display panel has enough weight to resist a jerk-off motion when I lift up the laptop. Meanwhile, the chassis is rock solid, painted in white and has a matte finish. 
A laptop is only as good as its keyboard and its trackpad. Thankfully on the Alienware M15 R3, both these things are pretty well sorted. The keys are of nice quality and feel like they can handle a hundred rounds of angry typing. The footprint of the trackpad is small compared to the size of the overall laptop but it still managed to function well for a 15.6-inch screen. 
Speaking of the screen, it is the prettiest one I have ever seen, on a laptop at least. You can either choose between 1080p resolution and 300Hz refresh rate or 4k resolution and 60Hz. 
The Ultra HD resolution combined with the screen's High Dynamic Range featuring deep blacks became my personal favourite screen setting to use the laptop. 
The screen is bright enough, offering up to 400 nits of luminosity. It is enough for when you want to sit under a shade but not high enough to use it under direct sunlight. However, you wouldn't be using this laptop like that anyway, so it's a non-issue.
The laptop comes with upwards firing speakers (thank god), and they are very loud. Turn the volume above 90%, and the music beat will start causing a fair bit of vibrations. 
Speaking of vibrations, you can also feel a small set of vibes when the laptop fans kick in. They're pretty loud as well, and 5 minutes into any game, and they'll turn ON and stay ON for the entire duration of the game. 
They do suck in a lot of air so make sure to keep the air vents free of any physical obstruction or, if possible, use the laptop with a cooling pad. I will not mince words here as the laptop gets pretty warm during an hour-long gaming session. It is one of the areas where I'd like to see some big improvement in the laptop's next iteration. 
Screaming Performance
As mentioned above, the laptop is quite loud, but it is equally capable as well. I tested DOOM 2016, Assassins Creed Odyssey, Watch Dogs 2 and Cyberpunk 2077 on this machine, and all of them consistently maintained 60 FPS at 1080p resolution. 
I did manage to crank up the resolution to 1440p while playing DOOM and the frames still remained steady. The laptop dropped a few frames when testing Cyberpunk 2077, but the game is itself is broken in many ways, so I can't blame the laptop for the same. 
I recommend playing with a cooling pad as the fans, even when cranked up to very high, don't fully manage to bring the temperature of the laptop down. 
During editing, however, the laptop breezes through with ease. Rendering a 4k footage is quite easy, thanks to the 10th gen Intel 10750H CPU. My review unit came with RTX 2070, and you can spec it up to an RTX 2080. 
With the launch of the RTX 3000 series, the buyers of the 2021 models will likely get the option to choose from an RTX 3070, 3080 or a 3090 GPU.
Portability
At 2.1 kg, the Alienware M15 R3 isn't exactly light, but what further decreases its portability is its charging kit. The charging adaptor is as big as the iPad Mini and twice as thick. 
Needless to say, it is not as easy of a laptop to carry around, and at a high-resolution setting, it'll only last you between 2 to 2.5 hours without continuous charging. But the processing power within the laptop you're carrying is quite formidable, making it's low portability a non-issue. 
Verdict
On its own, the Alienware M15 R3 is a great laptop. But when you take a look at the competition, you realise that Alienware is still a few steps behind. Currently, you can get a gaming laptop in a similar configuration at a far lower cost than the Alienware M15 R3. 
Alienware needs to take a few pages out of Dell's XPS' diary and focus on continual annual improvements. They have a great product, and just by sorting out a few issues like cooling and setting a competitive price will make help return the Alienware return to its former glory.