BENQ EX2510 is a gaming monitor which lies in the premium budget segment. But in a highly competitive market, how capable is the BENQ EX2510 of creating a space for itself?
Well, to find out, I tested it as a PC gaming monitor and as a display for the PS5. After intensive testing, here's my review of the BENQ EX2510.
Every Gamer's Monitor
BENQ EX2510 features a solid build quality and an almost bezel-less display. The monitor also comes with BENQ branding at the bottom along with a light sensor, about which we'll talk later.
On the backside of BENQ EX2510, you'll see the "MOBIUZ" branding. The stand of the monitor is finished in silver along with an orange accent. Furthermore, you can adjust the monitor's swivel, tilt, and height, which makes it pretty handy. In terms of I/O, the EX2510 feature 2 X HDMI 2.0 ports along and a DP port. The monitor also has a headphone jack, just in case.
Usually, there aren't speakers on modern monitors. However, the BENQ comes with 2.5-watt speakers. Their sound quality is average, but their sound quality is at least clear and quite loud for small speakers.
All the rear ports in the BENQ EX2510 can be neatly hidden away using a plastic back panel, thus giving your gaming setup a cleaner look. The monitor comes with a joystick at the back for menu navigation along with two extra buttons in terms of controls.
The screen of the BENQ EX2510 has an anti-reflective coating. Which means you can use it under direct sunlight without any issues. The screen's resolution is 1080p, and the panel features a 144Hz refresh rate. Meaning it if you have a GPU capable of running games at 120 FPS, then this monitor is the one to buy.
The brightness of EX2510 is also pretty high at around 400 nits, which is enough if you wish to play this monitor in a well-lit room with a lot of sunlight. Furthermore, the IPS panel offers 178 degrees of wide viewing, meaning if you look from the sides, you can still see the image clearly.
The monitor comes with 99% sRGB, which helps in almost accurate colour reproduction. I said almost because some black or dark areas on the screen can appear a bit greyish.
The size of the EX2510 is 24.5 inch which is just enough for the 1080p resolution. Any further increase in screen size would have caused pixelation issues. And the bezel-less display makes good use of the available screen size quite well.
The monitor features Blur or Vsync at a single time. But you can enable it by going inside the GPU setting. However, for that to function properly you'll need a DP cable. The monitor features AMD Freesync, just for your reference.
To reduce ghosting, the monitor also features blur reduction. However, it is quite under control, so there are no issues there.
EX2510 comes with an integrated light sensor located near its chin. It easily adjusts the monitor's brightness according to ambient lighting. It is quite useful if you're working in a room with natural sunlight. As the light changes, the brightness adjusts automatically.
Performance Tested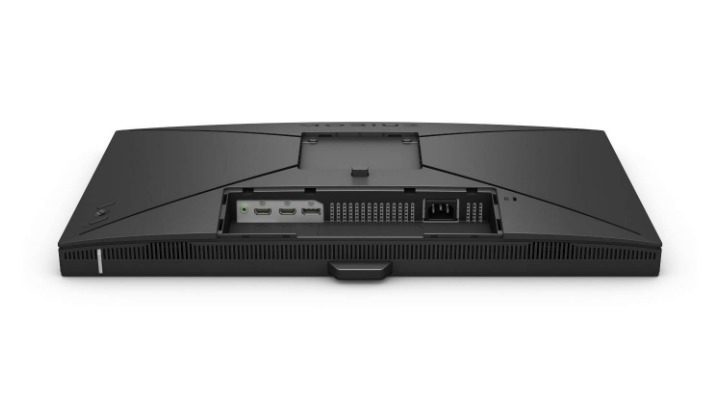 I tested my gaming rig with a 10th Gen Intel Core-i7 CPU, an RTX 2070 GPU along with 16 GB of RAM. I played DOOM eternal at 1080p ultra settings, and the monitor was able to deliver 120 FPS constantly. The image suffered from no screen tearing, and the entire experience was super smooth.
After that, I tested Borderlands 3. My GPU didn't consistently maintain 120 FPS, so I put a 60 FPS lock on the monitor, and the game ran pretty smoothly as well.
I also found that despite huge frame drops, there was little to no screen tearing. I did notice one instance when I was playing Assassins' Creed Odyssey, and my game glitched a little bit, causing the pixels to tear up.
After testing my PC, I hooked in my PS5, and the monitor's ultra-fast response time coupled with the console hardware produced some amazing results. I tested Demon Souls and the on-screen action because my button presses felt way quicker than usual.
But playing a fast-paced game like Call of Duty Warzone on the PS5 paired with the EX2510 was truly an immersive experience. The game ran at 120 FPS, and coupled with the ultra-fast response time; the entire gameplay became very engaging.
Verdict
BENQ EX2510 features great hardware, solid construction and great design. It's a monitor that looks good on your desk and can be easily adjusted even if it becomes crowded.
At Rs. 20,900 is one of the best monitors if you're building a PC for playing e-sports titles where high FPS and fast-response time are crucial to winning. Needless to say, I highly recommend it.