I know I am a little late with the Lenovo Yoga 7i Review laptop review but this 2-in-1 ultrabook is so good that I kind of forgot I had to write about it as well. The phrase "technology makes your life easier" applies perfectly to Lenovo's latest Carbon series of laptops. Yes, it is seriously that good!
Recalling from my review of the Lenovo Legion 5i gaming laptop, I used the word "solid" to define it. The laptop had tons of features and great build quality.
The same theme continues with the Lenovo Yoga 7i. It has a long list of features along with some notable flaws and some quirks as well. So, if you're looking to buy a 2-in-1 ultrabook and the Lenovo Legion 7i is on your radar, then here's everything you need to know about it.
Lenovo YOGA 7i Review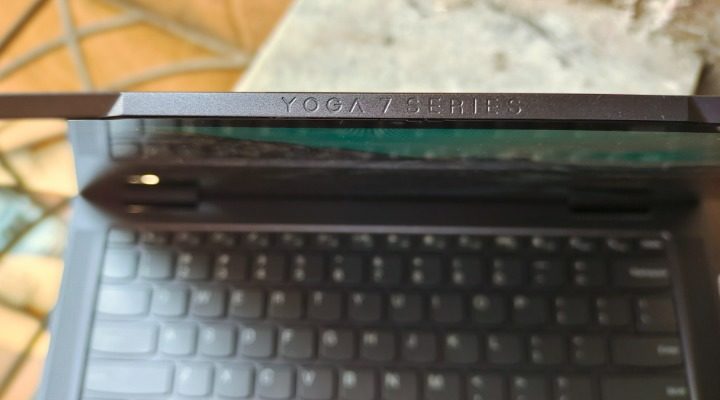 | | |
| --- | --- |
| CPU | 11th Generation Intel Core i7-1165G7 Processor |
| GPU | Integrated Intel Iris Xe Graphics |
| Memory | 16 GB Soldered LPDDR4x 4266MHz |
| Storage | 512 GB SSD |
| Screen | 14.0 Inch FHD |
| Battery life | More than 12 hours approx with 70% brightness (71 Wh) |
| Charging | 65 watt USB Type-C fast charging |
| Weight | 0.9 kg |
| Camera | 720p |
| Price | Rs. 99,990 |
Construction And Design
The design and build quality of the Lenovo Yoga 7i will thoroughly impress you. Its lid is covered in a matte finish material featuring a YOGA and Lenovo branding on top. The hinge of the laptop is a little bit tight but considering it can move 360-degree, I'd say it is a great thing. Due to a tight hinge, you can easily work on this laptop while keeping it on your lap without having to constantly adjust the screen.
Speaking of great things, the keyboard on the Lenovo Yoga 7i is one of the best I have used. The keys are big in size and feel solidly built. The typing experience is absolutely fantastic. The keyboard feels similar to the Lenovo Legion 5i gaming laptop. It is a good thing because it feels solid enough to handle every form of typing rage I can throw at it.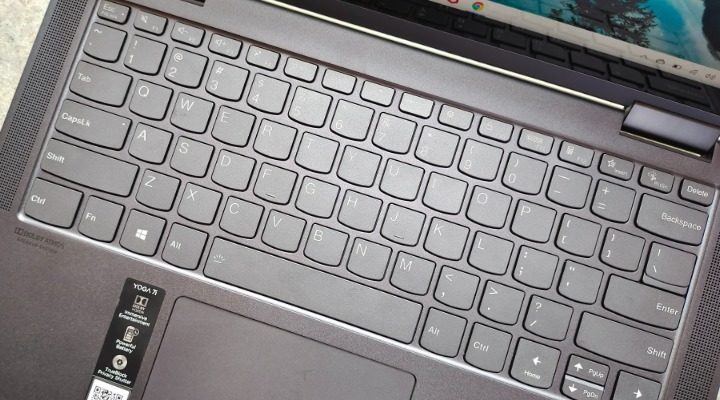 The deck of the Lenovo laptop is made up of a smooth yet absorbent material. It also provides a good amount of grip to your palms while typing.
Moving on to the trackpad and I have no complaints about it. I mostly use an external mouse, so it performed well enough whenever I had to use it. There is no dedicated left or right-click button but the trackpad registers my gestures accurately so it's a non-issue.
The speakers on this laptop are loud, crisp and most importantly they're placed on either side of the keyboard. It is such a simple thing to do and makes such a huge change during media consumption. The Lenovo YOGA 7i stays true to its name and offers a ton of mobility. You can easily work using this laptop while sitting or even lying down.
In terms of connectivity, you do get WiFi 6, Bluetooth 5.2, two USB Type-C ports, one USB Type-A slot and a headphone jack. The laptop also comes with a fingerprint sensor which makes logging in super easy. It is separate from the power button though.
Lenovo YOGA 7i Review – Performance Tested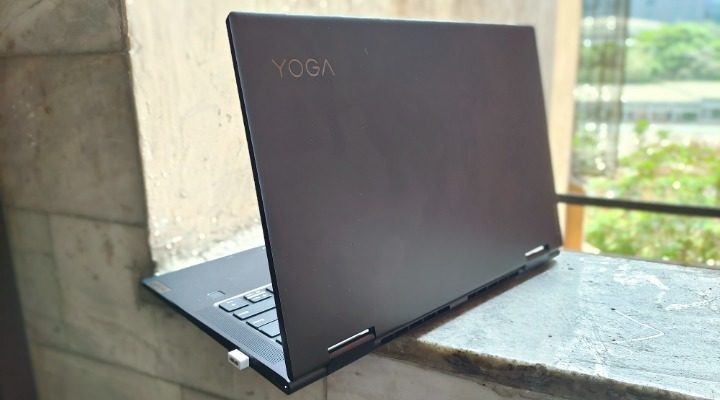 The Yoga 7i is based on the Intel Evo platform which uses an 11th Gen Core-i7 1165G7 Tiger Lake Quad-Core CPU. It means that it features a processor that provides good battery life, a high single core score, decent GPU performance and better connectivity.
It also means that it lacks any dedicated graphics chip and has two less-cores than the previous generation. The absence of two cores might not be evident on a machine primarily designed for productivity purposes. Don't get me wrong, it can still render 4k videos with ease but don't expect stutter-free performance in open-world videogames.
And it is here that the Lenovo YOGA 7i falls short. The Iris Xe GPU chip onboard the laptop is capable of running esports titles at low settings but that's about it. I do believe that an entry-level Nvidia GTX 1650 would have made this laptop a whole lot better.
In terms of CPU performance, the laptop is pretty reliable. It has a single vent located underneath the laptop but it manages to keep the laptop pretty cool.  Media consumption on this ultrabook is amazing thanks to its lightweight and upward-facing speaker grill.
The touch screen works really well. Although the display has a refresh rate of just 60 Hz I suspect the touch sampling rate to be pretty high because the screen response happens in an instant.
The YOGA 7i also comes with a touch pen. It is not as responsive as I'd prefer but just having it bundled with the box is a big plus.
Speaking of another big plus, the laptop managed to last me an entire day of heavy usage with full brightness. Its battery life is easily around 10 hours or more if you turn the brightness down a little bit.
Future Upgrades
Although the Lenovo YOGA laptop offers a sweet package it still has some shortcomings. Firstly, the display could have been a bit more bright. For a laptop designed to be so portable, it needs to be bright enough to work in direct sunlight.
Secondly, the resolution only goes up to 1080p. I know it saves the power and helps to increase efficiency but at least I'd like to have the option of a 4k display.
Final Words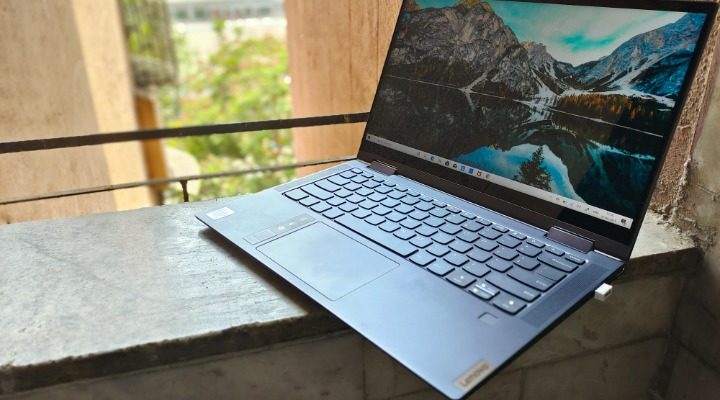 Overall, the Lenovo YOGA 7i has a mouthful of a name but it still is a pretty great laptop. The functionalities on offer easily rival its competition. And If I had to buy a reliable Windows-powered machine for using two or three years down the line, I'd go with YOGA.