Before I begin with the Samsung A52 review, I want you all to find what's common between an iPhone SE and OnePlus Nord? To those of you who answer, "they're budget siblings of expensive smartphones," you're absolutely right. Those who answer, "I don't know, I am here for the Samsung A52 review, that's it" then this article is just for you.
Here's everything you need to know about the latest premium budget smartphone Samsung A52 and why it is the perfect representation of the "90% formula," as I like to call it. Patent-pending 😉
Samsung A52 Review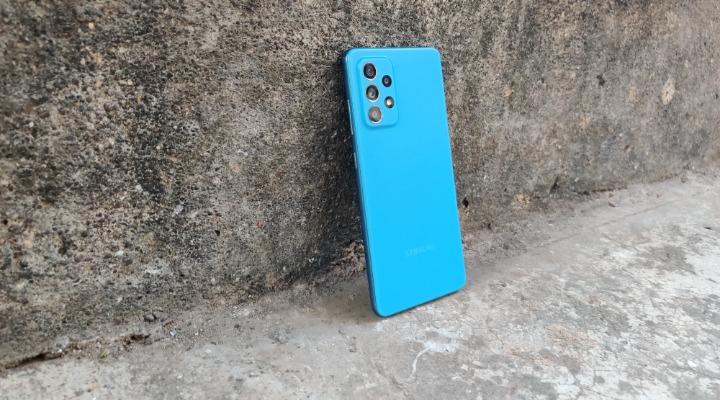 Construction And Design
The best thing about the Samsung A52 is its design. Samsung took the design of their flagship, the S21+, removed all the aluminium, replaced it with polycarbonate and thus the brand new A52 was born.
Don't get me wrong, despite using plastic, the Samsung A52 does not feel cheap. Far from it. It has a smooth touch rear plastic, which is matte and comes in Violet, Black, White and Blue, Samsung likes to call the colours with the prefix "Awesome", which I think is their marketing team's idea.
Anyways, I digress, the panel is made of plastic, including the side strips. And both of them feel premium to touch. Furthermore, it is probably one of the only phones I feel comfortable carrying around all day without a back cover.
Speaking of "carrying phones without protection," there is none on the front glass panel. The phone comes out-of-the-box without any form of screen protection, so I'd advise you to get one as soon as you buy the phone. There is no back cover in the box either.
What you do get is a USB type A to type C cable, and a 15-watt charger, along with the smartphone. Well, at least we should be glad Samsung isn't removing chargers from their box, yet.
Samsung A52 comes with a 3.5mm jack, a hybrid dual-sim tray, a USB Type-C port and two speakers. On the side, you'll get a power and volume button. There is no fingerprint sensor integrated into the power button, as we have seen in Samsung Galaxy F62. Since it is an "A" series Samsung phone, it features an in-display fingerprint sensor.
Samsung uses an FHD+ AMOLED display with a 90Hz refresh rate. We'll talk about it in detail in a minute, but this addition makes this phone a whole lot snappy.
Overall, Samsung nailed the design of the Samsung A52 absolutely.
Samsung A52 Performance Review
Samsung A52 uses Qualcomm Snapdragon 720G SoC. It was a good decision to ditch the Exynos chip because the 720G offers improved performance and efficiency. The general experience of opening and closing the apps is lag-free. Playing PUBG mobile, COD mobile is also a smooth experience. However, more demanding titles like Genshin Impact proved to be a bit of a challenge for the A52.
But it is a necessary tradeoff, the phone is very light at 189g thanks to an average-sized 4,300 mAh battery. The 720G optimally uses power making the smartphone last a whole day of heavy usage.
| | |
| --- | --- |
| Samsung A52 Specs | |
| RAM & Memory | 6 GB / 128 GB |
| SoC | SD 720G |
| Rear Camera | 64 MP (wide) + 12 MP (ultra-wide) + 5 MP (macro) + 5 MP (depth) |
| Video | 4k@30 FPS, 1080p@ 30 and 60 FPS |
| Front Camera | 32 MP Wide, 4k@ 30 FPS, 1080p @30/60 FPS |
| Battery | 4,300 mAh |
| Screen | FHD+ 6.7-inch 90hz display |
The 90hz screen plays a major role in making this phone perform fast. Scrolling and swiping are very responsive and I don't feel any lag in the phone for the most part. The screen stutters a bit when you pull down the top menu and it is filled with notifications. But I think that can be managed with future updates.
Moving on, the speakers offer crisp sound. There are two of them, one at the bottom another one at the bottom. Watching movies is a great experience because of the FHD+ AMOLED screen. The bezels are a bit thick but the 6.7-inch display is big enough that you wouldn't really notice.
Let's talk cameras. The smartphone uses a 64 MP sensor and clicks really great photos from the primary lens. The ultra-wide lens does smooth out the image a little bit but it works for the most part. The lens has inbuilt Optical Image Stabilization which makes taking photos or recording videos very easy.
Here are a few sample shots:
"A" Quality Features
Since it an "A" series phone, it gets some really cool features for example the Samsung A52 will get up to 4 years of security updates which is a huge boon for users who like to hold onto their phones for long.
Furthermore, the Samsung A52 comes with a full-fledged One UI 3.1 similar to other flagship devices of the company. The phone is also IP67 rated which means you can drop it in the water bucket and it'll be fine. But seriously though don't do that.
Samsung A52 Price And Verdict
Samsung A52 is the Galaxy device for most people. It has the features of flagship Samsung smartphones like an attractive design, high refresh rate, long-term software support, and a great camera in an affordable package. At 26,499 Samsung A52 offers 90% of the value at less than half the price of a flagship, of course, everyone would want one!