Timex sent us their latest smartwatch a few weeks ago, and I have been using it ever since. I wear it to work while cycling and sometimes in the gym as well. The Timex Fit comes with a heart rate monitor, temperature sensor and blood oxygen level calculator. I assume these features work pretty well because Timex advertises them on the front of the smartwatch's box.
But in relaity how is the new Timex watch in everyday usage? Here's my review to clear all your doubts.
Times Fit Review
Design And Construction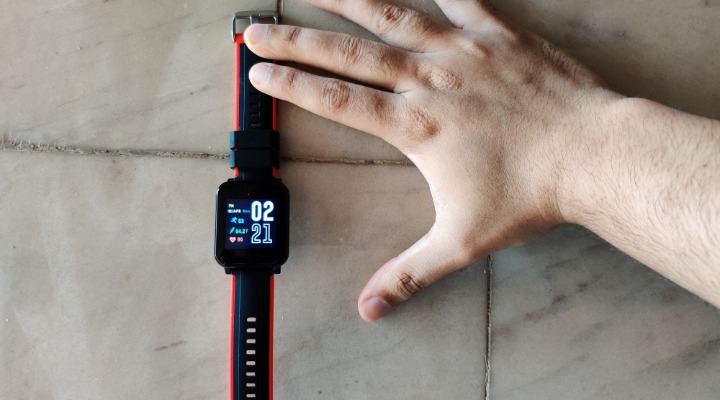 Inside the box of Timex Fit smartwatch, you'll find a charger attached to a cable and the watch itself. There is no charging brick bundled inside. The length of the charging cable is a bit small. I'd have been fine with it, but it is attached to the charger, and I can't replace it with a longer cable myself.
In terms of construction, the watch has a square shape and is made up of high-quality plastic. At the back of the watch, you'll find the multiple sensors about which we will talk in a minute. In the front, you'll see a square-shaped 1.3-inch TFT coloured display. The display is bright enough to use under direct sunlight. My only visual complaint here would be the thick bezels surrounding the screen.
We also get silicon bands with the Timex Fit smartwatch. The build quality of these bands is quite good, and they wrap comfortably around your wrist.
Performance And Features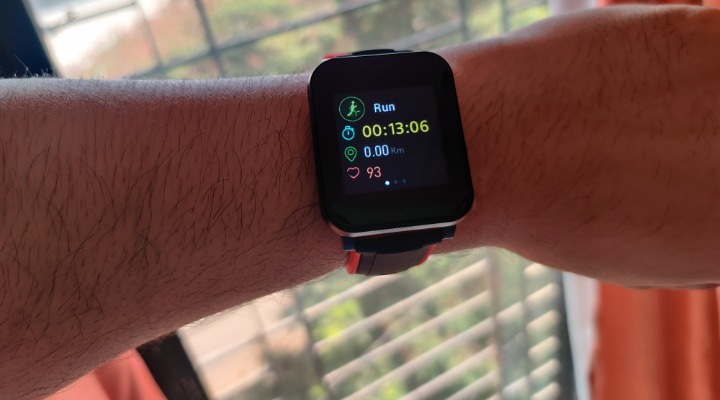 As mentioned, the Timex Fit smartwatch comes with a temperature sensor, an oxygen monitoring sensor alongside a heart rate monitor. I tested these features over the course of several weeks, and they do return accurate data. The temperature and oxygen level sensors are handy during the pandemic, so kudos to Timex for including that.
Additionally, the UI of the watch is pretty simple but feature-rich. One swipe down gives you access to the battery information, brightness, alarm, etc. One swipe up lets you change the wallpaper of the watch. There are 10 different faces to choose from.
Furthermore, the smartwatch also tracks your sleep, steps, calories burned, and distance travelled. The watch comes with different activity modes, and they save your workout data very accurately.
Telemedicine Via Mobile App
The Timex Fit also features smartphone connectivity via an app. It's available on both the Apple Playstore and Google Play Store. The app's dashboard looks very clean and organised and can be used to track your activity, measure your vitals, set different workout modes etc.
Inside the dashboard, Timex also provides the option of Telemedicine which is quite unique. It allows you to book a consultation and manage it as well. A user can choose to book an appointment for themselves or for their family member. They can also choose the mode of consultation they're comfortable with either video or audio.
Furthermore, a user can save their medical records along with prescriptions inside the Telemedicine option. The app also has a built-in Body Mass Index or BMI calculator which is a great add-on.
You can also set a vibration alarm using the Timex Fit mobile app. The mobile app also features integration with Google fit. It allows users to track their fitness data on the Google Fit timeline.
Daily Usage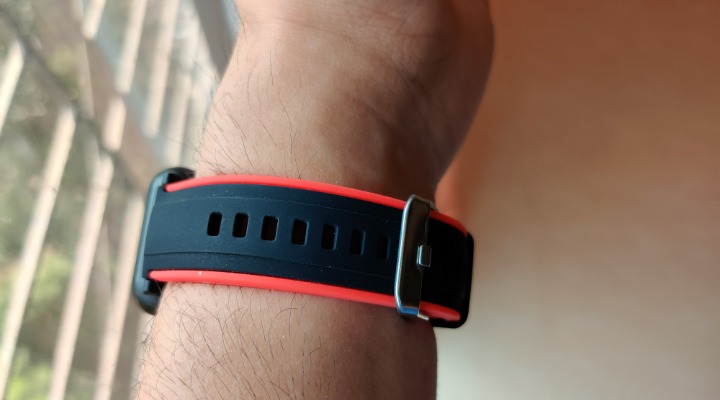 I have medium size wrists, and the watch fits me perfectly. I also think it'll fit great to someone with a thin wrist, thanks to the silicon bands. The watch easily lasts for over a week and needs only 20 minutes of charge to do so. The watch's weight feels a bit on the higher side, but you'll get used to it in a day or two.
Furthermore, the vibrations on the watch are pretty strong, so you won't miss any important update.
Verdict
At a price point of Rs. 6,995 the Timex Fit features useful features that can help you stay healthy, which is paramount today. The smartwatch comes with a few caveats, but they're dwarfed by the huge list of features on offer.