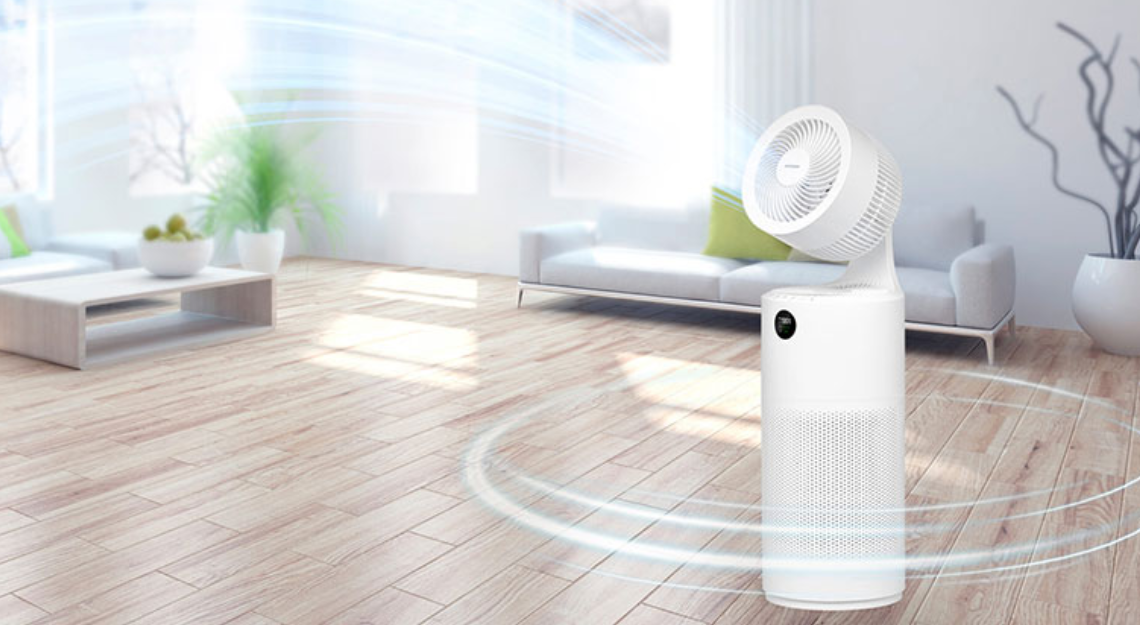 We're living in the 'Smart' age. We have smartphones to experience the world behind a screen, smart watches to track our health, and even smart refrigerators to track all the details of the food stored inside them. So, it is only natural that our air circulation system also becomes smart. How long do we rely on ceiling fans which just move around in a similar fashion known for decades, why not move on to something smarter? That's where the Acerpure Cool C2 2-in-1 Air Circulator and Purifier jumps in!
I was genuinely surprised when I saw Acer's smart air purifier and circulator. My first ever laptop as a school student was an Acer hence I have always associated the brand with laptops and monitors. However, having a quick look at the company's website cleared all assumptions. So how good is Acer's 2-in-1 air purifier? I'd say it's solid!
Design 
Besides its air purification prowess, the C2 comes with a sleek and modern design. In my opinion, it is a futuristic design that can easily compare to sci-fi characters. I call it Wall-E! Or even R2-D2 at times. The design is surely aesthetic as it comes in white color and has a cylindrical form factor. The compact design places its filters at the side and bottom and the air calculator is placed on the top which looks like the head of a robot. Taking its compact design into consideration, the C2 surely has enough power to circulate air throughout a small room. 
LCD display & Remote
C2's LCD display and remote definitely deserve a segment in the review for its functionality options. The mini display showcases a number of details like PM2.5, GAS, smart mode, lock mode, Turbo, or Wi-Fi. However, the most important information over here is the dust and gas status. To the unversed, PM2.5 are tiny particles in air pollutants. The display comes equipped with a Gas Status which can indicate the level of volatile organic compounds. The status is indicated in three different colors green, yellow, and red (good, moderate, poor). All the modes on the air purifier/circulator can be accessed on the device itself but we also have a compact remote here. The small remote can be used to adjust the settings of the C2 and can be conveniently placed behind the device as it is also magnetic. 
Performance
There is a difference between an electric fan and an air calculator. While the C2 comes with capabilities to circulate the air through the side and up/down movements, it is not enough to cover up a big room. Users can control the direction of the airflow with 90 degrees up and down swings and 80 degrees left to right. However, in my usage I kept the air circulator fixed at one angle as it proved to be more efficient that way. The company claims that it can circulate clean air up to 12 meters and that surely is true for its turbo mode. One thing to note here is that with turbo mode usage, the C2 becomes considerably loud, which is the opposite of its advertised quiet circulation. 
Verdict
At a price of Rs 12,990, the C2 should be on your list if you're in the market for a good air purifier. I mention an air purifier and not an air circulator or a fan cause the device is not up to the mark in that arena. Sure it has a distant airflow that can circulate around the room but it is only applicable to people living in colder places. People living in warm places cannot simply rely on the C2's air circulation capabilities. 
Good 
Bad 
Ugly 
Limited air circulation power 
Specifications 
Airflow Distance up to 12m

Smart Sensors like Gast Sensor (VOC) and Laser Particle Sensor PM1.0 & PM2.5 

4-in-1 HEPA Filter – Pre-filter/ HEPA Plus+ Filter / HEPA 13 Main Filter / Activated Carbon Filter

Features Acerpure Life app (Support iOS and Android) 

Other Functions – Safety Lock / Quiet Mode / Timer Mode

Accessories – Magnetic Remote Control / Power Cord / User Manual / Battery