On August 6, 1991, one of the most significant pieces of technology was launched. The Internet "World Wide Web" was introduced to the public about 21 years ago. People and business entities did not immediately take to the Internet. It was quite a task to bring an Internet connection into a building. An Internet service provider had to run a cable from the mainline to the inside of the building. From here, an Ethernet cable was utilized to create a connection between the Internet service and router. Another Ethernet cable was needed to connect the Internet router to a computer. This complex process is still utilized today but is no longer viewed as a hassle.
As time went on, more private networks were created. It did not take long before everyone was hooked and eventually reliant on the Internet. Today, there are approximately 5.16 billion Internet users across the globe. When you break down these Internet users, you see people, businesses, government entities, nonprofit agencies, and public institutions. 
Financial Industry And Internet
One industry majorly impacted by the Internet is the financial sector. Long gone are the days of spending precious time waiting in line to cash a check. While some financial institutions continue to see some foot traffic, the volume has drastically decreased, thanks to the Internet. 
Commercial banks, asset management firms, credit unions, insurance companies, check-cashing firms, payment processors, finance companies, payment processors, stock brokerage firms, and asset management firms are reliant on the Internet. 
The Internet is so commonplace in the financial sector. Everyone from the consumer to the small business to the large corporation conducts business with at least one financial institution.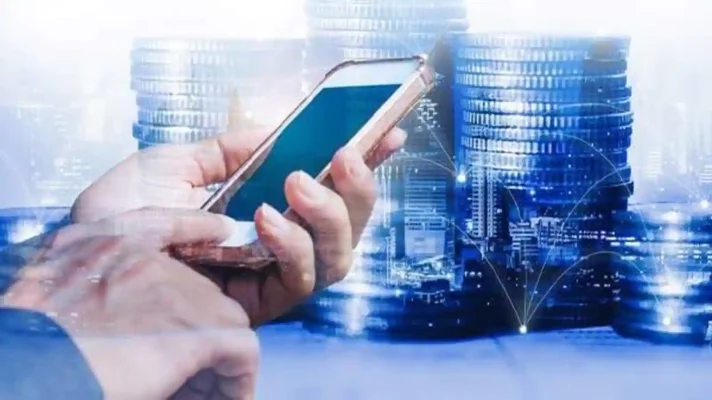 Mobile Banking
Mobile banking is one of the most notable finance technologies. Thanks to this amazing piece of technology, consumers can conduct most of their financial activities online. Instead of spending hours in line at a bank, consumers can cash their checks online. This includes both payroll, cashiers, and personal checks. 
Nearly every small and large financial institution utilizes software for its mobile banking services. The account holder must download their bank app to their desktop computer, laptop, or smartphone. Some people tend to download their bank apps to all their mobile devices and desktop computer. So, they have quick and easy access to their personal bank account at home and on the go.
Other financial services available through most bank apps include check cancellation, wire transfer from one account to another, bill pay, and balance inquiry. 
Digital Currencies
Cash was the go-to payment before the public discovered the Internet. Modern banking systems hold a specific level of capital in hopes of avoiding economic stress. Digital money is stored electronically to streamline the existing financial infrastructure. 
Electronic money transactions are much simpler and quicker than physical cash. Financial institutions can transfer money from one account to another in what seems like nanoseconds. For example, an account holder enrolls in a เว็บสล็อตเว็บตรง service. The initial deposit takes less than 15 minutes. The process involves removing electronic money from a bank account to the service provider's bank account. The balance is then recorded in the player's personal account.
Email 
Nearly all financial institutions utilize email for various tasks and processes. Banks, credit unions, and other financial institutions incorporate email into their marketing strategies. Email marketing allows financial entities to build their customer bases, promote their lending services, communicate with their customers and other consumers, share time-sensitive information, and employee-to-employee communications.
Email marketing is an effective technique that has proven itself over time. Just ask any financier how they feel about email. They will all agree it has improved their every financial process in every way possible.
Video And Audio Chat
Thanks to state-of-the-art technology, financial institutions are no longer forced to host traditional meetings. Hosting a traditional financial meeting is never easy, especially when your employees, partners, and investors live across the globe. Fortunately, this is no longer the case, with video and audio chat technologies. 
Virtual meetings can be held without a moment's notice. To set up a virtual meeting requires a computer or smartphone, video & audio capabilities as well as an Internet connection.
Some banks even do one better by utilizing special virtual meeting software. They encourage their employees to keep the app downloaded to their smartphones, so they can be reached at all times.