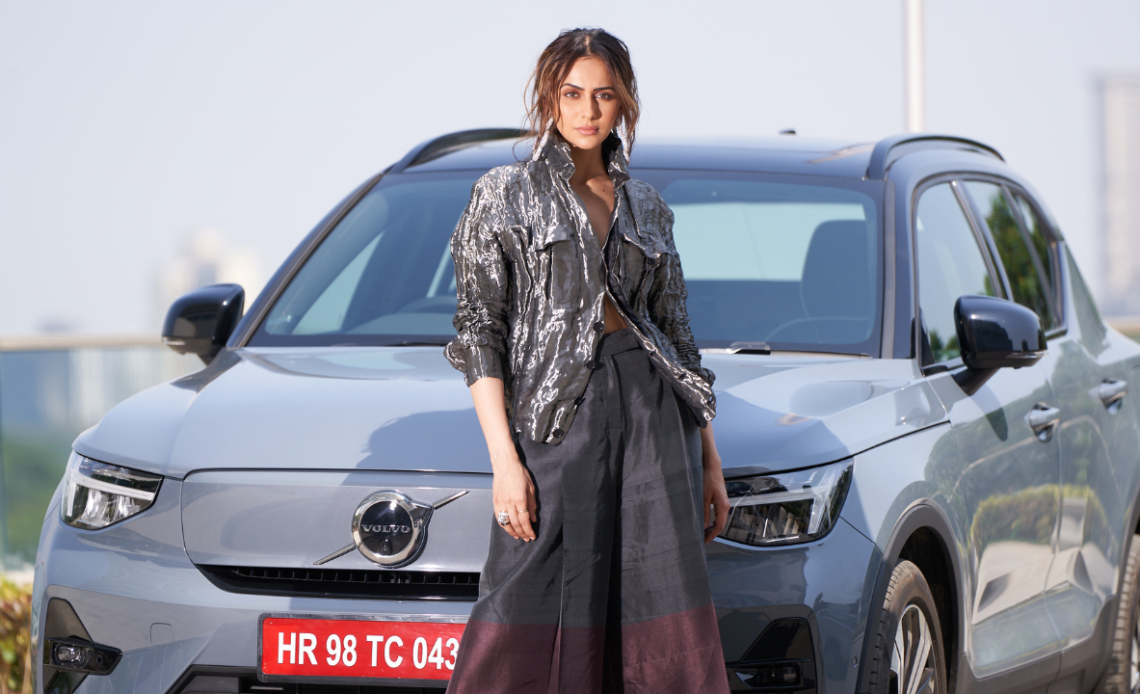 RS: Volvo XC 40 Recharge is all about sustainability and our issue as well. So, tell me, what has been your experience with an electric car? Have you ever driven an electric car?
Rakul Preet Singh:
Yes, but very briefly. However, I want to make my next buy an electric one because we all need to be more responsible towards the planet, and sustainability starts from the smallest things. I'm not saying everyone should buy an electric car, but whoever has the ability to or has the awareness should make that switch. I think we need to have more electric charging stations, and a lot of people would switch to electric.
RS: if you have to go on a road trip with Volvo XC 40 Recharge, where would you go and who would you like to take along?
Rakul:
I would drive to Goa or Delhi to Bombay once that expressway is ready, and I would take somebody who could give me a hand in driving, for instance, my friends from the "Spark". Well, we have a group of five people called Spark, and I would take the entire Spark with me because we are sparks in each other's life.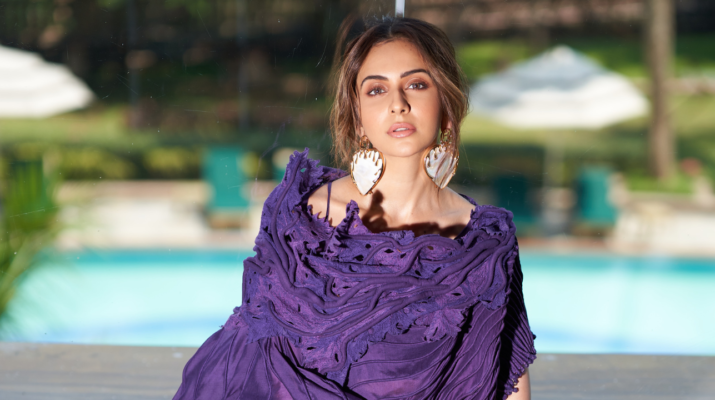 RS: How do you maintain your healthy work-life balance?
Rakul:
Yeah, it's all about what your priorities are. I choose a healthy lifestyle as it's a way of life. It's not something that I take pressure for. In fact, on the contrary, if I don't find time for myself, whether it's my workout or my little peace with myself, then I get very edgy. Also, you can always find time for things you love and prioritise. In easy words, people are busy, but they find time to watch TV, they find time to party, but they don't find time to work out. So it's just priorities.
Ramesh: Any tips for staying motivated?
Rakul:
You will be motivated if you're very passionate about something. You don't need tips for it. Like, there's a fire up my belly all the time, 24×7, because I love my job and want to do a lot more. Have you seen my Twitter header? It says Build a life you don't need a vacation from. I love my work; I want to go to shoot every day and be in front of a camera every day, that's my sanity, and if I take a break, I get anxious.
Ramesh: Do you read books?
Rakul:
I do. I am more of a spiritual reading sort of person. So one of my all-time favourite books is The Power of Now. Then
there's Cosmic Consciousness
, which is a beautiful book.
Ramesh: Do you read e-books, and what about audiobooks?
Rakul:
No, I read on paperback. Anybody who's a reader will prefer to avoid reading e-books. I tried audiobooks during the lockdown, but my problem with audiobooks is that if I don't like your voice, I will not listen to it. I think reading is how your brain processes and absorbs the information the book offers. So, for me, reading is a very personal affair, and I can't read in public. I need absolutely pin-drop silence. I can watch content from anywhere, but when I'm reading, I need to be alone at home because otherwise, I feel I'm not doing a good job; I'm missing something that the author said. I feel like I'm with the book or connected with the matter or the material of the book only when I'm in my piece, in my space, alone; it's also giving respect to the author.
Ramesh: You have been involved in a lot of philanthropic activities. Tell us more about that.
Rakul:
Whatever I've done in the past is something I will keep doing again to give back a little to society. When COVID was at its peak, there was a village of 500 families near Gurgaon that I had adopted, which I haven't shared in the media. We put caterers in our house on the terrace, and every day my dad went and gave the food to the people. Then I love to educate people, especially young girls. Currently, there are four girls I'm helping with their education, and all these girls are my house help's daughters living in the village while their mothers work in the city.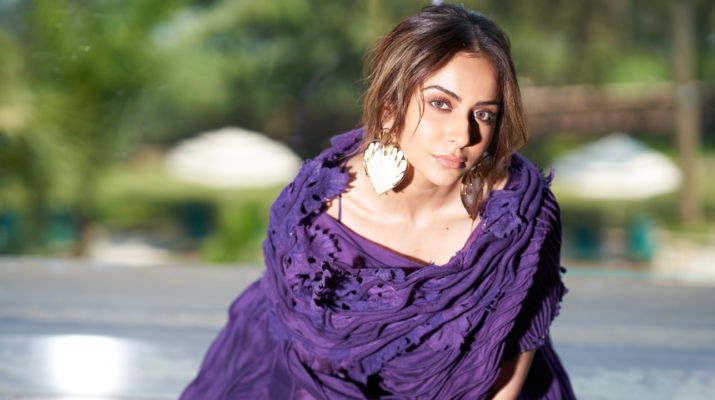 Ramesh: What are your thoughts about sustainability?
Rakul:
I'll be frank, I'm also new to sustainability, but this is a conversation we must have more often because it has been trending for the last two or three years, mainly since COVID-19 struck the planet. While we were in lockdown, the air became purer, but as we stepped out again, we were back to square one. The climate change is extreme; we're already running out of water, the Antarctic is melting, and there's summer in the Arctic region. We should not make a complete switch, but we can always start making efforts with small contributions in our daily lives. In the last couple of years, I started refusing new plates after a one-course meal by saying,
"I'm good with my plate. Do we change our plates at home?"
Ramesh: You have a big army of 23 million followers on Instagram. Tell us about your journey to the film industry ?
Rakul:
I'm highly thankful to all those 23 million people who have given me love and been my great pillars of support ever since I started my journey because my journey has been of someone who had no clue about the industry. I came from an Army background, somebody who didn't know about films at all.
Yaariyan
was my first Hindi film, and then I started working in the Telugu industry. I always wanted to be an actor, and the journey began when I was 18. At first, I started modelling, and within a month of my pictures being shot and circulated, someone saw my pictures, and they called my dad and said, we want to cast her in a film. At that point, I was unaware of any film industry except Bollywood; hence I refused the offer. 
However, when they called back, I said yes to the movie just for pocket money and wanted to be the first one who buys a car in my friend circle. Then I moved to Bombay when I was 20, started auditioning, standing in Aaram Nagar queues, trying to reach out to people, driving from Kandivali to Bandra every single day as a routine, whether I have meetings or not, in the hope that I would crack something and then I cracked the
Yaariyan.
I signed a Telugu film after that, which became a hit, and before I knew it, I signed a lot of other films. The journey began when I thought that let me be a star in one place rather than a struggle in the other, and then I focused on Telugu films until I felt that, okay, I've worked with everyone, and it's time to change the ground.
Ramesh: Who do you look up to?
Rakul:
If there's one person, and I've said this many times, that I truly look up to is my father because, being an army man, he comes with a lot of sense of dignity and discipline and just the way he is and his personality. You can talk to him about anything under the sun, whether it's world politics, regional politics, wine or anything.
Ramesh: Tell me something, any quotes or phrases that peps you up on a daily basis?
Rakul:
Well, there's a quote in my living room which says, people who tried to bury you didn't know you were a seed. So it's something I see every time I eat my meal in the dining room, and it's a real motivator.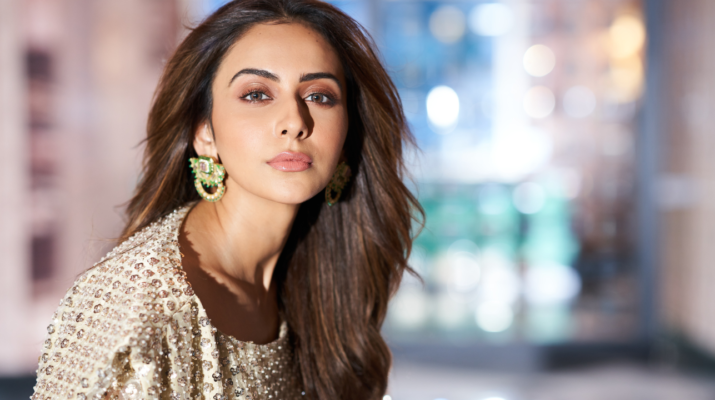 Ramesh: What parting words would you like to say to our readers?
Rakul:
Thank you so much to all of you who supported me and also all the readers of Exhibit; this drive interview in the Volvo XC 40 Recharge has been really fun. And yes, this issue is all about sustainability, so all of you should take small steps towards a sustainable self, towards a sustainable nation and make small changes.
I want to make my next buy an electric one because we all need to be more responsible towards the planet, and sustainability starts from the smallest things