What comes into your mind when you think about a soundbar? If you ask me, it is a singular wide bar that does not have a style aesthetic but is designed to produce optimum sound. LG looked at this traditional design language of the soundbar and said "Nah, we're not doing that" with the LG S95QR as it just might be the most aesthetically pleasing soundbar to have launched in the Indian market. LG has a good reputation in the audio market which the LG S95QR Soundbar not only maintains but goes beyond to deliver an immersive sound experience.
Design
The LG S95QR soundbar sports a unique 9.1.5 configuration coupled with a dedicated wireless subwoofer and two wireless rear speakers. This makes it an out & out home theatre system as opposed to just a soundbar. What you get in the box is one soundbar, one wireless subwoofer, two wireless rear speakers, one HDMI cable, four AC power cables and one remote. On the design front, the soundbar itself maintains a slim form factor that sits below your TV without being obstructive. The highlight of the soundbar design has to be the three grilled circular up-firing speakers on the top edge which compliments the overall aesthetic of the system really well. The design is both futuristic and minimalistic. This is the first time that we've seen a soundbar feature three top-edge drivers, most soundbars feature just two. The rear speakers, wireless subwoofer, and the in-box remote are pretty much a standard affair when it comes to the design.
Performance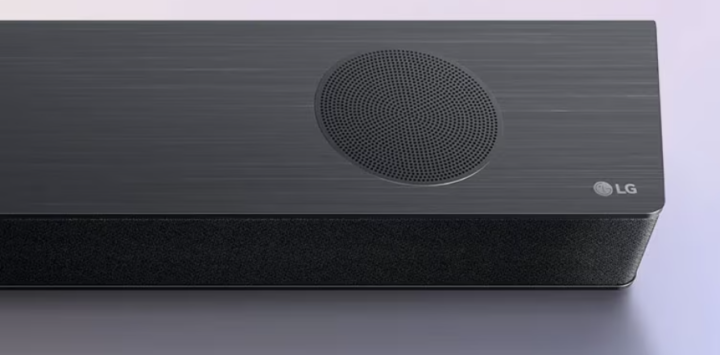 The LG S95QR takes the high road when it comes to the channel count claiming a massive 9.1.5 channel experience. During our time with the system, we watched a number of movies like Top Gun: Maverick & Avengers: Infinity War where the surround sound experience was truly ecstatic. LG is clearly not focused on creating a clear surround sound with the S95QR but has gone a step further to make an immersive experience that wraps the audience in a 'Meridian' of sound.
The humongous 810W of claimed power is shared amongst the drivers of this system which was more than enough to rock the entire room during our testing. LG's flagship soundbar is capable of playing both Dolby Atmos and DTS:X formats which are standard to the current audio formats in home entertainment. The soundbar as a standalone act also ended up creating an immersive experience in my small room. The massive range of format support options like Dolby Vision HDR (through compatible TV), HDMI eARC & Lossless Dolby Atmos or DTS:X is a treat for cine and audiophiles alike.
Verdict
The LG S95QR soundbar is one of the best in the premium segment for both music and movies. It's a versatile system that delivers an immersive experience through its 9.1.5 channel. 
Rating – ⭐⭐⭐⭐