Samsung portable SSD T series has been nothing but a delight over the years. I had previously tested the T7 Shield SSD which brought fast data transfer speeds in a rugged form factor. The latest Portable SSD T9 builds upon the strong base set by the T7 Shield and also takes a giant leap ahead. A revamped shell design, faster data transfer, and lightweight form factor have ensured the SSD T9 is one of the best storage options in the market right now. Let's dive deep into its features and performance – 
Design
The T9 comes out of the box in an impressive compact design which is sure to grab some eyeballs. It is light to hold and fits in your palms easily. The newly textured rubberized outer covering is the highlight of this SSD in my opinion. It allows users to have a study grip on the SSD. However, I must mention that the new design is a dust magnet. The rubberized form factor of the SSD traps dust on its body which is hard to get rid of. The minimalist design language of the SSD T9 extends to its sides where on the top end you get a single USB Type-C port. Samsung provides USB C to USB C and USB C to USB A in the box. Samsung claims that the rubberized exterior makes the SSD shock-resistant to drops up to 9.8 feet. We were not harsh during our drop test of the SSD where it was dropped from merely 6 feet resulting in zero damages, it is sturdy for sure! 
Performance
The T9 SSD comes equipped with a USB 3.2 Gen 2×2 20 Gbps interface which can be unlocked to its truest potential only when you have a supporting device. If you have a system that does not support the Gen 2×2 interface then the SSD defaults to 10Gbps Gen 2 mode, which is fast enough in itself. When it comes to file transfer speeds, the SSD T9 is the superhero Flash brought to life! I transferred a lot of data from my Lenovo LOQ gaming laptop to the SSD and vice versa; I was always surprised at how quickly this SSD can handle anything you throw at it.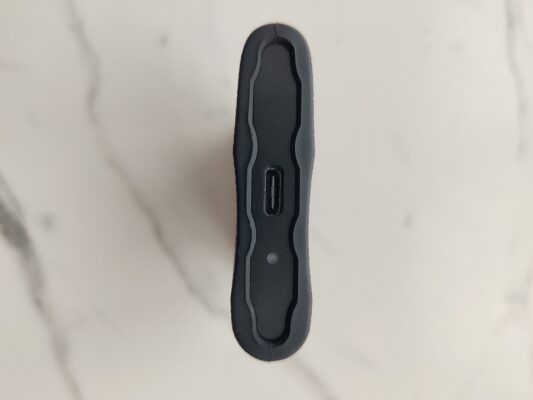 Transferring files over 400GB took me around 389 seconds which is bonkers. There were also no heating issues witnessed during my testing of the SSD even when it was pushed to its limits. Overall, it is a dependable SSD which is a little on the expensive side but well worth its price. 
Verdict
The Samsung SSD T9 is a crucial upgrade in the entire T-series lineup. It is sleek and stylish but also pulls its punches really well when it comes to performance.
Rating – ⭐⭐⭐⭐