If you're looking for TWS in India then you know there are a number of options for you to choose from. The Indian market is saturated with wireless earphones ranging from different price points. However, it isn't easy to find a capable TWS in the market that suits your preferences while delivering a premium performance at a considerably affordable price point. This is where Sony's latest offering, the WF-LS900N comes in! Sony has delivered when it comes to providing users with lightweight earbuds that deliver powerful performance and pack many features, and we're all here for it! 
Features & Design
There's no innovation when it comes to design with the WF-LS900N as compared to its predecessor which came with an open ring design. Here, users get a familiar in-ear design in a lightweight form factor. This means that both the eartubes and the silicone eartips sit inside the ear to give a proper seal. Sony India has claimed that the wireless earbuds weigh approximately 4.8 grams in weight making them one of the lightest in the market. While using the earbuds over an extended period of time, I was surprised how the annoying ear pain staple to in-ear devices, in general, was not present here. The earbuds and their casing is made out of recycled plastic which gives a distinct rugged feel.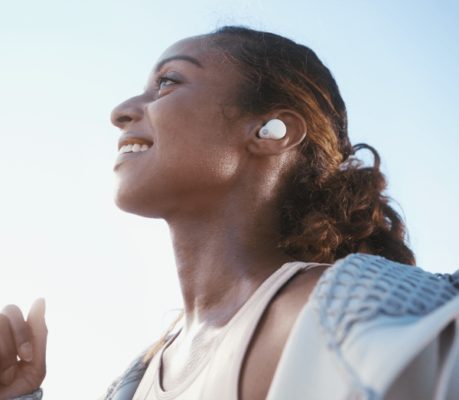 There are ample features packed along with the WF-LS900N. One might expect Active Noise Cancellation (ANC) and that is surely present here. Along with ANC, the WF-LS900N also offer you ambient sound or transparency mode that can be quickly enabled with a tap on the left earbud. Tapping on the right earbuds pauses/plays the music. The best feature of the WF-LS900N  for me was the option to enable 'Quick Attention' Here, users can simply press on the earbuds for the volume to drop quickly to have a conversation and remove the finger for the volume to return to normal. It was a novel feature that allowed me to have small talks during work hours. 
Battery Life
The WF-LS900N comes with six hours of battery life with activated ANC, as claimed by Sony. In my testing of the earbuds, the result was somewhat close to the company claim with 5 and a half hours of ANC playback. The performance can be bumped up to 9 hours of playtime by turning off ANC. The earbuds get charged up relatively quickly and have lasted me for over 2 days in light usage and a day in heavy usage. 
Sound
Everything comes down to the sound performance when we're talking about TWS. So how well does the WF-LS900N perform? Simply put, the new Sony TWS are power performers that provide a premium sound experience with deep bass. There's an overall balance to the sound that does lean to either flat sound or too loud. However, the balanced approach might not be for everyone, for which there are a number of customizations available in the 'headphones Connect' app. There's little left to desire here when it comes to the sound quality of the WF-LS900N! 
Verdict
While the Rs 13,990 price point might be heavy for some to shell out for a TWS, we feel it is worth it. The WF-LS900N provides premium sound quality in a comfortable and light fit which makes it a worthy investment. 
Rating – ★★★★