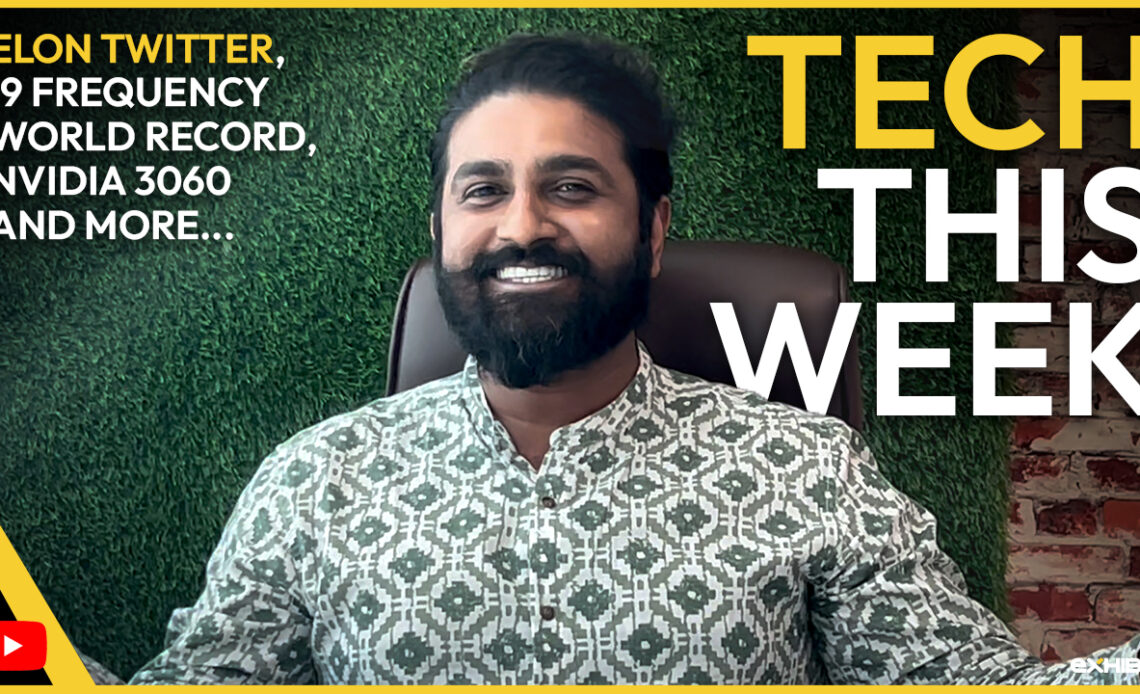 What time is it? It's time for some tech news. Did you know that Google, the name is actually a product of a hasty spelling mistake? Larry and Sean aimed to register Googol, a mathematical term for the number 1 followed by a hundred zeros. Sean accidentally registers the word Google, and it is what it is. Let's get to the news. 
Elon finally bought Twitter
On Thursday night, Elon Musk finally bought Twitter, and reports say many top management authorities at Twitter are now searching for new jobs. These include the CEO, CFO, people who mislead the number of bots on the platform and the one authorizing Donal Trump's account ban. The hip entrepreneur entered the Twitter office with a bathroom sink, symbolizing the term "let that sink in" and also twitted " the bird is freed". 
Global price increase 
Apple is silently increasing its hardware and software solution prices. Subscription services have seen an inflation in their charges across Apple services, including Apple Music, Apple TV+ and Apple One. Some countries have also witnessed price increases on iPads and Macs. Nothing ear (1), the first product from Nothing, has also seen as much as a 50% price increase in some markets right before the launch of their Nothing ear stick, a relatively new and affordable variant with a different form factor. I hope they stick to the pricing in the future. Steam, a popular gaming service, has also increased its regional pricing in some parts of the world to almost 450% hike in game prices. As if PC gaming was not an expensive hobby with insane GPU prices! Global price increase needs to be combated with a global pay increase. Share this with your company heads. After blocking 4K content on Youtube to Premium users, Youtube has increased the prices of Youtube Premium subscriptions in some countries. What is happening to the world? 
WTF? There's a new Nvidia 3060
After the backlash on RTX 4080 and Nvidia pulling out in time, RTX 4090 has witnessed some insane claims. One of the only cards to enable high fidelity 4K and 8K gaming, the power connector cannot handle the amount of power required to juice tasty frame rates from the 4090, burning some connectors across the globe. Nvidia has addressed a couple of buyers who posted this on social media, but a 1.55 lakh rupee card with burnt connectors is not cool. In another news from Nvidia, some countries witnessed a soft launch of Nvidia's popular 3060 variants with an 8GB VRAM 128-bit bus rate instead of the usual 12GB 192-bit bus rate. This move comes as competition to Intel's newest ARC GPU releases earlier this month or maybe an offering to gamers on a budget. Whatever it is, thank you, Intel! 
Shutterstock partners with OpenAI DallE 2 
Did you know that Gettyimages recently banned the use of AI-generated images? Contrary to their move, Shutterstock has partnered with OpenAI DallE 2, and soon users will be able to generate images based on text commands. Shutterstock has also agreed to pay creators a certain sum of money for training the AI when creating newer images. Not too long ago, a similar AI won an award for the best image creation on a platform, and now it is time for Shutterstock to come up with crazy DallE2-created images. What is your take on AI-generated art? Is it still art if thousands of algorithms created it?
Gaming improves cognitive performance in kids
A recent study on the JAMA network performed by ABCD Adolescent Brain Cognitive Development on 2217 children has shown that kids who regularly play video games are better at problem-solving, memory management, impulse reactions and many other tasks, including academic achievements, as compared to kids who do not play video games. Allowing kids to play video games and other games profoundly impacts their brain development. Only if this study were done during childhood would we not be scolded as much over gaming. Kids watching this video, share this news with your parents. 
Xbox Series S – Limiting frame rates for everyone 
Some game developers are not happy developing games for the Xbox Series S. According to them; the limited capabilities are hindering them from providing more performance in games being developed for the Xbox Series S. Microsoft has made it mandatory for developers to make games compatible with both the Series X and S. Gotham Knights is a prime example of this shortcoming, as the developers clearly stated in a tweet that the game runs on 30FPS even on the more powerful Series X only to ensure compatibility with the Series S. What's the point of upgrading to a having a massive 4K high refresh rate display when the games are being limited by one puny console?
Photonic chip – the fastest internet chip as of now
A single photonic chip has made a world record by transferring 1.84 petabytes of data per second over a 7.9Km fibre optic cable. That's like moving all the files across the globe in less than 10 mins! I am still stuck with a few hundred megabytes per second here in India. Researchers from Japan, Denmark and Sweden, managed to split infrared signals into multiple light sources and then combine them together as one on the receiving end.
Amazon data centres in the UK and Ireland get new diesel generators.
Following an energy crisis in UK and Ireland, Amazon data centres in Dublin are installing 105 high-power diesel generators as backups. It is estimated that this data centre is responsible for over 14% power consumption of the entire Dublin. 
Intel's 13th generation i9 breaks an 8-year-old frequency world record 
AMD FX 8370 set a world record back in 2014 by overclocking to an insane 8722.78Mhz. Intel's latest i9-13900K managed to set a new world record by overclocking to a mind-bending 8812.85Mhz, nearly double the core clock speed offered in the retail packaging. Finally, after taking a beating from similar retail-priced AMD competition, Intel has managed to garner a win in some departments. Good job, Intel, on making something such powerful and power-hungry. 
Samsung has started development on a smart ring.
Smart wearables come in all shapes and sizes. Samsung is currently developing a smart ring with all the necessary features of a fitness tracker snuggly packaged in a neat ring. Be careful to accept a proposal as a smart ring, as it could spike your heart rates and trigger an emergency service SOS. Would you wear a ring when the occasion calls for dressing neat, well time shall reveal. 
Stadia's service ended, but the gaming did not. 
After Google announced that they were pulling the plug on Stadia streaming services, people playing games on the platform are backed by game developers. As a piece of good news, game developers are offering free copies with free save backups for everyone playing their games on Stadia as a platform. These free copies are provided to all the Stadia gamers based on their choice of gaming platform, and also cloud saves are offered as transferable entities to continue gaming on the platform of your choice. Do we even trust Google with anything with the rate at which they keep shutting down services? 
These were all the happenings of the week. Let us know what you think about the tech happenings across the globe. Stay tuned as we bring more tech news next week.