He has swooned us by being a Film Director, Screenwriter, Producer, Actor, Playback Singer, Lyricist and Television host all in one. He looks serious and speaks less but when he does, it's to the point and could leave you in splits of laughter. He was absolutely fit and chiseled when we met him recently for the shoot and that body paired with the husky voice can make your eyes and ear melt! We chuckled over his quirky response while he promptly answered some of our nosy questions. We will give him 10/10 on all the well-placed answers which he quipped in his signature husky, muffled voice and realized that his brain works different than most, and we're not surprised. Right from directing a cult film to acting in one (actually two), to leaving a mark with a noteworthy biopic and becoming a singer on the way in his own band – Farhan Akhtar has aced everything he put his mind to and with what perfection. Farhan came as a package of brilliance, humour, coolness and just the right amount of starry reclusiveness. Here's an excerpt from the super interesting conversation he had with Harsha Prerna, where she tried to know what the "Quintessential Multitasker Farhan Akhtar" is like and a whole lot of tech trivia, obviously!
Ex: You hit bulls-eye with your very first film "Dil Chahta Hai" and have always been delivering quality cinema. Was Bollywood always on the cards?
FA: In some way or the other yes. I was always interested in entertaining people. I was always a huge cinema buff myself. But, actually somewhere in my subconscious I knew that it probably was going to be this line of work. And, of course environment plays a big role.
Ex: How do you balance the varied roles you play professionally and personally?
FA: Well, like anybody else who enjoys doing their work and who enjoys spending time with their near and dear ones. You find a way to do it. I mean, the things that are important, you always make time for it.The thing is that there are relationships that are professional and you know that will last till the duration of your work together. Everyone moves on to other films till you meet again on another project. And, then there are a few people who you will consider more than just working associates. It's just that your friends outside film family are priority.
Ex: One new avenue you are planning to delve into after you've tried your hand at so many things?
FA: I don't know, I hope everyone is happy with what I've done so far and not hope for more (laughs). But, honestly I'm working towards something I haven't really done in the past which is really to make my own music and write my own songs. So, that is something that I'm very seriously working on at the moment. A number of songs have been written already. A lot of composition has been done already. So, I am hoping that at some point soon I'll have something to share with the world.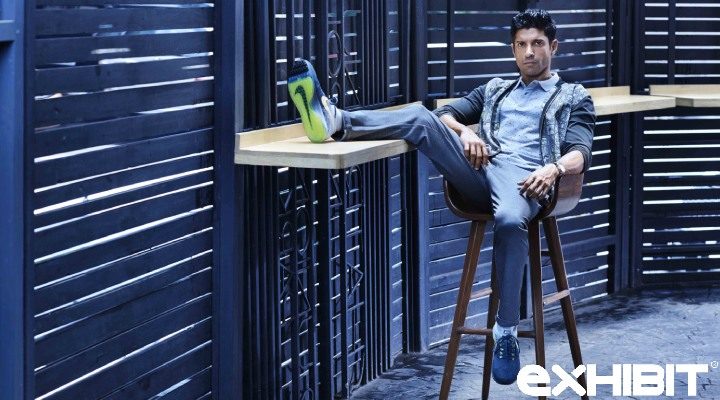 Ex: You've made some amazing movies and we absolutely love all of them be it Dil Chahta hai or Bhaag Milkha Bhaag. But, we want to know what you think about the roles and decisions you took?
FA: The thing is, you of course have great expectation from anything you put your time and efforts. But at times, people appreciate it and at times people don't see it the way you saw it. And, there is learning in everything be it a failure or success. You must enjoy your success because that's very important in as humble a way as you can. Also, with as much humility take loss in your stride or take something that is not worth to describe and learn from it. I have zero regrets about anything that has happened in the past. Also, going forward if nothing else, then at least the kind of courage that I had when I made my first film, I just hope that I can constantly remind myself of that time to retain that courage every time I get into something.
Ex: Share the highest point of your career.
FA: I think as literally as it gets, the highest point of my career was when I was shooting Lakshya in Ladakh at 17000 feet (laughs).
Ex: (Laughs) that's interesting! But seriously we want to know.
FA: Well, there have been many.. I think I have been quite fortunate to have had some very good response and got appreciated pretty commendably over the years. Be it Dil Chahta hai, Lakshya, Don, Zindagi Na Milegi Dobara, Rock On!, Bhaag Milkha Bhaag, all these movies have kind of really given me a lot of joy in terms of working on them also the admiration and appreciation that I've got from people for it. I think I am very blessed because of that.
Ex: Farhan and Tech – how techy are you on a level of 1-5?
FA: I would like to believe that I am 5 because I'm very interested in tech and different gadgets. Whenever I travel I am constantly browsing phone to check what new gadget is out. So, as I am speaking to Exhibit Magazine which is all about tech, I must tell you that when I travel to London, New York, I keep checking magazines to get updated about the tech and also the future predictions like the gadgets of the future. I always buy those magazines which are related to tech. I'm so fascinated by technology, you know it changes so fast. You buy something today and within 3 months it goes on the verge of becoming obsolete because something new is coming up.
Ex: How does your Tech Closet looks like?
FA: You know there are so many things in my tech closet because I keep buying new stuff. I really like the latest GoPro as I am a musician and it captures every amazing moment on stage. I also love headphones, in fact I almost have 8 pair of headphones which I use depending on my mood. Sometimes I feel, my entire house should be in automation which can be controlled with just one single iPad.
Ex

: Wow, it does sound fascinating! Okay, so tell me, Social media and internet are changing the world and also the way movies are streamed and made. What are your thoughts on the same?
FA:
Well, I mean the world is becoming a way smaller place because of social media which comes with its share of pros and cons. I think it's important to filter out things that you don't really need to know. And, right now you're just exposed to so much information that at times it can be very taxing on your brain. When you see the increasing cases of depression or people having insomnia and a lot of other problems is related to the constant garage of information that you have kind of subjective access to. I think people need to be conscious about the dosage to indulge in it.
Ex: So, as you are a musician yourself. Let' talk about Music! Name some of your favorite artists and the type of music you like.
FA: Oh there are so many! I don't know where to start, it's like you remember we used to answer our favorite slam books in school and the confusion to fill that up (laughs). It's very difficult to name a couple of artists. There are so many and all are influential in their own way. It's such a vast world and I feel it's very unfair to pick out a name. But, if you really insist, and I just kind of go back to time where my major interest was to play guitar at the starting would be The Beetles. I was exceedingly influenced by them. There were a lot more but they were really where it all began.
Also, I am very easy with all kinds of music. Within the genre, I might like some songs more than the other. But I really have no qualms about listening to any kind of music. It's very unlikely of me to cut off and say I don't like any particular kind of music. That is mainly because you don't know what you might end up liking.
Ex: Talk about your Environmental initiative and association with National Geographic.
FA: The National Geographic thing is a wonderful mission that they are doing which is about conserving water. It's called 'Mission Blue'. And, it's just essentially igniting people to understand swiftly about what their water needs are. Because a lot of people don't even know how much water they are consuming. I don't think anybody would be able to give you an answer about how many litres of water they have consumed. The amount of water people are wasting unnecessarily is a really high number. You will eventually realize that by doing simple things we can end up saving almost 100 litres. It will go somewhere; it will be helpful to someone, because water never gets wasted.
Ex: You are a big-time philanthropist, founder of MARD, Magic bus and the UN Regional Women ambassador of #HeForShe. Enlighten us about that.
FA: It's something that I founded from genuine concern of the circumstances surrounding women in our country and the lack of security at times that most of them feel. And, focusing even on discrimination, we are talking headphones, in fact I almost have 8 pair of headphones which I use depending on my mood. Sometimes I feel, my entire house should be in automation which can be controlled with just one single iPad.
Ex

: Wow! So, give us a peek into what is on the cards next for

Farhan

 in 2017.
FA:
The big thing which is happening right now is to excel in digital division. We are doing a lot of shows currently for Amazon Prime and one will be out on 10th of July and that's called 'Inside Edge'. I am very excited about that. And, there are two others that we will start shooting in August. Then there is also a film that we have produced which is releasing in August. There's Fukrey 2 releasing in December also 'An Accident' which will release in September. So, it's quite a busy year.
Ex

: Sign off thoughts.
FA:
Well, it was really a pleasure talking to you. And, all the best to Exhibit Magazine, it's great that tech is here and it's a great place for people to find things about latest technology. And, it's something which I am very passionate about. I hope more and more people read it because it's very different and a great place to learn about gadgets and tech.
FARHAN AKHTAR – UP AND CLOSE!
Watch you wear:
On a daily basis, a Rip Curl watch. And depends if I am going somewhere then I wear a different watch.
Car you drive:
Mercedes M350, Porshe Cayman GTX.
Mobile phone apps you use the most:
For communicating probably WhatsApp, also Twitter and Instagram. I also use Map My Ride for bicycle and listen to music.
If not Bollywood, then:
Then definitely something in the Music Field.
Weirdest thing you've heard about yourself:
I think nothing surprises me anymore.
One song on loop currently:
It's an electronic track called Opus.
Mobile you're using right now:
The iPhone 6S
Also Read:
Which cars are hidden in Hrithik Roshan's Garage?