Luscious locks, flawless skin, and a body to die for, the Sri Lankan beauty Jacqueline Fernandez is full of warmth and possesses a heart of gold. With a new age vibe and an old-world sensibility, she continues looking like a million bucks and her films earn just as much. Lately, she drove a social media cause and emerged as the superpower on the internet by taking the initiative of animal rights forward; the actress collated a petition of 8000 signatures against animal testing and represented the same as a global voice at the United Nations. Jacky, as the showbiz likes to call her, treats her fans with insights from her life, sharing snaps to giving major fitness and fashion goals. In a spunk filled interview with Harsha Prerna, she reveals how she maintains a perfect balance of stardom and substance in her reel and real life and much more.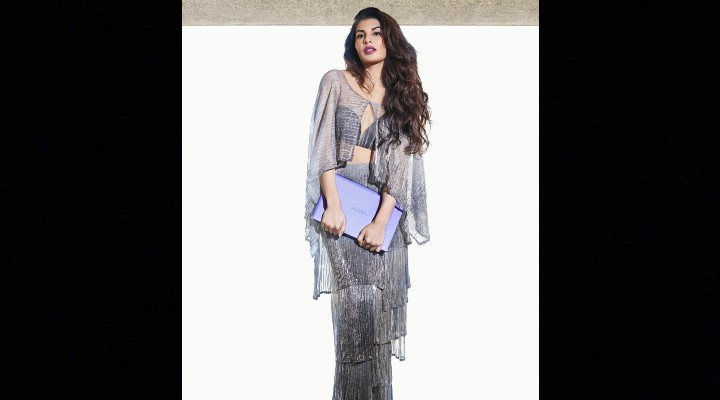 Ex: We would like to congratulate you on recently completing a decade in Bollywood. Describe your overall experience in Bollywood and how things have changed in 10 years for you?
Jacqueline: Thank you! It has been such a life lesson and a blessing. I'm humbled. Going back to yesteryear to my early beginnings and where I am today, I'm so grateful to all the people involved in this journey of mine. Even though I've been a part of the film industry for a decade, I've never actually studied acting and it wasn't something I could learn in a classroom. It has been quite a ride so far and has definitely shaped me into a stronger person. I've learnt that hard work, patience and perseverance bring you a long way.
Ex: The first look of Mrs. Serial Killer posted on Instagram has swayed us. Tell us something about "Mrs. Serial Killer", and how different will it be from your previous roles?
Jacqueline: Well, it's a thriller where I, the wife, plot to murder like the serial killer to prove my husband's innocence, who is imprisoned for serial murders. It is a completely new experience for me as I have never done a movie without dance and songs. Though it is an alien role, it is equally fun! Also, it's my first on the digital platform and I am super elated to be a part of the Netflix family. It's darker and more provoking compared to my previous roles. : What is more difficult to portray, a comic role or a serious one? A portrayal into a character in itself is an art to muster. As an actor, that is our role to perform, either a comical or a serious one, so, it depends on the character of the storytelling you're part of. Both have different flavours and are crucial roles. I love to entertain people, make them laugh, sing and dance. Now I feel confident in doing strong roles. But as an actress, I'd like to discover myself, do things a bit differently, add to what I have done lately. So, now, it's all about balancing both genres.
Ex: Your fitness videos are inspirational, especially your recent handstands & stunt video on Instagram! What's the secret behind that commitment towards being fit?
Jacqueline: My secret is determination, hard work and patience. It's not about the physique, fitness for me has always been about the challenge and finally the feeling of accomplishment and that's where the addiction lies.
Ex: Tell us something about your upcoming projects this year?
Jacqueline: Work in progress (smiles). Right now, I have deliberately chosen to concentrate on Mrs. Serial Killer.
Ex: Your work schedules are extremely exhausting, what do you do to rejuvenate yourself?
Jacqueline: I like to meditate and do yoga. It rejuvenates both mind and body. My fitness formula is a mix of cardio, strength training, martial arts, dance and Yoga exercises. Yoga is very rooted in the workout and fitness regime of svelte beauty. I not only do Yoga but also suggest my friends and family to practice it. I had been training under Yoga Instructor Anuskha Parwani.
Ex: Which role has been the most challenging for you but also helped you to grow as an actor?
Jacqueline: Each role I've played, have different impact in various aspects and phases of my life as an actor. For me, some are challenging and some are fun. I personally feel that every role is an opportunity to learn and grow more.
Ex: You keep yourself involved in some social causes like gender equality, education to underprivileged children and animal welfare. How important is it for celebs to be a part of such programs?
Jacqueline: Anyone can be a part of such programs. But, yes, as a celebrities it's an opportunity for us to use our platform to reach out to a bigger audience and do our bit in helping the fellow beings. I also promote veganism and "no animal testing" for cosmetic products. Initiating these causes can be easier when it comes to celebrities and I am whole-heartedly in support of this.
Ex: How do you define Women Empowerment?
J: Women supporting and standing up for each other and help one another to grow is a super power in itself, I must say. I respect and look up to these kind of women, so in this aspect, I'd like to define this, a part of women empowerment. I lend my support to the Film, Global Goals and Project. What I really, really want is for people to recognise the potential of women when they are allowed to study instead of doing household chores as I want women to feel beautiful and powerful.
Ex: You have a restaurant in Colombo 'Kaema Sutra' which is quite an interesting name. How did you think of entering the culinary space?
Jacqueline: One of my favourite cuisines is Sri Lankan food. So, in collaboration with Chef Darshan, I wanted people to experience the local Sri Lankan food but with a contemporary twist. Chef Darshan Munidasa has helmed two of Asia's best restaurants— Nihonbashi and The Ministry of Crab.
Ex: How updated do you keep yourself in terms of technology?
Jacqueline: Only as much as it's necessary!
Ex: Failure and success are a part of life, but do you allow failure to take a toll on you, especially in a profession like yours? What's your mantra of dealing with failures?
Jacqueline: I'd like to quote Winston Churchill: "Success is not final, failure is not fatal: it is the courage to continue that counts." I think one should sing, dance, laugh and never ever give up on that!
Ex: Biopics are trending in Bollywood, given a chance, in whose biopic would you like to work?
Jacqueline: This is a tricky question, considering I have a few on my mind, so I'll leave it here for now. Let's see what's in store.
Ex:  Social media trolls or Film Critics, what according to you is easier to handle?
Jacqueline: Social media trolls are best to handle with a sense of humour and Film Critics, with an open mind to constructive criticism. I would rather not take up the daunting task of dealing with the allegations, controversies and offending anyone. I don't take trolls or the people creating memes, seriously. Things can get misconstrued over social media. Certain things that we say or talk about are sensitive and we need to be very cautious.
Ex:  What's the most expensive gift that you have gifted to yourself?
Jacqueline: My car, the Range Rover Vogue, has to be the most expensive gift I've pampered myself with