He entered the studio like a bolt of lightning. To realise that the man dressed in casual jeans and denim jacket is the brain behind the extravagant, larger than life movies that we all love, is quite mind boggling. Karan Johar is a name that stands out in the Bollywood industry like no other. It's not just about his on screen magic, but his offline presence – a personality that will most definitely bring a smile to your face. A celebrated director, an eloquent conversationalist and a marvelous storyteller, KJo shares with Ramesh Somani, his relationship with tech, his darkest fear and the movie he is most excited about!
Ex: This year has already been explosive for you, especially with the recent Lust Stories nomination at International Emmys. How do you feel?
KJo: It's a fantastic feeling because it was a collective that we did purely for passion. Back when we did Bombay Talkies – Dibakar, Zoya, Anurag and myself – we did it because it was an expression of what we wanted to create as an extension of our careers but also to put out something really solid – content wise, and something that we could go out of our comfort zone for. So, when we did Lust Stories it was that same feeling. The fact that you get validation from an international platform is a hugely exhilarating and proud feeling because it's something that we love doing, we loved doing it with each other, we love doing it for Netflix and just the fact that it's now at a nomination stage, it's a great feeling.
Ex: You're one of the most social media savvy people in the whole of Bollywood and your Instagram game is on point, but the nation wants to know who do you stalk on Instagram?
KJo: Who do I stalk? [laughs] I stalk lots of people. In fact, I am following everybody in the current movie industry who are active on social media and whoever I follow, I stalk. Internationally also I'm obsessed with fashion sites, food sites, weird sites that tell you all kinds of strange things. Instagram is literally the best pastime on Earth. It's actually very indulging. Recently, I have been obsessed with what Kim Kardashian is doing with her makeup line. I am just obsessed with how obsessed she is with herself so basically, I am obsessed with her obsession [laughs].
Ex: Do you have a pseudo account to stalk somebody you shouldn't?
KJo: No no, no such thing! I don't make any bones about who I am following. If I'm following somebody I want everyone to know! I don't believe in pretending.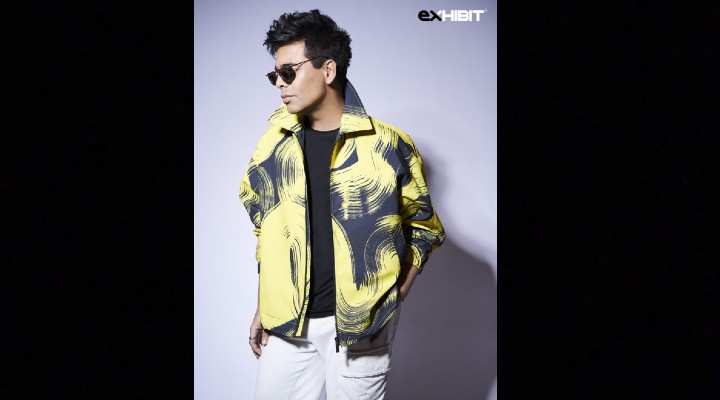 Ex: What are the 3 apps on your smartphone that you absolutely need to keep you up to date?
KJo: Apart from social media, there are online shopping apps – Farfetch, MatchesFashion, Browns and Ssense. Most of my collection is from there because I shop a lot online! There's this beauty app if I want to make myself or anybody else look better! And of course, travel apps! I use a lot of apps, infact, my phone is jam packed!
Ex: If you could invent an app to ease your life, what would it be about?
KJo: I just think that it'd be great to have an app that kind of curates stuff for you in a new city, in a new environment, you know. An app about where you can eat, where you can shop, where you can hang out – like a one stop solution. And I know similar apps exist but I haven't found something that jumps out efficiently for me. Like if I'm new to a city in Europe, I just want to go to one app that easily tells me what I can do suiting my temperament. Most apps are directed to everybody but I think they need to be directed to temperaments as well – based on a certain personality type.
Ex: Even with all the gadgets around us, what is that one thing that you still like doing the old school way?
KJo: Talk to people. I just think that talking to people, conversation, one on one communication is dead. Everyone is talking on their phones, to their phones, Instagramming and tweeting while talking. I think leaving your phone aside and having a solid one on one conversation with people is a thing of the past. It's almost prehistoric. So yes, I miss talking to people.
Ex: Are you a car fanatic? What was the first car you ever bought or have memories about?
KJo: Not at all. I get a new car when all the parts are dying and that too I'll ask Ranbir Kapoor. He's a great guy who knows his cars, so I ask him which car to buy, he'll tell me and that's it, I buy it! Throwing it back, I think there were two cars; one which was my fathers', a grey colour FIAT – it was the car I used to go to school and classes in. And then there was a second hand Toyota Corolla, a red car, completely in shambles which my father got at a throwaway price. It looked like it was from another era but I still have memories of that car.
Ex: Do books interest you? Has there been one book that's impacted your life or maybe a book that pushed you to come up with your autobiography, An Unsuitable Boy?
KJo: I am not an avid reader and I believe that it's not about reading, it's about sharing. So when I decided to go ahead and write a memoir and write that piece of my life (till the time I was 44, which was when the book was out), I just felt that I had a journey that I wanted to share. If it resonated with anyone, it would be absolutely amazing and just a lot extra special. When Penguin, Poonam Saxena and Shobhaa De reached out, I said yes, let's do it! One thing to do is to be honest and candid and that's what I hope I was.
Ex: Success and happiness are often the opposite sides of a coin – You seem to have it all; juggling so many different hats – Are you content?
KJo: I feel like you have to attain a level of detachment – away from the end result of what you're doing. I want to be able to reach a stage where I can enjoy the journey and not worry about the destination – and I believe that I'm currently in the process of that. Destination being success or failure. I want to love the process of making each film or show, irrespective of the medium I'm exploring. I don't want to worry if the film I'm making will be a failure or success at the box office. Ofcourse, that's very important and a big part of what we are. But, I want to be able to enjoy that because sometimes the pressure of a final destination takes away from the journey and I never want that. I'm on my way to reaching a path of sensitive detachment.
Ex: Tell us about that one thing your parents passed on to you that stuck with you all these years?
KJo: They gave me a very strong sense of right or wrong. If you're right, you can stand up for it. If you're right, you should stand up for it. You don't have to apologise if you believe you're right about something.
Ex: Social media is creating whirlwinds in about all aspects of life right now. What are your views on influencer marketing? Do you think it's a fad?
KJo: It's the order of the day. It's the way we're going to lead our lives. I'm 47 today, I grew up at a time when I saw the transition from black and white TV to color television, from the DVD and the VCR to now when everything is a microchip. So, I've seen the evolution of technology, I've seen evolution of personality types. We're in an age of immense social media where the way of communication has changed considerably and rather drastically. I just feel like you have to always accept the today and not linger in the past. I don't think we should be those people who say "iss zamane main hum aesa karte the, aesa hota tha". If this is the way you market a product today, then do it. Today you're a touch point away from a consumer. Living off social media has become a reality, so instead of grumbling about it, you develop it.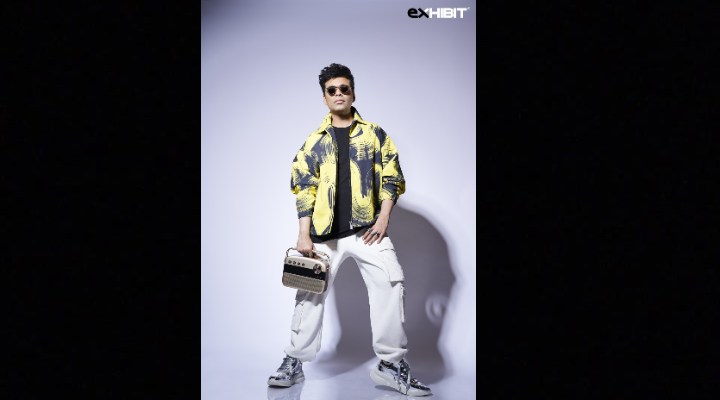 Ex: Web shows are viewed as competition to movies but you've explored both. What are your views on content on digital platforms?
KJo: My love story with cinema will always remain. Digital maybe a revolution, the web maybe evolving but it's the love story every filmmaker has with cinema that will always remain. Cinema is only going to grow from strength to strength. It'll always have a solid place of its own. People say that the digital platform is going to eat into the footfall but none of that's going to happen. It's going to empower us even more, it's going to make our own experience more special.
Ex: The 80s was particularly a bold and eclectic decade for fashion. How has your fashion evolved from then to now, the Gen Z era?
KJo: I think the flower power zone and the fluorescent madness will always keep coming back. The 80s was so strong in fashion and music that we can see the ripple effect even now.
Ex: Time for the big question, are we going to see you acting again soon?
KJo: No, I'm a very big flop actor. I've given a mega disaster as an actor and after that, I seriously want to tell you that no one has come back to me with an acting offer. And I feel very bad because I feel like there's an actor in me that's dying to explore!
QUICKIES
Your biggest fear:
Being irrelevant. Even when I am 90 years old, I want to be relevant.
A rumour about you that was and is true:
There are so many rumours about me! But wow, I haven't read a true rumour about myself actually!
A show you're currently binge-watching:
A Netflix show called Unbelievable and it was unbelievable! [laughs]
An upcoming Dharma movie you're most excited about:
Good Newwz, it's releasing at the end of the year. I'm always excited about the next release.
A fashion trend you'll never get tired of:
My torn black pair of jeans.
Do you invest in startups or looking at investing:
I don't invest in anything I don't understand and I don't understand anything except making movies!