The Lockdown period is being pretty hard on most of us. In fact, it is not only us, but our gadgets are also facing a rough time of being used much more than they are used usually. One such piece of gadgetry are the headphones.
Headphones are now one of the most integral part of our lockdown gadgets. We are using the headphones to listen to music, attend video conferences and those long hours of calling with friends. Trust me, these headphones of yours are being used to their maximum capacity. As it is with a lot of use, soon, some of us will see the headphones fade away soon.
Bluetooth earphones are in high demand which provides you complete wireless life experience and finds ways to make your daily activities more convenient. It's quite uneasy to handle wired earphones that keep you bound and resist to move away by its wire or cored range. Wherein, while using the wireless headphones, the user does not need to bind near to the device also you do not have to worry about tangled wires and can move freely.
We have listed five of best budget neckband earphones to provide you with an easier and convenient way to listen to your music, take calls or do exercise without disturbing your normal routine. They also should not get in the way of performing those duties.
WINGS GLIDE: Wings Lifestyle's'Wings Glide' earphones provide not only a rich acoustic experience but also enhance a person's appearance as they rest on their nape. They are available in four colours, Black, Blue, Burgundy, and Olive Green making them ideal for music lovers who want earphones that provide an added dimension of style. The Wings Glide earphones can be worn to listen to music or even when not listening to music because their aesthetic design makes them an enviable fashion accessory.

Wings Glide offers sharp sound quality and playtime and talktime of 6 hours after only 1.5 hours of charging. It has a smooth matt finished body which is perfect for all-day use. The earphones are compatible with all Android, IOS/Windows devices including mobiles, tabs, and laptops. It has HD Bass which provides clean vocals making it perfect for lovers of any genre of music be it EDM, Bollywood Rock or Acoustic songs.
Price: Rs. 1199/-
Boat Rockerz 255:Offering the perfect balance of price, audio clarity and functionality, the Boat Rockerz 255 neckbands are easy to connect and pair. The Boat Rockerz 255 comes with advanced Bluetooth connectivity of 4.1 versions. The functionality of Boat Rockerz 255 Bluetooth wireless earphone is of superior quality.

The earphone provides interesting experience to the users by pumping out tunes with powerful HD and deep bass sound. The earphone comes with 110mAH battery providing it longer battery life, Boat Rockerz 255 wireless Bluetooth earphones can play up to 45 minutes with 10 minutes charge.
This earphone is available in more than one colour such as black, neon, ocean blue and raging red.
Price: Rs. 1499/-
3. Mivi Thunder Beats:  Mivi Thunder Beats is also a worthy one to go with. It comes with excellent music experience with deep bass and clear vocals. Mivi Thunder Beats is an in-ear type earphone that offers a secure fit and its sweatproof design makes it good for workouts. The Mivi Thunderbeats is an in-ear canal phone-style pair of Bluetooth headphones with a frequency response range of 20Hz – 20,000Hz. This earphone has a metallic body that looks stylish and beautiful. It has Ergonomic design with three sets of earbuds. Earbuds have a magnetic lock, so it stays around your neck. The earphone can be used for 10 hours straight with a full battery hour of music playback. Mivi Thunder Beats offers Bluetooth wireless feature of the earphone which is compatible with all devices and build-in microphone that makes answering calls conveniently.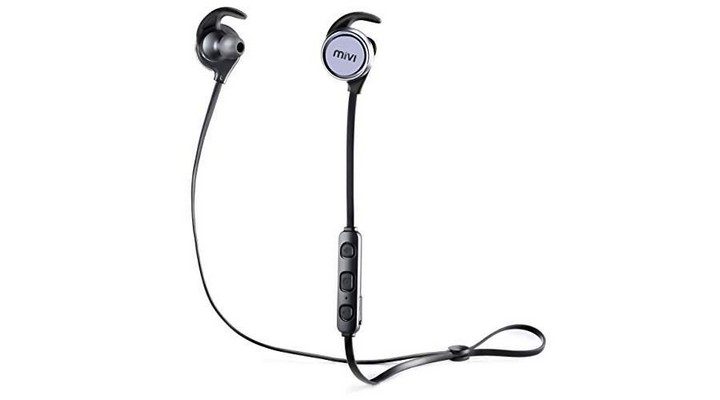 Price: Rs. 1299/-
Realme Buds Wireless in-Ear Bluetooth: Realme is a sub-brand of Oppo that is giving a tough neck to neck competition to other brands. This is the first wireless earphone made by the Realme Company. The Realme buds come with built-in magnets making it easy to carry and clean. The Realme buds come with the signature yellow and black colour scheme which makes it stand out from the rest of the bland black designs out there. The Realme buds wireless earphone is known for its durability.

The earphone includes features like reinforced and breaks resistance synthetic fibre that increases its durability. The material and make of Realme buds are top-notch and can withstand everyday wear and tear. One quality of Realme Buds that stands out is the ear tip, which bends to 45 degrees. Realme buds feel comfortable to wear for long usage. Realme Buds are made of good quality material that is tested to ensure the earphones match the expectation of the users.
Price: Rs. 1799/-
Xiaomi Mi Sports Bluetooth Wireless Earphones: For the price, Mi Neckband Bluetooth Earphones offer superb sound quality for a neckband headphone. The Mi neckband wraps around your neck with two earpieces attached to a small section of wire. Mi Neckband Bluetooth Earphones have magnets on the ends of the earbuds that let the two stick together when not in use, the magnets don't control power; that is done through a multi-function button on the neckband. The Mi neckband is powered by a 120mAh rechargeable battery inside. The company claims that this battery will last for eight hours on a single charge, but expect a battery life somewhere between 6 and 7 hours.

 Price: Rs. 1699/-