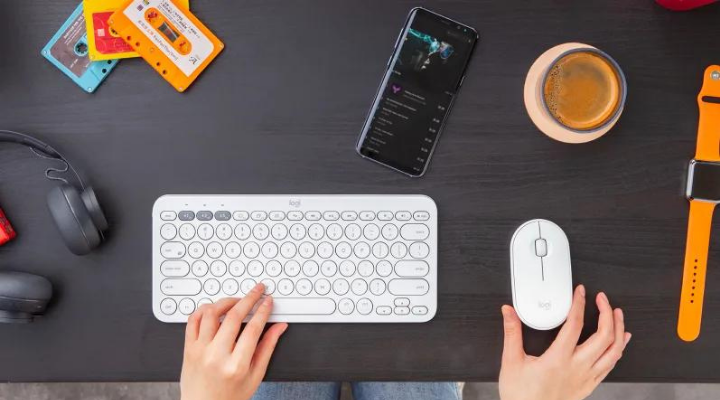 Being a part of the ongoing pandemic and information age, we all or at least most of us, prefer Work From Home over a traditional office. Whether you're in your home or a corporate office, or anywhere else for that matter, we all use computers or laptops to make our life more accessible and smoother. Now, talking about the keyboard, it is an essential part of modern tech-based life. Without it, we can't do much on our computers or laptops and being honest, most of the time when we're not in a generous mood or when we're typing a prompt mail or playing games, we use our keyboards like a punching bag and smashes every key of it like we're a war zone soldier.
Though most keyboards are built to handle such pressures, what will you do if you lose a key or any key stops working? Well, for computers, you'll have to buy a new keyboard or depend on the on-screen keyboard for that particular key but in the case of laptops, once you lose a key, restoring everything to its original state can be burdensome for some of us. 
So, it's better not to use in-built keyboards all the time, especially when you type for a long span and have a habit of pressing the keys in a vivid manner. Accidents can happen at any time, and to prevent them, we would recommend you to use Wireless keyboards, and if you're looking for the same, you're at the right place.
Why Wireless Keyboards?
Wireless keyboards are life-saving when you prefer a neat, decluttered desk or like typing comfortably with your keyboard on your lap. They help you type faster and are ideal for pairing with laptops or even computers at workstations or home. Wireless keyboards are travel-friendly compared to their counterparts and work best not only on your computer/laptop but also on your tablet, your phone, or even your TV. Nowadays, wireless technology is everywhere and has done an impeccable job in the past few years and finding the best one is tricky, and it all depends on how you're going to use it, for work or a gaming purpose? So, before we hit the list, let's take a quick look at specs to consider. 
A perfect sized keyboard is always going to help you and light up your life. If you travel a lot, then go for a light one and if you're a gamer, go for a smaller than average keyboard, as you're not going to use it for typing. If you're a writer or doing some sort of work related to heavy use of the keyboard, go for a more oversized keyboard to hit the keys comfortably. Look for a keyboard according to your preferred operating system because sometimes special characters matter. Gamers, keep in mind, if you're an avid gamer, you're going to need keyboards that connect to multiple devices with the press of a single button and a customizable option for RGB lighting or at least backlighting.
Logitech MX Keys
Price – ₹12,995/-
Logitech MX Keys is one of the best wireless keyboards out there for iMac users. It offers the best typing experience with its full-size structure, and it features a built-in number pad and backlit keys to equip you with a great user experience and maximum productivity. The low-profile keyboard could be your perfect office companion. Its wireless connectivity empowers you to pair a total of three devices over Bluetooth or its USB dongle, and you can easily switch between these three connected devices. 
The typing experience is smooth, and people sitting next to you can't complain about losing concentration over a keyboard noise. The keyboard has a rechargeable battery, and it offers an impeccable 10 days of power backup. So, if you're looking for a keyboard with a great blend of comfort and features that provide a versatile typing experience along with a premium price and durable build and have enough space on your desk, we recommend Logitech MX Keys for you.
Microsoft Sculpt Ergonomic Keyboard
Price – ₹14,999/-
Are you one of those who type for long hours, are tired of repetitive strain injuries, and looking for a comfortable keyboard to avoid arm, wrist, or shoulder pain? In that case, you should definitely try ergonomically designed keyboards such as Microsoft's Sculpt wireless ergonomic keyboard that offers a pain-free experience and even take care of your bad posture. The keyboard offers a split layout and design and a nicely cushioned palm rest to keep you in an ideal typing position and avoid additional pressure on the wrists. 
The keyboard is split in half and offers a separate number pad, making it significantly different from its equivalents. The affordable ergonomic keyboard connects via a 2.4 GHz wireless USB dongle and requires two AAA batteries to work, which seems a little outdated. However, this ergonomic keyboard by Microsoft will surely help you recover lousy posture, but only if you stay put with it during those initial days.
Logitech K380 Bluetooth Keyboard
Price – ₹3,195/-
Logitech has a rich history of creating excellent computer accessories, and the name Logitech will often pop up when you're looking for computer accessories, especially keyboard and mouse. The comfortable and compact Logitech K380 Bluetooth Keyboard is one of the best budget-friendly keyboards out there in the market, which offers great design and compelling battery backup of up to 2 years with its AAA batteries.
The keyboard arrives with round-shaped keys, and it takes a while to adapt to it; and it also lacks a backlighting feature and macro programmable keys. The smart-looking keyboard could be paired up with three devices via Bluetooth (it doesn't come with a USB dongle), and one can easily toggle between the devices such as smartphones, tablets, Apple TV, and most computers using the F1-F3 hotkeys. The tiny and well-built wireless Bluetooth keyboard is offered in three colours: dark grey, rose, and off-white.
Apple Magic Keyboard With Numeric Keypad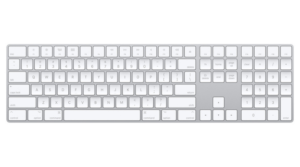 Price – ₹12,500/-
Apple Magic Keyboard with Numeric Keypad, the name itself suggests it has something magical in it, and we can't deny the fact because it's a fact. The aesthetically designed Apple Magic Keyboard will undoubtedly add a slight tint to your modern office, and if you're a follower of a minimalist lifestyle, it's clearly the best buy for you. The Magic Keyboard sports light and bouncy keys to satisfy your typing experience. 
Previously, it was available without a number pad and only bundled with Apple's 5K iMac Pro, but now it is available in full size with Numeric Keypad, and the company even sells it separately. The flat designed Apple Magic Keyboard is ideal for gaming, reading or working with spreadsheets as it offers an impressive battery life of one month, on a full charge. The ultra-sleek space-grey keyboard offers keys based on a scissor mechanism to enhance your typing experience, but unfortunately, it is only compatible with Apple products.
Corsair K63 Wireless Mechanical Gaming Keyboard
Price – ₹15,999/-
Corsair is one of the few companies that manufacture a wireless alternative of its popular gaming keyboards, and their latest addition, a refresh of the old Corsair Gaming Lapdog but slimmer and wireless, Corsair K63 Wireless Mechanical Gaming Keyboard, is an exceptional one. The new K63 Mechanical Gaming Keyboard is almost similar to its wired sibling, and if you're familiar with Corsair keyboards in the past, then while using this one, you'll feel super comfortable as the keyboard is specially made for people who prefer to operate from the comfort of the couch. The K63 keyboard has a frameless and straightforward design, and users can pair the keyboard with either a wireless USB receiver or Bluetooth. The keyboard features dedicated media controls, linear Cherry MX Red switches, excellent compatibility with various operating systems, but at the same time, it lacks backlighting as it is limited to a single blue colour. However, the K63 wireless keyboard is still a good option for gaming and also for work too.