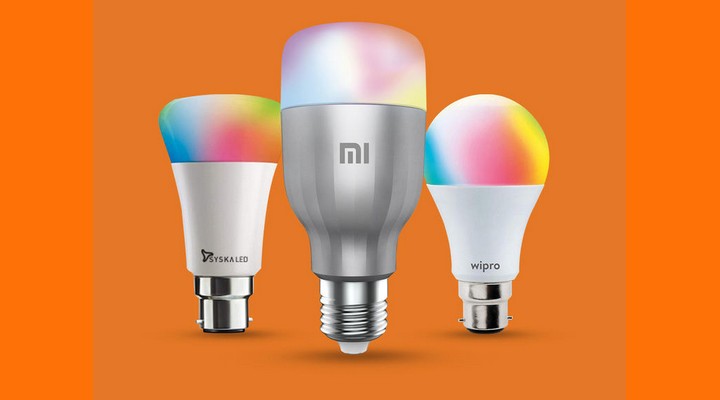 We all like technology and tech has some serious influence around our lives. From the morning coffee to the last message of the might, technology is just about everywhere we go. It is not just smartphones and smart TVs that have bombarded our lives, out homes, living spaces and even bedrooms are now adapting technology to facilitate easier and peaceful living for the residents. 
What is a Smart Bulb? Smart bulbs are like normal LED bulbs which can be controlled wirelessly. For a normal LED bulb, you have to control it manually to switch it on or off. However, with smart bulbs, you can control the bulb wirelessly with any of your smart devices like a smartphone, home assistant or tablets. Not only this, but you can also control the brightness of the bulb without even having to lift a finger. 
Smart bulbs are now becoming an important part of smart homes. Home automation systems make use of connected devices to make living a lot easier. You can use smart bulbs with home automation and create schedules for on and off times, brightness profiles according to the time of the day as well as select colours for the smart bulb. 
For most cases, smart bulbs will work seamlessly with home automation systems which can be controlled wirelessly via Bluetooth or wifi networks. It essentially means you can switch the light on and off without having to get up from your bed or having to leave an important work that you have been doing. Smart bulbs also support motion detection via home automation systems so that the lights can turn on when someone walks into the dark house. To sum it up, smart bulbs are an efficient way to integrate smart lighting and also connect it with other smart devices in the house for easy living.
Upgrading to smart bulbs is as easy as replacing your fused light bulb. You buy a smart bulb and replace it with the regular bulb. Connect the bulb with your smartphone/tablet or via a home assistant like Alexa and start using it. Control various parameters such as brightness, user profiles, light colour and on-off schedules by just tapping your smartphone. To sum it all, we have listed some of the most popular smart bulbs in the market right now
1. Syska LED Smart Bulb – The Syska LED smart bulb comes in two different wattage ratings – 7W and 9W. It can be controlled by using your smartphone and Alexa as well. It has various colour modes, brightness adjustment settings and timer which can be controlled remotely from your phone or a smart assistant. Price Rs. 1799/-
2. Philips Smart Wi-Fi LED bulb B22 9-Watt WiZ – The Philips Smart LED bulb is not only easy to set up, but its brightness in colour mode is much better. It is very comfortable for the eyes as well. You can control the bulb through WiZ mobile app which can be installed on both Android and iOS as well as use Siri, Google Assistant and Alexa. Price – Rs. 1999/-
3. Mi LED Wi-Fi 10W Smart Bulb – The Mi LED Wi-Fi 10W Smart Bulb is no different from the ones we are talking about. It boasts of 10W power consumption and 800 lumens of brightness. It comes in E27 fitment which can be converted to a B22 type with an adapter. It works well with Alexa and Google Assistant in the same wi-fi network as you are in.  Price – Rs. 1499/-
4. Jaquar VIVID Smart LED Bulb 7W – The Jaquar VIVID Smart Bulb is a premium choice for those who like quality. It comes with a 7W power rating and can be operated via Bluetooth and Wi-Fi from the Jaquar app. It offers 16 million colours and also has lighting profiles for the day and night. The white light is very soothing to the eyes and the colour modes are sufficiently bright as well. With the Bluetooth mesh technology, you can connect up to 200 devices with adjustable light intensity. Price – Rs. 1800/-