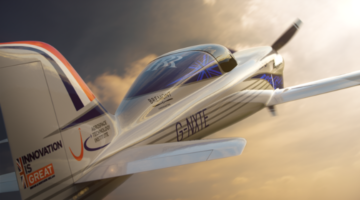 The British luxury automobile maker Rolls-Royce is best known for making expensive and fancy cars, but now, along with manufacturing automobiles, the company has entered into the aviation world and has developed an aircraft called the 'Spirit of Innovation'. The aircraft clocked up a maximum top speed of 623km/h (387.4mph) just two months after its maiden flight, which makes it "the world's fastest all-electric aircraft."
The company said in a press statement the aircraft set three world records in total, managing 532.1km/h over 15km, climbing to 3,000 metres in 202 seconds, and reaching 555.9 km/h over 3 kilometres, which helped the aircraft smash the existing record by 213.04 km/h. The company has claimed the record and is awaiting confirmation from the Fédération Aéronautique Internationale (FAI), who control and certify the world aeronautical and astronautical records.
The 'Spirit of Innovation' is an old-school "tail-dragger" aircraft with the canopy pushed way back. The company says the aircraft is powered by a 400kW electric powertrain and the most power-dense propulsion battery pack ever constructed in aerospace. The company partnered with aviation energy storage specialist Electroflight and automotive powertrain supplier YASA to build the aircraft.
The aircraft was designed to smash world records and bring zero-emissions air travel one step closer. The test pilot and Rolls-Royce Director of Flight Operations Phill O'Dell achieved a speed of more than 213.04 km/h in the 'Spirit of Innovation' and broke the previous record set by the Siemens eAircraft. After breaking the 4-year old record, he said, "this is the highlight of my career and is an incredible achievement for the whole team."
Rolls Royce's CEO Warren East said in a statement, "Staking the claim for the all-electric world-speed record is a fantastic achievement for the ACCEL team and Rolls-Royce. Following the world's focus on the need for action at COP26, this is another milestone that will help make 'jet zero' a reality and supports our ambitions to deliver the technology breakthroughs society needs to decarbonize transport across air, land and sea."