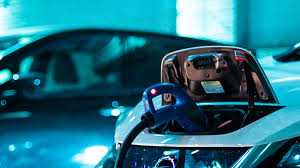 Clean, green and surprisingly fun
The Indian Automobile Industry is ranked as the 5th largest in the world and is expected to move up to be the 3rd largest by 2030. Despite this impressive growth, India still needs a dramatic shift in the mobility sector so as to cater to its vast, ever-growing population. With the crude oil prices drifting up internationally, as well as the rocketing fuel prices, the existing models might not suffice in the coming years; as technology needs to be environment-friendly and cost-effective at the same time. What, then, should be the alternative? 
Electrification certainly seems to be the talk of the town in this regard. It would do a great deal in reducing vehicular emissions – which are a key contributor to air pollution, a major and looming issue today in all the big, crowded cities of the country. The Indian auto industry has been buzzing with new innovations and trends with respect to this in the recent years. It all started with the "Reva" electric car which made its debut in the year 2001 (and later got acquired by Mahindra), and a few e-rickshaws which entered the market at that time. Since then, there have only been a few automakers (both four & two wheelers) to fill the gap. But the concept of electric vehicles, that used to turn just a few heads, is now catching everyone's attention. It can definitely be said that electric vehicles are on their way to becoming a lucrative solution & a bright reality.  
Besides the strengthening of EV and related component manufacturing, the battery prices are also expected to fall by more than 30% by 2025, which will make electric vehicles more affordable over the period of time. Also, the government of India has announced various tax redemptions and subsidies to further encourage more people to consider EVs. Under the Make In India programme, the manufacturing of EVs and their associated components is expected to increase. On the economic front, large-scale adoption of electric vehicles is expected to bring down the dependency on foreign oil & petroleum imports. The running cost of EVs, as compared to fuel could fall as low as Rs 1.1/km from that of Rs.6-10/km of a diesel or petrol vehicle , helping an electric vehicle owner save up to Rs. 20,000 for every 5,000km traversed. 
Further, a holistic e-mobility ecosystem is complete only with an effective charging infrastructure & e-mobility service providers (rentals, charging spots, battery swapping stations etc.) and related regulations. Currently, charging infrastructure for EVs is an area of concern; however, there have been some positive developments with more and more OEM's entering the market with their products and collectively helping set and grow the infra across the country.
The demand for electric vehicles in our country is driven by the concern of fast-charging batteries coupled with great performance & extended driving range. Indians are known for being value-conscious & thus the number of EVs selling today is less. Talking money, the running cost of a diesel/petrol vehicle can be tremendously more than that of an EV, but the initial investment is what gets heavy on the pockets. It is this mentality which needs to be changed.
For automotive players today, the primary challenge is to develop quality battery packs with extended range and longer lifespan; batteries which are safe and can store & deliver a lot of energy. In the current ecosystem, lithium ion batteries have emerged as the most suitable option.
Reservations do exist among consumers today due to the limited range of these vehicles and the lack of charging facilities, as well as the high operating costs behind setting up Public Charging Stations (PCS) – the burden of which would be passed on to them in the form of higher tariffs. As a result, EVs are only used for short, irregular trips and have yet to become the norm. However, despite these infrastructural limitations, continuous investments are taking place in the research and development arena to make EV and associated technology more cost-effective. Along with this, an increasingly facilitative role is being played by the Government in providing concessions to encourage their adoption. Finally, with the realization of the practical realities surrounding traditional vehicles and their externalities, these factors will cumulatively begins to shape the consumer's preferences favourably towards EVs. They will surely become a viable and optimal alternative in the coming future, with immense potential to transform the landscape, and usher in a new era for the automobile sector. 
India can benefit on a large scale with the widespread adoption of e-mobility. Various government interventions can definitely play a vital role in advancing electric mobility in the country. Indian policymakers have been actively pushing EV adoption in the recent years, by introducing various plans like NEMMP (National Electric Mobility Mission Plan, 2020) , the Faster Adoption and Manufacturing of Hybrid and Electric vehicles (FAME) and other electric campaigns under different state governments.