Europeans are always obsessed with the cars they make and the food they eat. Europeans are always obsessed with the cars they make and the food they eat. They always fulfil the quest of hunger of the gourmet and never fail to impress an auto enthusiast with its overall product offering. One such Swedish car accompanying is Volvo, and its latest offering is the flagship 7- seater luxury SUV – 2022 XC90. Just to spice things up, we invited Master chef Shipra Khanna on a 7-course meal to discuss a luxury palette and the luxury SUV over a hearty meal.
Shipra Khanna is one of the most glamorous Master chef from Shimla. Apart from making delicious food, she is also an author, TV Host, content creator and food consultant. She has achieved the milestone of earning the tag of "Youngest Female Celebrity Chef in India" and knows what goes inside to make great dishes. Along with Volvo XC90, we have come up here in the majestic and exclusive farmhouse restaurant, Saltt, a 2-hour drive from our suburban Mumbai. Well, if you own a chopper, you can land up directly here because this place also has an exclusive helipad. Still, we preferred the XC90. The drive is always more fun if the destination, company, and conversations are exciting.
The 2-litre mild-hybrid petrol-powered Volvo XC90 is an ideal choice for such weekend gateways. Whoever owns this car wears a badge of honour and respect in society. It is targeted and Built for an ambitious individual with an appetite for success and a taste for luxury. It is not just about simpler and sophisticated looks or the best family haulier; Volvo XC90 is way more than that. It is equipped with tons of mind-blowing features and unique characteristics. We are on our quest to taste the 7-course meal where the Master chef will talk about the dishes, and Editor-in-chief will throw lights on the Volvo XC90. Both experts in their own fields.
1st Course – Lets Soup it
On the Bowl: Minestrone Milanese Soup
Shipra: It's the safest thing to start your meal and to warm up your system. Hearty root vegetable and tomato flavoured thick soup with pesto, Parmigiano and pasta. A good Soup acts like engine oil and gets you a good start that you need for the 7-course meal coming forward.
RS: Since it's on safety, Volvo has always been known for providing its safety masala in the beautiful dish – we call it car. With best-in-class safety ratings, Volvo XC90 also gets an intelligent Driver assistance System that detects and helps drivers to avoid a collision with other motorists and pedestrians on the road. The car is smart enough to detect any danger on the road; the brakes are applied automatically without thus avoiding mishaps and further damage. Cool, isn't it? It also gets a 360-degree camera, a blind spot Information System, and lane keeps assist features to keep you all safe and secure while travelling. Just like this Soup, it's as safe as a car can get.
2nd Course – Lets get Healthy!
On the Bowl: Goat Cheese Ball, Rocket and Citrus Salad
Shipra: What we have now is the second course meal, which is a fresh garden salad. Freshly cooked vegetables are always good for your health. It has got a lot of antioxidants, and we have got proteins in the form of cheese. The salad also contains a lot of essential fibres and iron that are always good for health. Most importantly, it has got orange vinegar, which acts as a palate cleanser. It is one of the most exciting courses because it has got a different medley of flavours.
RS: Talking about health, Volvo has made the environment cleaner and healthier by providing a hybrid engine option in this vehicle. Not only this, but the brand has also committed to putting one million electrified cars on the road by 2025. Such initiatives make a great impact on decreasing the pollution level in the atmosphere. By the way, did I tell you that this Volvo xc 90 comes with an air-purifier system that filters the polluted air and allows its occupants to breathe clean and healthy air inside? It gets a synthetic fibre-based filter and ionization, which kelps the cabin up to 95 per cent healthier by filtering out PM 2.5 particles inside the cabin.
3rd Course – Lets make an appetite for the Appetizer
On the Bowl: Avocado and Goat Cheese on House Sour Dough Toast.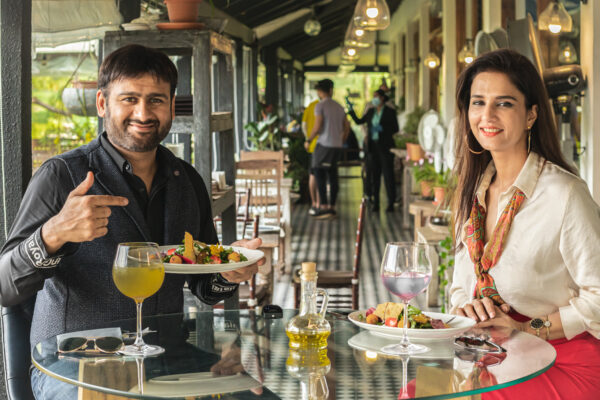 Shipra: This is the third Course. It's an appetizer. The idea for an appetizer is to build an appetite or rather space for the Main Course. And this is Avocado on the Sovada Bread.
RS: Talking about the space, the boot space comes as an extreme necessity to carry all your baggage for long road-trip journeys. Despite being a 7-seater, the car has an expansive 397 litre of boot space to gulp your entire essential luggage.
4th Course – Lets dig on to Mains
On the Bowl: Parmigiana Eggplant Vol-Au-Vent
Shipra: This is the French dish – Vol-Au-Vent. It looks extremely beautiful on the outside. No Doubt. But on the inside, it is stuffed with vegetables, Primula Cheese, and many flavors.
RS: Most of our time will be dedicated to experiencing the main Course, just like the one will spend most of its time inside the cabin of the car. Volvo xc90 feels like a posh European coffee lounge. It has got matte natural grain wooden inlays with a chrome strip running across the dashboard with the premium Nappa leather everywhere you touch. Xc90 gets a big tablet-like infotainment system and a massive digital instrument cluster. XC90 seats are best in class with ventilated front seats with massage function and four-way electric lumbar support. One would not complain about rear seats as there is plenty of legroom and headroom on offer. This car, on the inside, cocoons you with its luxury offerings.
5th Course – Still on the Mains
On the Bowl: Tofu meal
Shipra: This is our fifth meal out of our 7-course meal. Tofu meal is actually a complete meal. It is a total powerhouse loaded with energy and performance.
RS: Performance always excites me, and talking about performance, the new Volvo XC90 is now BS6 updated and gets a 2.0-litre engine churning around 300hp and 420 Nm of torque which is mated to an 8-speed automatic gearbox powering all four wheels.
6th Course – Lets have some Desserts
On the Bowl: Vegan Berry Tart
Shipra: Vegan Berry Tart is the first of our desserts. The dish is made with almond flour, and it's got chocolates and berries inside it, making it one of the classic desserts.
RS: Classic! That is precisely the perfect way to describe the Volvo XC90. Volvo cars are known because of their minimalistic and simple design language. All new chrome grille, a restyled lower fascia, reprofiled rear bumper and beautiful looking 20-inch alloy wheels make it look sharp and simple.
7th Course – Lets end with Chocolates
On the Bowl: Chocolate Mousse
Shipra: Finally, we are on the last Course of our 7-course meal, and this chocolate Mousse is the perfect way to end our meal. You see, a good dessert is something that will give you a great aftertaste.
RS: You are spot on Shipra. The aftertaste is of great importance, and Volvo understands this very well. One can feel relaxed and totally accomplished if the external factors of owning a luxury car, such as after-sales service and warranty, are completely sorted. Volvo has come up with the scheme wherein it promises a lifetime warranty on the spare parts purchased from its authorized dealers. It is the first time in India that such an initiative has been offered to luxury customers. The company also cares about its customers by providing them with an interest-free monthly EMI for the service cost. Thus one can enjoy maximum coverage without having to worry about the cost. The car also comes with two year/unlimited-kilometre warranty. With around 29 dealers spread across pan India, Volvo provides a hassle-free and secure ownership experience.
Well, that was the 7-course meal with the Volvo XC90. Good food and a great car are 2-important factors in making any journey , destination or the journey of life beautiful. Isn't it ?