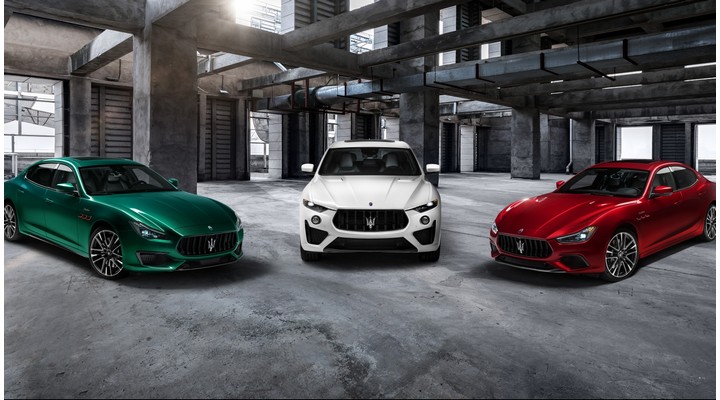 Maserati has been determined to redefine modern parameters of automobile technology. Following the 2018 launch of Levante Trofeo, the SUV's most extreme, most potent version, the new Quattroporte and Ghibli Trofeo are now available. To highlight Maserati's all-Italian identity, the colours chosen for the Trofeo collection launch are those of the country's flag: green for Quattroporte, white for Levante and red for Ghibli. Among the plethora of features it has to offer, here are some of the best:
The heart of Ghibli and Quattroporte Trofeo is the 3.8 litre Twin Turbo V8 that makes 580hp of maximum power and a peak torque of 730 Nm.

The engine, which has already revealed all its power on Levante Trofeo, is built at the Ferrari plant at Maranello to Maserati's specifications.

Although entirely new for Ghibli, the V8 engine has already been used in the past on Quattroporte GTS, in the 530 hp version.

Today the 580 hp V8 engine is available on the new Ghibli, Quattroporte and Levante Trofeo, in full compliance with fuel efficiency and emissions standards.

Ghibli and Quattroporte Trofeo claim to be the fastest Maserati sedans ever, with a top speed of 326 km/h. Levante Trofeo's maximum speed is 302 km/h.


The whole Trofeo collection is distinguished by the red details that characterise the bottom profiles of the side air vents and the lightning bolt on the Trident badge on the C-pillars.


There are significant changes at the rear of the car, where the light clusters have been completely restyled, with a boomerang-like profile inspired by the 3200 GT and the Alfieri concept car.

The ADAS system has evolved to include new functions, and thanks to Active Driving Assist, drivers can now activate the assisted driving function on urban roads and ordinary highways.

New technologies also appear in MIA (Maserati Intelligent Assistant), the multimedia screen with upgraded resolution and larger size – 10.1" on both Ghibli Trofeo and Quattroporte Trofeo, while Levante retains the 8.4" display, but with improved resolution and graphics.