Almost 70% of smartphone owners in the world can not live a single day without their smartphones, and more than 50% of smartphone owners believe that their phone is the most valuable asset they own. Being born in a tech-driven world, we naturally get attracted to every other newly launched smartphone, especially iPhones. Nowadays, many major smartphone brands offer remarkable trade-in promotions for users looking to upgrade their phones, and Apple is one such company.
Apple first launched its trade-in program in 2013 and encouraged a vast number of people to obtain the program and do their part for the planet and become beneficiaries by trading their old iPhones or smartphones after they are done with it. The company offers a substantial amount of credit to the consumers when they trade in their old phones, but why does the company offer such a deal? Why is that promotion so valuable to the company? What does the company do with old devices?
Apple Trade-In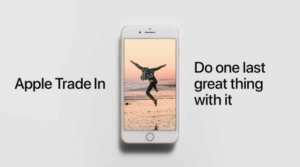 Apple plays a mind game with its customers, and being faithful customers, we easily fall for the trap. The company knows human psychology, and they offer programs/promotions basis on it. After using the iPhone for about 2 or 3 years, they know that people start looking for another device and either hand over the old one to someone in the family and friends looking for a phone or sell their old iPhone as a second-hand unit to the local smartphone dealer. Unfortunately, all of the above acts hammer down the company, resulting in reduced sales of new iPhones.
Apple introduced a trade-in program when the company's first quarterly profit decreased in 2013 after a long time, but the Cupertino, California, headquartered firm, started focusing more on it through advertising after the launch of the iPhone X. The idea was simple, the iPhone X was the costliest iPhone when it was launched for the first time and purchasing it was quite a hefty investment. A large number of customers wanted to buy it but couldn't afford the price, and that's when Apple aided consumers with a trade-in promotion and offered them a credit value for their old iPhones.
How does it work?
iPhone's durability leads customers to buy older versions without any second thought, and since Apple launched its trade-in program, customers are on cloud-9, but if you look at the big picture, it's supremely profitable for the company. Whenever customers opt for a trade-in program, they move from an older iPhone to a newer iPhone, automatically keeping users locked into Apple's ecosystem, which best benefits the company. Secondly, by refurbishing the older iPhone and reselling it for a more affordable price in the market, Apple makes double profits from a single handset, boosting their overall revenue.
The company has built a specialised robot called Daisy that is capable of recovering any recyclable materials in a phone, which helps the company recover money from damaged devices. The robot is programmed to recycle a minimum of 200 phones per hour, recovering high-priced materials that could otherwise end up in a junkyard. The trade-in promotion arrives with a win-win situation for everyone, including the environment, as it helps the company reuse working elements from older phones instead of transferring them to the landfill.
A step-by-step guide to trade in your old iPhone or smartphone with Apple:
Answer a few questions about your current smartphone, such as questions related to the brand, model and condition.

After you finish the array of questions, the company will give you an estimated trade-in value and apply it as instant credit towards your purchase.

Add the instant credits to your new purchase and place the order for a new iPhone. You'll get a confirmed delivery date of your new iPhone along with a trade-in exchange.

By the time the courier guy arrives at your doorstep, you should be ready with your old iPhone so they can run a diagnostic test and verify that your smartphone works.

The courier guy will check your old phone's physical condition of the touchscreen, enclosure or back glass, camera lenses, front and back camera functionality, battery wear and tear, storage capacity, performance speed, Wi-Fi, mobile functionality and will ask you to turn off Find My iPhone and initiate a factory reset.

That's it! Clear all these necessary steps, and you'll have a new iPhone with the advantages of the trade-in value.
With this, Apple plans to retrieve materials from the old devices to make new devices. The action will subtract the need to extract new metals and components from the earth, helping the environment stay intact. According to Apple's most recent environmental report, the average Apple device generates 252 pounds of CO2, accounting for about 77 per cent of the company's total greenhouse gas emissions. The renovation method is preferable to save the environmental issues, and Apple might allow third-party companies to repair iPhones in the future.