YouTube and Vimeo are two of the most popular hosting platforms worldwide, but if you look at the numbers, Vimeo looks significantly more petite community than YouTube's ginormous base of more than 1 billion users. Approximately 10 out of 8 people from the globe are familiar with YouTube, while there are very few people who know and practically use Vimeo. However, with only 170+ million users, Vimeo can still be your gateway to showcase your talent. At first glance, both these platforms look similar, but they operate differently and have key differences with their respective advantages and disadvantages.
Membership:
YouTube and Vimeo both offer free services but also have various premium services, which differ significantly. YouTube has a massive community, which produces more content compared to Vimeo. A substantial sum of YouTube's earnings comes from showing advertisements. These advertisements are illustrated inside the video player, in the sidebar, and inside the YouTube app. 
Along with advertisements, YouTube earns through a paid subscription called YouTube Premium. The subscription allows viewers to get rid of advertisements while enjoying the content, access premium YouTube Originals, and play videos in the background while using other apps on the phone. When it comes to creating, YouTube lets you upload as many videos as you want for free.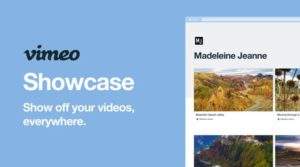 Vimeo has a unique business model that differs from YouTube in almost every way. It offers Plus, PRO, Business, and Premium membership options, and each of the membership options has different levels of storage and support. Along with paid memberships, Vimeo does offer free membership, but it limits you to 500MB maximum storage per week and 25GB per year. 
Vimeo makes most of the earnings by selling video hosting services. They charge money from publishers and content creators to upload their content, so their users can enjoy an ad-free viewing experience. Vimeo lets you watch the videos for free, but in some cases, it offers a pay-per-view basis service called Video on Demand, where you can choose from Rent, Buy or Subscribe service alternatives; these payments go directly to the creator.
Upload Limits:
YouTube lets creators upload videos up to 15 minutes long, but you must have to verify your account if you want to extend these 15 minutes. Once your account is verified, your video upload limit will be expanded to 12 hours or 256GB; along with that, verification allows you to add custom thumbnails and live streaming.
Unlike YouTube, Vimeo upload limit works on a weekly format and has different limitations on the upload size for each plan. As mentioned earlier, free account holders can upload 500MB per week with no more than ten videos in 24 hours. Plus and Pro account holders can upload 5GB and 20 GB data per week, respectively. Pro Unlimited, Business and Premium accounts have no weekly upload limit and allow you to store 3TB, 5TB and 7TB of data, respectively.
Audience:
The first question one should ask themselves before turning on the camera or choosing an uploading platform is who they are making a video for? or what they're expecting in comments from their audience? Because if you want to reach as many people as possible, YouTube is a better option than Vimeo, but if you prefer quality content over quantity, then Vimeo will take you places.
Almost all Android phones in the world come with a pre-installed Google-owned YouTube app. It has a community of more than 1 billion users, and about 2 billion users login and watch videos on YouTube every month. In contrast, Vimeo has just 1 million registered users, and it is growing at a notable pace. Vimeo's audience base is very supportive and has numerous users that offer more constructive feedback than you may find on YouTube, where most of the users are not hesitant to tell you bluntly about your video. 
Vimeo offers ad-free viewing and higher-quality video uploads with better sound. Also, Vimeo is the roof to a few of the most creative content creators, budding filmmakers and graphic designers in the world. Most of them use the Vimeo channel as a portfolio to showcase their work to potential clients.
Features:
Copyrights: YouTube will detect copyrighted music and images almost immediately upon upload and disable such elements, which will help you keep your account secure and away from copyright issues.
Updating Videos: Vimeo allows you to replace and update a video after being uploaded without losing that video's stats. It comes in handy when you've made a mistake or want to update something. Unfortunately, YouTube doesn't have a video updating feature, so one must be careful before hitting the upload button.
Privacy: Vimeo offers more privacy options than YouTube, allowing you to make videos public, private, or unlisted. You can also share video only with users you follow and can also add password-protected videos. Paid membership users of Vimeo can even disallow their videos to be viewed on Vimeo.com and can offer to view their video to their own websites only.
Monetization: YouTube allow content creators to join the YouTube partner program by signing up for Google Adsense to monetize their videos, but first, they need to have at least 1000 subscribers and generate 4000 watch time hours within 12 months, whereas Vimeo offers Video On Demand option where you can sell videos directly to viewers.
YouTube and Vimeo both are great platforms that offer almost equal business opportunities for their users. So, in the end, it all depends on the type of audience you want to reach and how you want to grow as a creator. Along with these two, there are various other platforms to showcase your talent to the world, so look out for the one which suits you the best and happy creating.