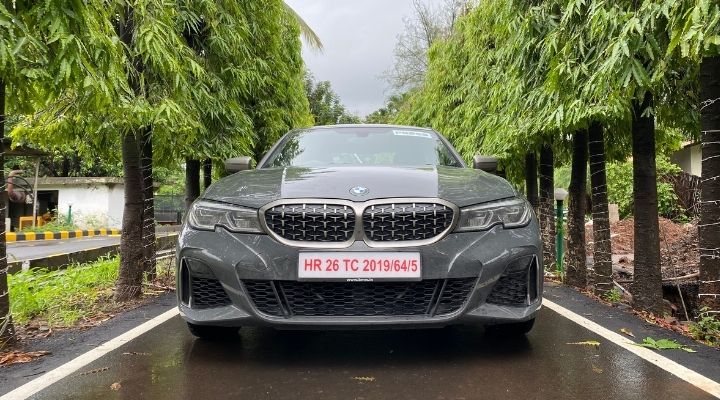 The latest entry point to the BMW's famed M school, locally assembled – do the numbers justify the M in the name?
Price: ₹ 62.90 lakhs onwards
3.0T 6cyl | 382 bhp | 500 Nm | 8spd auto
FOR Driving Pleasure, Value
AGAINST Stiff Ride, Little Exterior Differentiation
Overview:
The M340i xDrive is the only six-cylinder petrol 3 Series in BMW's line-up and comes standard with four-wheel drive. It sets itself up against the Audi S5 Quattro and the Mercedes Benz C43 AMG.
And since the guys at BMW's M division have had a go at this, quite a lot underneath has changed versus the standard 3 – exhaust, brakes, e-diff, steering rack, springs and dampers, rear suspension links. On the outside, there's little to differentiate from the 330i M-sport version, save for silver speckles on the kidney grille, trapezoidal tailpipe finishers, and boot lid badging.
Driving:
The M340i uses the latest version of BMW's (not M's) 3.0-liter straight six, pumping out 382bhp and a meaningful 500Nm of torque which can propel the car from standstill to 100km/h in just 4.4 seconds! There's all-wheel drive as standard, and the M sport rear differential makes it one sweet-handling car. 
The power build-up is brisk, and the performance is the type that you can enjoy properly on the road, rather than being thrown off your seat every time you jump down the throttle. The exhaust notes are enjoyable more outside the car than within, but I wish it were throatier. It's fairly fuel-efficient as well, returning almost 8.9 liters/km over an 800km driving week across expressways, highways, and city errands.
The ride, like other 3 Series versions, is on the firm side, but this one without the option of adaptive dampers can be unbearable on our broken roads and if you tend to carry 4 passengers often. Wheels are the same as the 330i's 18-inches, and 19-inch wheels are optional.
Inside is a comfortable place to be with M-sport seats draped in a mix of black leather and swade-like materials. It's a practical cabin, with the latest infotainment system and space for 4 full-size adults with a practical boot to spare. 
Verdict:
In all honesty, I very much like this M340i. Simply because it just hits that sweet spot – it looks moderately quick, sounds definitely quick, and is actually a whole lot quicker again. A proper junior M car, if I may call it that – not brutal like some of the bigger M cars, but drivable, habitable, and performance that's usable in everyday conditions.
Yes, you may want to spec it with certain optional extras to showcase that M in the name, but really for the proposition, it creates at a sticker price of Rs. 62.90 lakhs ex-showroom, it definitely is the new benchmark for an everyday sports sedan.